Cockroach Control in Anaheim
Cockroach Control in Anaheim, CA
In addition to being downright gross, cockroaches are one of the most dangerous pests commonly found in Southern California due to the many diseases they can carry. If you find yourself dealing with roaches, don't hesitate to call Brooks Pest Control's team of expert technicians. We provide cockroach control services in Anaheim, CA, with treatments that are tested to be thorough and eco-friendly. Give us a call today to schedule your initial inspection or start with a free quote! Same-day service is available if you reach out before noon.
Call 833-655-2102 for a quote, free of charge, or fill out the form below.
Anaheim, CA, Cockroach Treatments
Cockroaches are among the grossest pests you can cross paths within Southern California. You may find these little insects in many places around the home or workplace, including under appliances, inside or along pipes, and in dark places like basements or garages. Seeing one roach will definitely send a shiver down your spine, but if you encounter multiple, you have a much bigger issue on your hands. There are some DIY methods of cockroach control out there—even as simple as stepping on one or squishing it with a tissue—but they can only help so much.
To make sure your cockroach problem goes away once and for all, call in professional care with Brooks Pest Control. Our highly trained technicians are equipped with the necessary tools and knowledge to eliminate your cockroaches and make sure they stay away. Our treatments are effective and proven to be eco-friendly and safe around your family, as we use EPA-approved formulas and top-of-the-line products that will guarantee your satisfaction.
As one of several areas we service on the West Coast, Brooks Pest Control offers options for pest control in Anaheim that can assist many local communities, such as:
Northeast Anaheim
Platinum Triangle
Southeast Anaheim
Hermosa Village
Northwest Anaheim
Anaheim Shores
And more!
Why Are There Cockroaches in My Home?
Contrary to popular belief, cockroaches aren't attracted to filth. While it's important to keep your surroundings clean, roaches are mostly looking for areas that offer darkness, warmth, and moisture. They find their way inside through small crevices and cracks along the foundation, walls, windows, and doors of your building, often burrowing away completely out of sight. This allows them to sometimes become a major problem before you even know they're there, as they nest and repopulate rapidly—especially in the summer months.
How Do I Get Rid of Cockroaches in Anaheim, CA?
The first time you see a roach in your home, you'll likely be tempted to just squash it with your shoe. There are a few DIY cockroach control methods you can buy, including bait stations, repellents, and traps. However, if you truly want to get rid of your cockroach problem, you need to schedule professional treatments like those offered by Brooks Pest Control. Our expert technicians are equipped with proven treatments that will eliminate the roaches in your home or workplace and make sure they never return.
Get Your Free Anaheim Cockroach Control Quote Today
Restore your peace of mind and resolve your cockroach problem with Brooks Pest Control. We offer tested pest control services in Anaheim with treatments proven to be eco-friendly and effective in eliminating roaches for good. Before you get started, check out our special offers page and get a free quote on Anaheim cockroach control services. Once you're ready, give us a call to set up your initial inspection!
Frequently Asked Questions
What if I have more than one type of pest in my home?
Brooks Pest Control's friendly team of experts has the tools and expertise necessary to handle multiple types of pest issues in a single visit. In addition to providing cockroach control services in Anaheim, we offer treatments for ants, spiders, cockroaches, mosquitoes, rodents, and more. You can see our full list of services here.
Do you offer same-day cockroach control in Anaheim, CA?
Yes! As long as you call us before noon, we can gladly provide same-day cockroach control in Anaheim. Alternatively, you can be scheduled for next-day service. We also offer Saturday cockroach control in Anaheim for problems that may occur over the weekend.
What happens if cockroaches come back after treatment?
As part of our commitment to achieving 100% customer satisfaction, Brooks Pest Control offers complimentary re-treatments if your problem returns. Just reach out if you encounter any issues and we'll be on our way to help!
How do I get started?
It's never been easier to find the answer to your cockroach problem. Call Brooks Pest Control today to begin the process of eliminating your pests once and for all. You can also contact us online or request a free quote on cockroach control in Anaheim.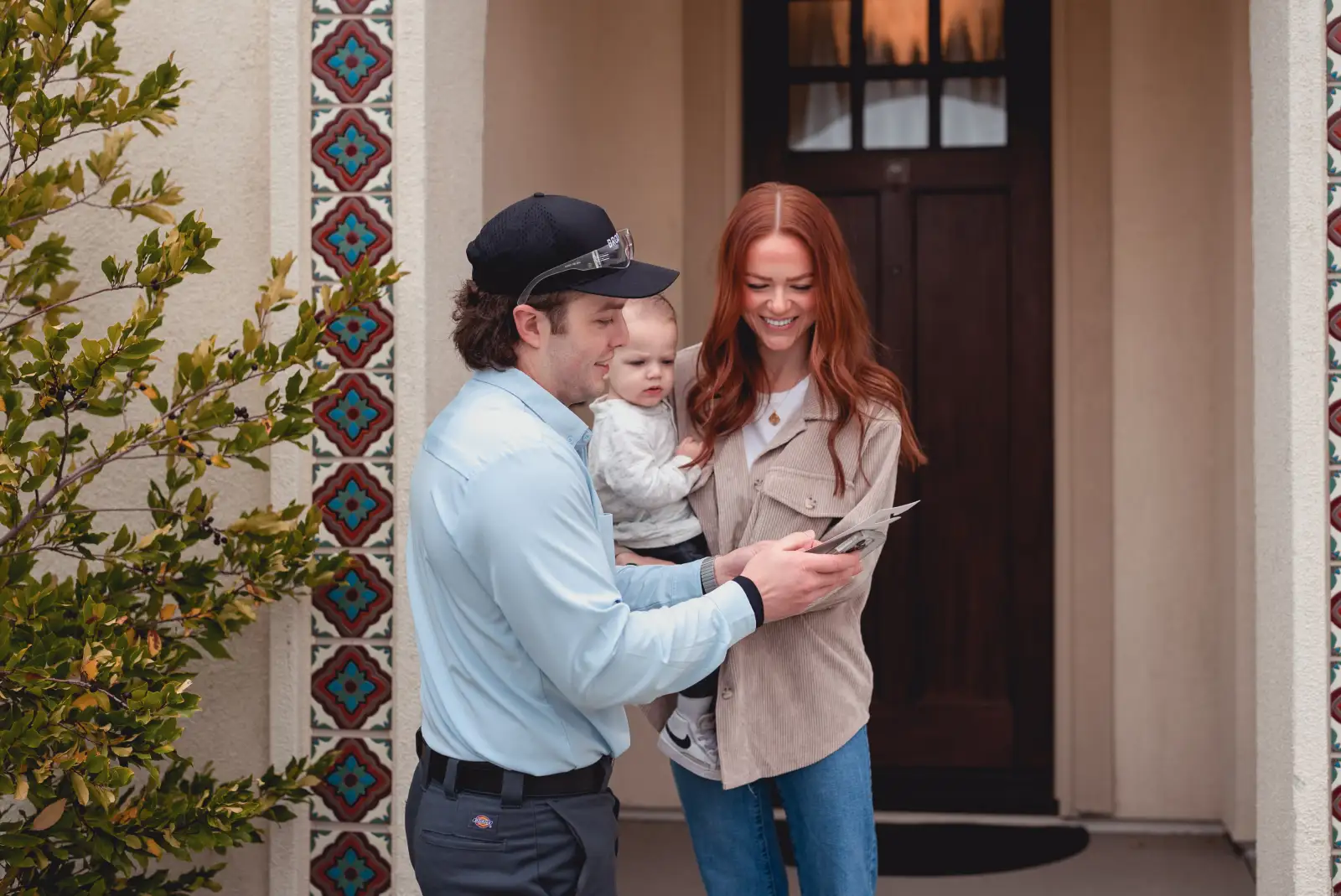 Pet and Environmentally Safe
Our licensed and certified pest control technicians use treatment methods that are friendly to pets, families, and the environment. Our customers are important to us – that's why we have a 100% satisfaction guarantee. If the pests come back, so do we.
833-369-1242
Same-day and Saturday Service
At Brooks, we're dedicated to solving your pest problems for good. That's why we offer same-day and Saturday pest control services – call us before noon and we'll get the job done.
833-369-1242
Don't wait. Get rid of your pests today!