Pest Control Services in Corona, CA
With its warm and inviting weather, Corona becomes an attractive destination for all kinds of pests seeking shelter and food sources. When pests make an appearance, count on Brooks to seek them out, eliminate them at the source, and keep them away.
Common household pests, such as rodents and cockroaches, can sometimes carry harmful illnesses and cause damage to the interior and exterior of your home. To keep your family and pets safe, we offer pest control in Corona that is guaranteed to keep your home pest-free long-term! When you sign up today, you will receive 50% off your first treatment.
Eco-Friendly Pest Control in Corona, CA
Are you tired of finding pests around your home and attempting to get rid of them on your own? With Brooks Pest Control, you no longer have to worry. Our comprehensive pest services include thorough inspections, eco-friendly treatments, and recurring services, and will protect your family from cockroaches, ants, rodents, and more.
An exterminator in Corona will happily provide you with any of the following services:
Save 50% on Risk-Free Pest Treatments
Receiving quality pest service is just as important as receiving service that's environmentally friendly. That's why we use 100% risk-free solutions to treat the interior and exterior of your home. Our exterminators are well-trained and dedicated to completely eliminating your pest problem the safe way. 
Partner with us for pest control treatment in Corona, CA and we will:
Inspect your home to determine the best treatment plan for you and your family.
Treat your home with eco-friendly solutions to get rid of pests in the short and long term.
Follow up 30-45 days after your first treatment, a perk of signing up for one of our recurring pest control plans.
Re-service your home for free if you are not 100% satisfied with our pest control the first time.
Schedule Your Pest Control Treatment Today
Kick pests to the curb and take control of your home with Brooks Pest Control. We offer residential pest control services. Schedule your appointment and we will create a personalized pest control plan to meet your unique needs. Call us or request a free quote today!
Frequently Asked Pest Control Questions
Where can I find pest control near Corona, CA?
We provide our pest control services to communities across the state of California. If you need to find pest control closer to you, then reach out to our other service centers surrounding Corona:
Are your treatments pet-friendly?
Absolutely! We take care to ensure everyone in your home, people and pets, remains protected during our pest control treatments. Our eco-friendly compounds attack and eliminate bugs without posing a risk to your family and animals. Our treatments are friendly to pets, but deadly to pests.
What if I have more than one pest in my home?
That's no problem at all. If you are dealing with multiple types of pests at once, let us know before we come out and we will create a plan to take care of them all. Eliminate every pest in your home in a single trip, and if you are not satisfied with the results, we offer complimentary re-treatments until the job is done right.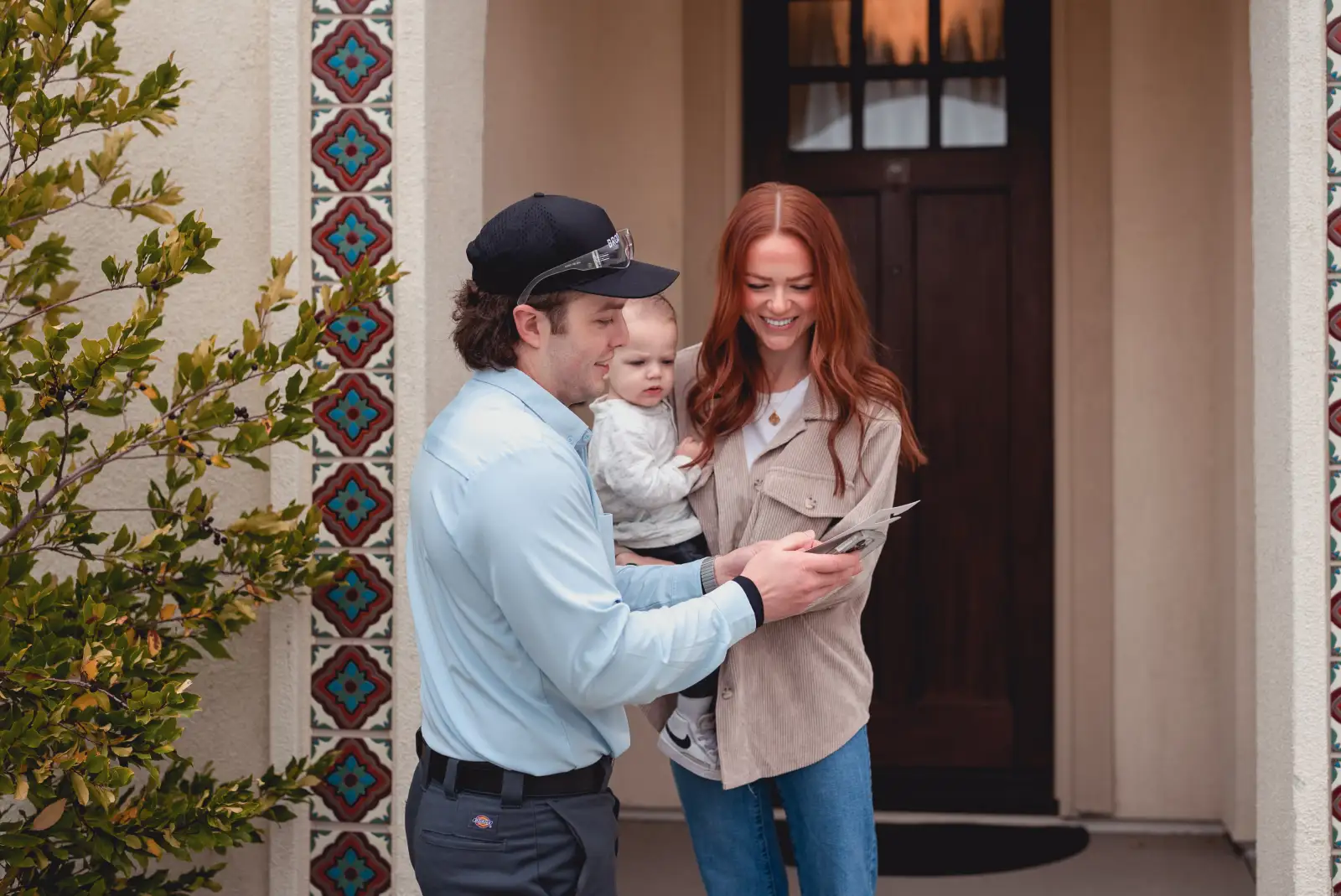 Pet and Environmentally Safe
Our licensed and certified pest control technicians use treatment methods that are friendly to pets, families, and the environment. Our customers are important to us – that's why we have a 100% satisfaction guarantee. If the pests come back, so do we.
833-369-1242
Same-day and Saturday Service
At Brooks, we're dedicated to solving your pest problems for good. That's why we offer same-day and Saturday pest control services – call us before noon and we'll get the job done.
833-369-1242
Don't wait. Get rid of your pests today!