Pest Control Services in Thousand Oaks, CA
With over 15,000 acres of publicly-owned public space within the city's limits, Thousand Oaks has plenty of space available for you to roam, grow, and settle into. Named after the many oak trees surrounding the town, this community offers plenty of outdoor space for all the adventurers you could imagine from Point Mugu State Park to Conejo Creek North Park.
While all this open land attracts many residents, it's also been known to attract pests of many kinds. Whether your home is being occupied by rodents or ants, you will need effective Thousand Oaks pest control services from Brooks Pest. Our trained technicians are ready to help you with a multitude of pest infestation issues.
Begin living your pest-free life by requesting a free quote or calling our office.
Thousand Oaks, CA, Areas We Service

At Brooks Pest Control, we work with you to create a customized plan that is designed to target your specific pest infestation right at the source. We also ensure peace of mind with our comprehensive and family-friendly pest treatments in Thousand Oaks. Experience for yourself why Brooks Pest Control has the most effective pest control in Thousand Oaks.
Areas served by Brooks Pest Control near Thousand Oaks include:
Casa Conejo
Dos Vientos Ranch
Newbury Park
Lake Sherwood
Looking for high-quality pest control outside of Thousand Oaks. Check out our list of areas we offer pest control services.
Get Your Free Thousand Oaks, CA, Pest Control Quote Today
Keep your Thousand Oaks home free of unwanted pests with comprehensive pest control from Brooks Pest Control. When you're ready to have one of our experienced and knowledgeable pest technicians treat your home, take a look at our special offers page then request a free quote.
Frequently Asked Questions
What pests do you provide treatment for in Thousand Oaks, CA?
Our Brooks Pest Control technicians are ready to help you eliminate existing pest infestations and prevent future ones from taking over your home. Whether you're trying to prevent cockroaches from invading your kitchen or treating a spider infestation in your Thousand Oaks home, we've got you covered. Pests treated by Brooks Pest Control include:
Do you offer same-day pest control in Thousand Oaks, CA?
When you call before noon, you can schedule same-day services for your pest control needs. We even offer Saturday services if you can't wait until Monday.
What happens if pests come back after treatment?
At Brooks Pest Control, we provide a 100% satisfaction guarantee for all of our pest control services. If your problem persists after the initial treatment, we will return for complimentary re-treatments until the problem is resolved.
How do I get started?
Ready to take advantage of effective pest control in Thousand Oaks? Give us a call or contact us online to schedule your initial inspection.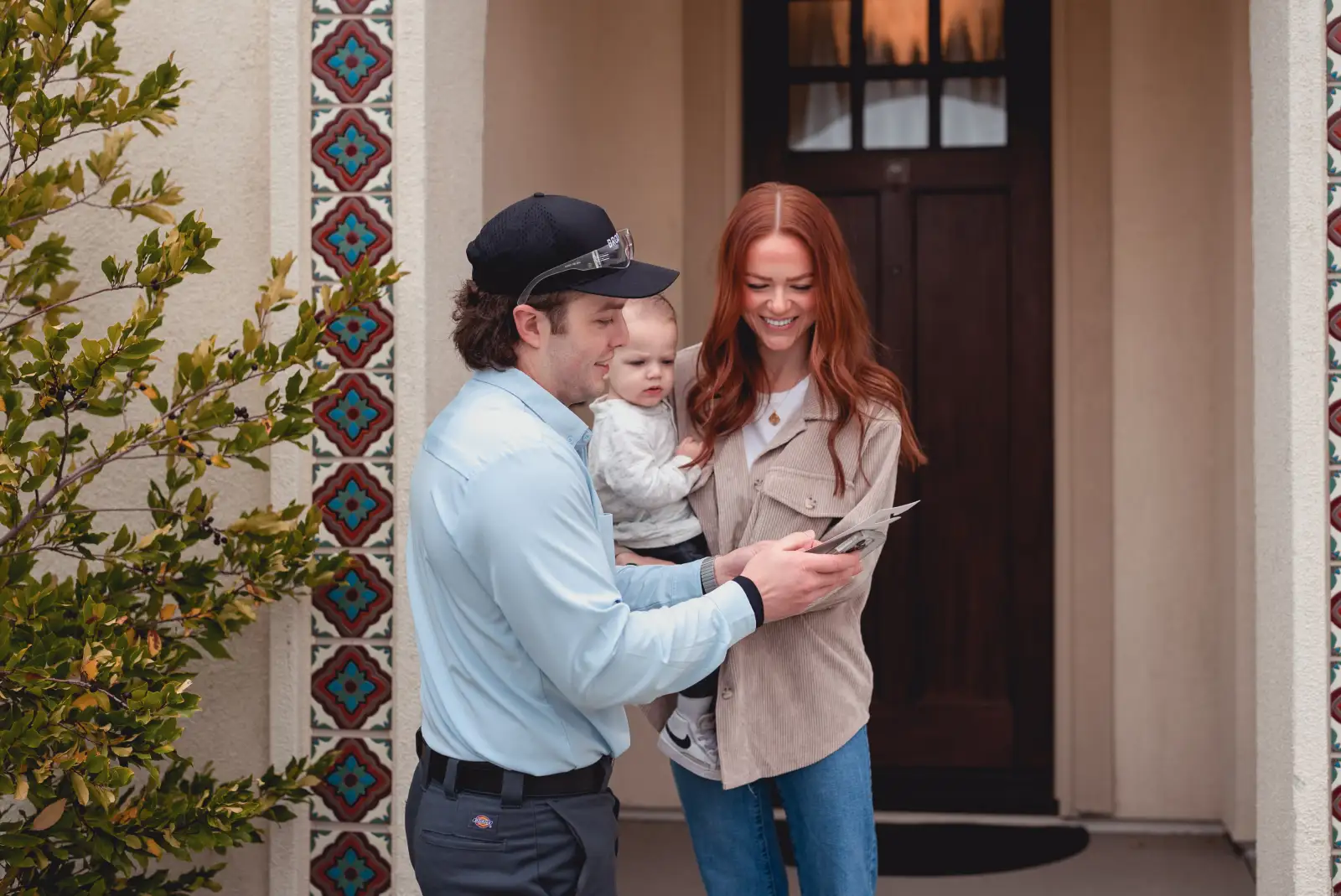 Pet and Environmentally Safe
Our licensed and certified pest control technicians use treatment methods that are friendly to pets, families, and the environment. Our customers are important to us – that's why we have a 100% satisfaction guarantee. If the pests come back, so do we.
833-369-1242
Same-day and Saturday Service
At Brooks, we're dedicated to solving your pest problems for good. That's why we offer same-day and Saturday pest control services – call us before noon and we'll get the job done.
833-369-1242
Don't wait. Get rid of your pests today!