Pest Control Services in Hemet, CA
Just a short distance from Mount San Jacinto State Park in southern California, the city of Hemet offers residents a quiet escape from the hustle and bustle of other cities in the area. Located in the San Jacinto Valley, this small yet, thriving community features a handful of lakes and parks to enjoy.
While Hemet's outdoor activities provide a lot of enjoyment, one thing that is not so enjoyable is the thought of a pest infestation. Consistent temperatures and warm weather make Hemet the perfect place for all kinds of pests.
Luckily for the city of Hemet, CA, Brooks Pest Control is able to provide our services to ensure that your home is pest-free. With years of experience in the industry combined with our pest control specialists, we are able to provide you with a painless pest control experience.
If you're worried your home may be experiencing a pest infestation don't hesitate to call today or receive your free quote to determine the best method for your home.
Hemet, CA, Areas We Service
The last thing you want to worry about is having a pest infiltrate your home. With a diverse ecosystem and plenty of wildlife, it's not uncommon for pests to find their way into your home. Not only are we able to remove pests from your home, but we also provide preventive treatments to decrease the chance of an infestation ever occurring.
Our service extends to multiple locations in southern California, encompassing Hemet and its neighboring areas, including:
Alcott
Egan
East Hemet
San Jacinto
Valle Vista
And more!
If you are located outside of our Hemet, CA location, please search for a Brooks Pest Control service area near your residence.
Get Your Free Hemet, CA, Pest Control Quote Today
At Brooks Pest Control, our aim is to offer a convenient and efficient resolution to your pest issues. That's why we provide same-day, next-day, and Saturday services. Our skilled technicians employ treatment approaches that prioritize the safety of pets, people, and the environment.
No matter how big or small an infestation is, we are committed to ensuring that you can get back to pest-free living. With our 100% satisfaction guarantee for all our services, we are confident that our skilled technicians will be able to resolve your pest problems.
With an array of community-based activities and outdoor recreational opportunities, a pest infestation should be the last thing on your mind. Our comprehensive pest treatments are convenient and hassle-free.
Don't hesitate to receive your complimentary quote today or give us a call to discuss our treatment options.
Frequently Asked Questions
What pests do you provide treatment for in Hemet, CA?
Alongside our reliable pest control solutions, we also offer an extensive range of preventive treatments for the following pests:
Do you offer same-day pest control in Hemet, CA?
Yes, at Brooks Pest Control, our goal is to restore your home to a pest-free environment. For residents in the Hemet, CA, area, we offer same-day service if you contact us before noon. Otherwise, we will promptly serve you the following day, we are even available to provide our services even on Saturdays.
What happens if pests come back after treatment?
With comprehensive training under their belts, our team of pest control specialists possesses the expertise and abilities to identify the underlying cause of pest issues. However, if an additional pest infestation should occur, we provide complimentary re-treatments for your Hemet home.
How do I get started?
Start your pest removal process online today by contacting one of our representatives to hear about our treatment options and plans or request a complimentary quote today!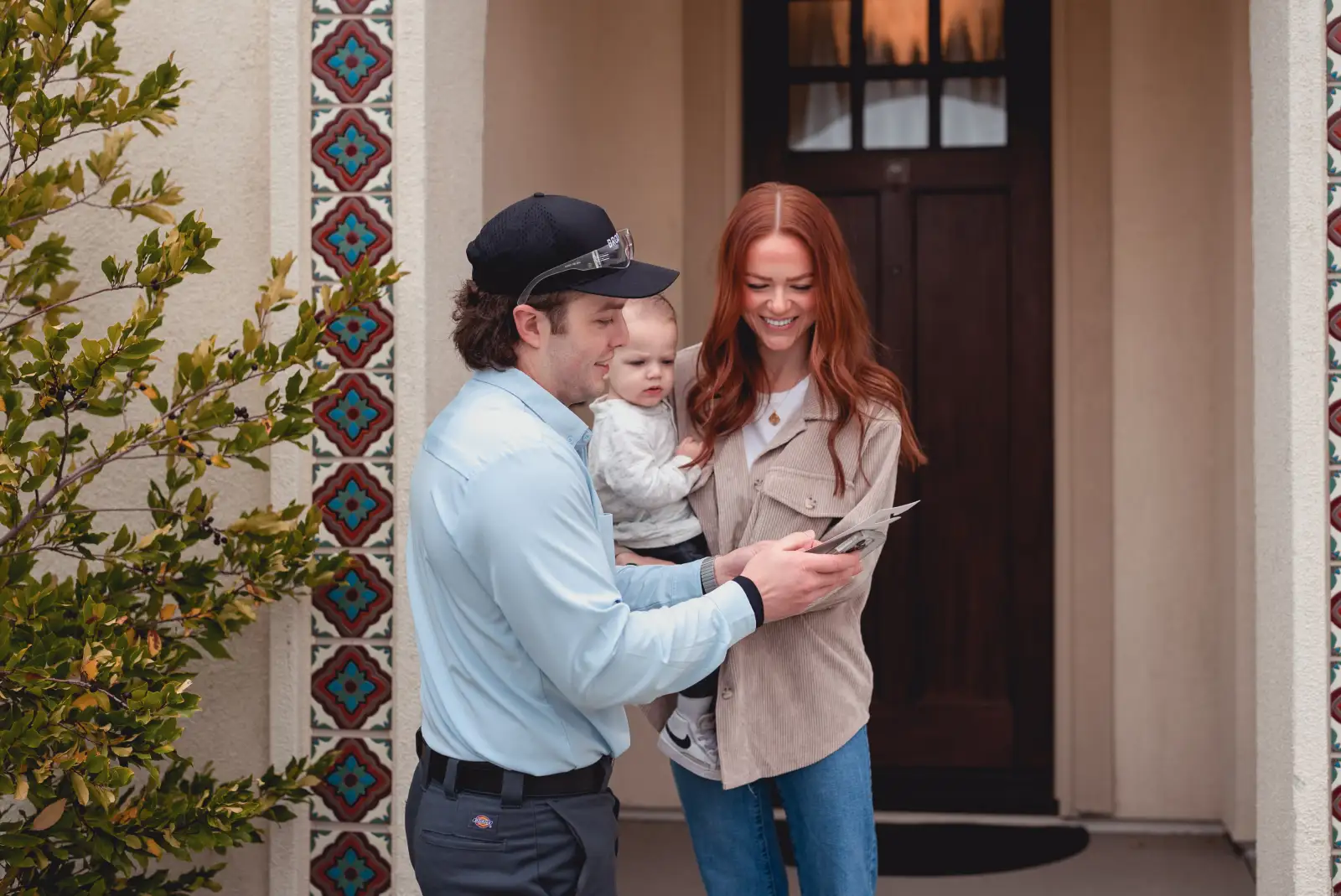 Pet and Environmentally Safe
Our licensed and certified pest control technicians use treatment methods that are friendly to pets, families, and the environment. Our customers are important to us – that's why we have a 100% satisfaction guarantee. If the pests come back, so do we.
833-369-1242
Same-day and Saturday Service
At Brooks, we're dedicated to solving your pest problems for good. That's why we offer same-day and Saturday pest control services – call us before noon and we'll get the job done.
833-369-1242
Don't wait. Get rid of your pests today!