Pest Control Services in Victorville, CA
Victorville, CA is a vibrant city nestled in the High Desert region of San Bernardino County. Offering a unique blend of natural beauty and urban amenities, Victorville is a bustling community that provides a high quality of life for its residents.
In Victorville, visitors and locals can enjoy a range of activities, from exploring the picturesque Mojave Narrows Regional Park to immersing themselves in the history of the iconic California Route 66 Museum. With its pleasant desert climate and a plethora of attractions, Victorville is a welcoming destination for those seeking both adventure and convenience in southern California.
While Victorville is a perfect spot for visitors and locals alike, it also provides a climate that is conducive to an array of pests. The combination of high temperatures and low humidity during the summer months can attract pests such as ants, cockroaches, and flies.
When pests invade your stunning Southern California home in Victorville, trust Brooks Pest Control to help get rid of them. We specialize in the control of a variety of pests and we offer a free quote for your home. Call us today to learn more about how we can help eliminate your pest-related problems!
Victorville, CA, Areas We Service
We serve several neighborhoods and districts in the city of Victorville, CA, some of which are:
Spring Valley Lake
Old Town Victorville
Eagle Ranch
West Bear Valley
Brentwood
Mountain View Acres
If you're a resident of Victorville but don't see your location listed, visit our full list of service areas to find a service area near you!
Get Your Free Victorville, CA, Pest Control Quote Today
If you are in need of pest control services of any kind in Victorville, CA, Brooks Pest Control is right for you. We offer pest control that is pet and eco-friendly, as well as same-day services. We're here to provide fast and effective solutions tailored to your needs so you can enjoy your Victorville utopia in peace.
Trust Brooks Pest Control to get the job done so you can enjoy a clean and pest-free home in Victorville, CA. Our experienced team specializes in eliminating a wide range of pests, let us do the dirty work so you don't have to.
Turn to Brooks Pest Control to keep your happy place in Victorville pest-free! Visit our special offers to learn how you can save on quality pest control and schedule your free quote today.
Frequently Asked Questions
What pests do you provide treatment for in Victorville, CA?
Our services encompass pest treatment for a wide range of pests in Victorville, CA, which include:
Check out our pest control page for a comprehensive list of pests we manage and how our services can cater to your specific needs!
Do you offer same-day pest control in Victorville, CA?
We offer same-day pest control services if you call before noon with your pest-related problems. If you are unable to call before noon, we offer next-day services as well as Saturday services.
What happens if pests come back after treatment?
At Brooks Pest Control, we provide complimentary re-treatments in the event that your pest issue persists following our initial treatment. If the pests return, rest assured, we will return as well to address the situation.
How do I get started?
We strive to provide convenience for our customers, to get started, all you need to do is reach out to us through our contact form or by giving us a call. This will help us better understand what services you are in need of. Our team of specialists will then promptly make their way to you and make sure your pests are taken care of!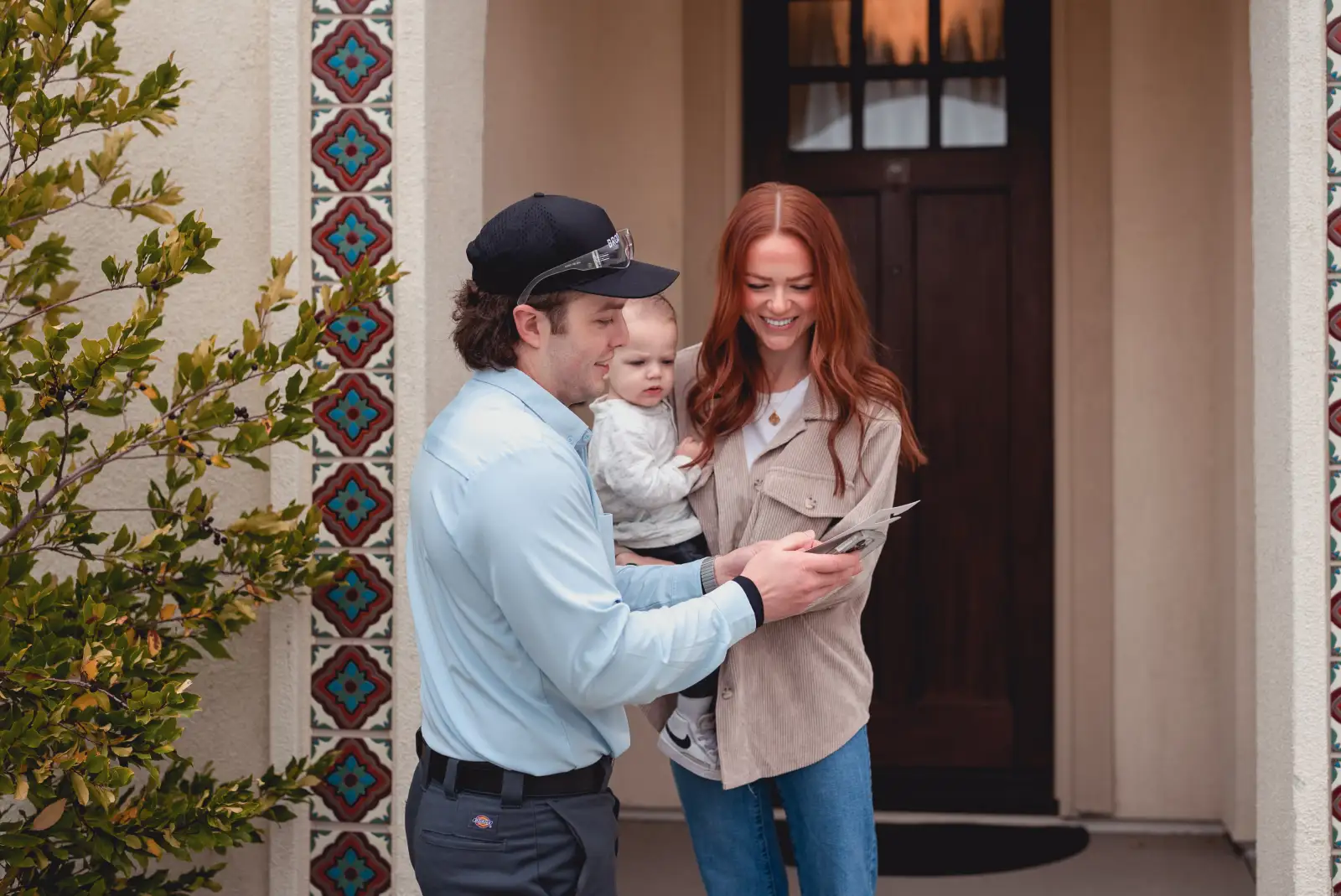 Pet and Environmentally Safe
Our licensed and certified pest control technicians use treatment methods that are friendly to pets, families, and the environment. Our customers are important to us – that's why we have a 100% satisfaction guarantee. If the pests come back, so do we.
833-369-1242
Same-day and Saturday Service
At Brooks, we're dedicated to solving your pest problems for good. That's why we offer same-day and Saturday pest control services – call us before noon and we'll get the job done.
833-369-1242
Don't wait. Get rid of your pests today!