Rodent Control in Anaheim
Rodent Control in Anaheim, CA
One of the worst things you can encounter in your home is rodent infestation. If you discover a problem with mice, rats, or other rodents of any size, call in the professionals at Brooks Pest Control. We offer rodent control services in Anaheim, CA, with treatments that are proven to be eco-friendly and effective in driving out your problem for good. Request a free quote online or give us a call today to schedule your inspection! Same-day service is available if you call before noon.
Call 833-655-2102 for a quote, free of charge, or fill out the form below.
Anaheim, CA, Rodent Treatments
Whether in the basement, garage, kitchen or anywhere else you're unlucky enough to see them, finding rodents in your home or business is certainly unsettling. There are many types of mice, rats, and other rodents you may encounter in Southern California, many of which can cause serious damage to your property and possibly endanger your health. You can catch a few of them using traps made of metal or glue, but at the end of the day, DIY methods of rodent control are only moderately helpful at best.
Thankfully, Brooks Pest Control is here to help. Our highly trained technicians have the tools and experience necessary to identify the source of your rodent issue and quickly eliminate it once and for all. All our products are eco-friendly and have been tested to be safe around your family, as our formulas are EPA-approved and feature top-of-the-line products that are guaranteed to help.
Brooks Pest Control services many areas on the West Coast, offering options for pest control in Anaheim that help many local communities, including:
Northeast Anaheim
Platinum Triangle
Southeast Anaheim
Hermosa Village
Northwest Anaheim
Anaheim Shores
And more!
Why Are There Rodents in My Home?
Like any species, rodents are mainly in pursuit of food, water, and shelter—three things that can be easily found inside your home. There are many ways in which rodents get inside, mostly through cracks and crevices in your foundation, walls, floors, or roof. After they've made it in, they'll go wherever they need to in order to survive. This can include dripping water pipes, trash cans or other places with garbage, the kitchen floor, bathrooms, and more. Rodents are a year-round threat, as while they're less active in the winter, they're still searching for a warm place to stay.
How Do I Get Rid of Rodents in Anaheim, CA?
There are tons of DIY rodent control methods out there you can try, the most obvious of which are traps. There are a few main types of mouse traps, with the most accessible options being snap traps, glue traps, and poison traps. While these all work to varying degrees, they're unreliable and less effective than professional services like the ones offered by Brooks Pest Control. Our treatments will comprehensively eliminate your problem and save you the trouble of setting and disposing of traps around your property.
Get Your Free Anaheim Rodent Control Quote Today
Finding the answer to your rodent problem is easier than ever with Brooks Pest Control. We offer expert rodent control services in Anaheim with treatments that are proven to be eco-friendly and effective. To get the ball rolling, check out our special offers page and receive a free quote on Anaheim rodent control services. Once you're ready, give us a call to set up your initial inspection!
Frequently Asked Questions
What if I have more than one type of pest in my home?
Brooks Pest Control's expert technicians are prepared to provide service for several different pests in a single visit. In addition to our options for rodent control in Anaheim, we offer treatments for ants, fleas, spiders, mosquitoes, cockroaches, and more. Explore our complete list of services here.
Do you offer same-day rodent control in Anaheim, CA?
Yes! Sometimes, your pest problem simply can't wait. As such, Brooks Pest Control offers same-day rodent control in Anaheim. Just give us a call before noon and we'll head right out. Otherwise, you can be scheduled for a next-day service with ease, and we'll be there as soon as we can. We also offer Saturday rodent control for problems that come up over the weekend.
What happens if rodents come back after treatment?
Brooks Pest Control is committed to making sure your pest problem goes away for good. That's why we offer complimentary re-treatments if your pests make an unwanted return. Just reach out and we'll be on our way!
How do I get started?
Getting rid of your rodent issue is simple with Brooks Pest Control. Just give us a call to set up your initial inspection! You can also contact us online or request a free quote on rodent control in Anaheim.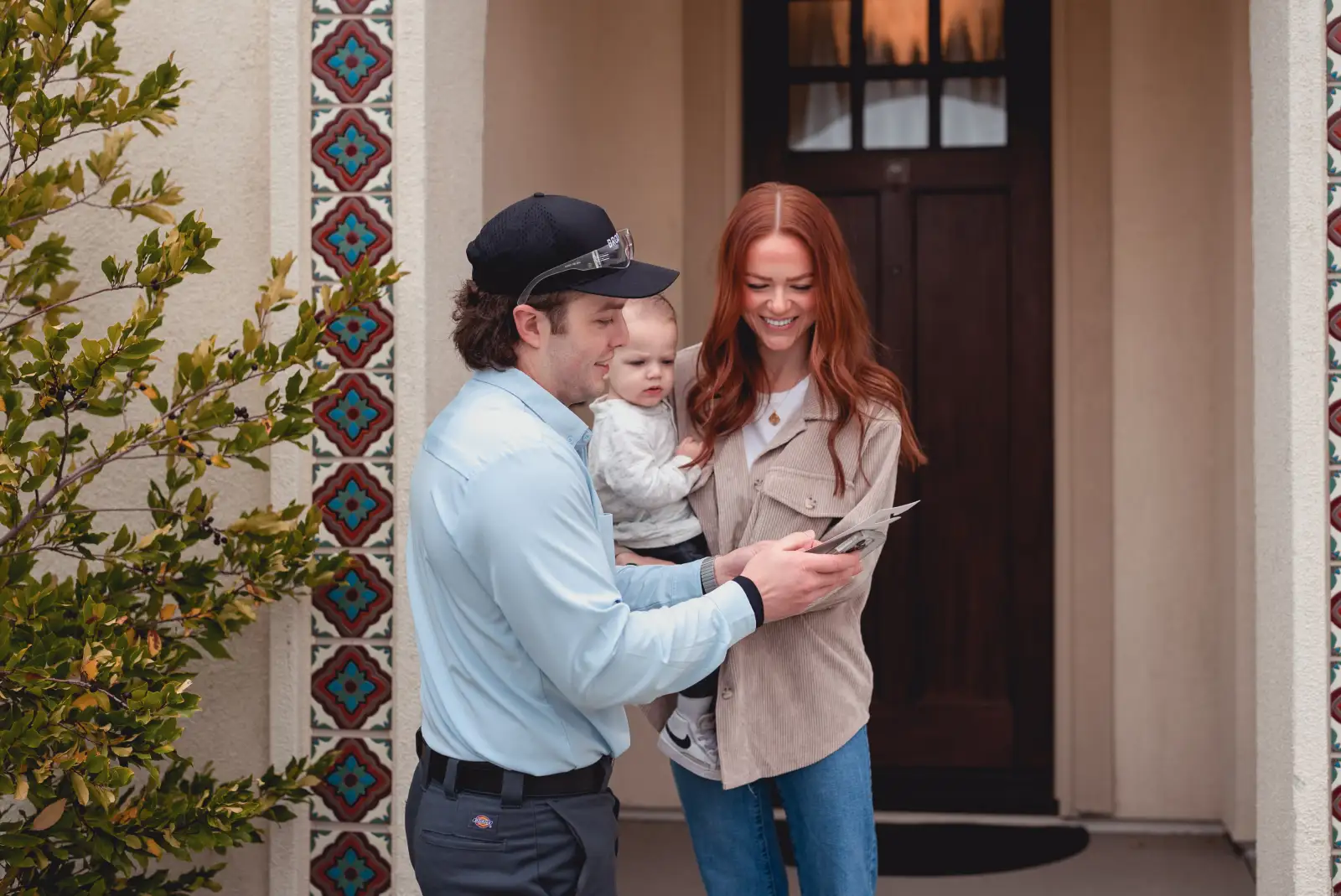 Pet and Environmentally Safe
Our licensed and certified pest control technicians use treatment methods that are friendly to pets, families, and the environment. Our customers are important to us – that's why we have a 100% satisfaction guarantee. If the pests come back, so do we.
833-369-1242
Same-day and Saturday Service
At Brooks, we're dedicated to solving your pest problems for good. That's why we offer same-day and Saturday pest control services – call us before noon and we'll get the job done.
833-369-1242
Don't wait. Get rid of your pests today!