Ant Control in Bakersfield, CA
Ant Control in Bakersfield, CA
It can be unnerving to have an ant problem in your Bakersfield home. Thankfully, there's a solution to drive those tiny intruders. Brooks Pest Control provides the best ant pest control in Bakersfield, CA. Our expert technicians have the tools and experience to quickly eliminate your ant problem and prevent it from returning. To schedule your initial inspection, give us a call today. Same-day inspections are available if you call in before noon.
Call 833-655-2102 for a quote, free of charge, or fill out the form below.
Bakersfield, CA, Ant Treatment
While you'll encounter several pests throughout your time in California, few are as pesky and persistent as ants. Whether you see a line of them near your sink or notice them crossing your kitchen counter, ants are an unpleasant sight. While it might not seem like a big deal if you see a few here and there, the more that come in, the more stress they'll cause you.
If you need to get rid of your ant problem, turn to Brooks Pest Control. Our expert technicians are trained to take care of any ant infestation as well as many other pests that can cause trouble in your home. We use treatment methods that are family- and pet-friendly, as our products are EPA-approved. Have peace of mind while we treat your Bakersfield home for ants.
We extend our services throughout the Bakersfield area. Some of the areas that we serve include:
Oildale
Gosford
Rosedale
Wible Orchard
Landco
Algoso
And more!
Call 833-655-2102 for a quote, free of charge, or fill out the form below.
Why Are There Ants in My Home?
With ants being so small, they can find their way into your Bakersfield home through many small cracks and crevices throughout the house. Some of these include areas such as windows, doors, the foundation, and other tiny openings. The reason why they come into your home is that they're often in pursuit of food, shelter, or water. Once inside your home, scouts leave behind a trail that attracts other ants to follow their path, which easily turns your small ant problem into a big one.
How Do I Get Rid of Ants in Bakersfield, CA?
It's unlikely that you will be able to squish or reach all the ants infesting your home. While DIY methods do exist, the best way to get rid of ants in your home is professional pest control. When it comes to professional ant pest control service, your best option is Brooks Pest Control. Our treatments provide better protection than any homemade remedy ever could, helping to keep your home safe from ants and other unwelcome pests.
Get Your Free Bakersfield, CA, Ant Control Quote Today
With Brooks Pest Control, you can let us do the dirty work and eliminate your ant problem in your Bakersfield home. With same-day inspections available, you can get rid of your problem sooner rather than later. Before you schedule your inspection, visit our special offers page and see how you can save on Bakersfield ant pest control. Ready to get rid of ants in your home? Request a free quote with us today!
Frequently Asked Questions About Ant Control in Bakersfield
What if I have more than one type of pest in my home?
Our expert technicians at Brooks Pest Control are the best equipped to fight against many different types of pests in Bakersfield. Along with our treatment for ants, some of the many other pests that we treat include fleas, ticks, rodents, mosquitoes, and more.
Do you offer same-day ant control in Bakersfield, CA?
If you have an ant problem in your Bakersfield home that can't be ignored, we have the option for same-day service If you call our team before noon. Otherwise, we're happy to set up a service for the following day. We're also available on Saturdays.
What happens if ants come back after treatment?
For those times that our treatment doesn't fully resolve your ant problem, we'll come back and perform a free re-treatment. Even if we have to come to your Bakersfield home again, we're committed to eliminating your ant problem in any way possible.
How do I get started?
Regardless if you have an ant problem or another pest issue, our team is happy to help. To request our services, give our team a call or fill out a contact form today. Don't let any creepy crawlies make their place in your home. Get professional help with Brooks Pest Control today!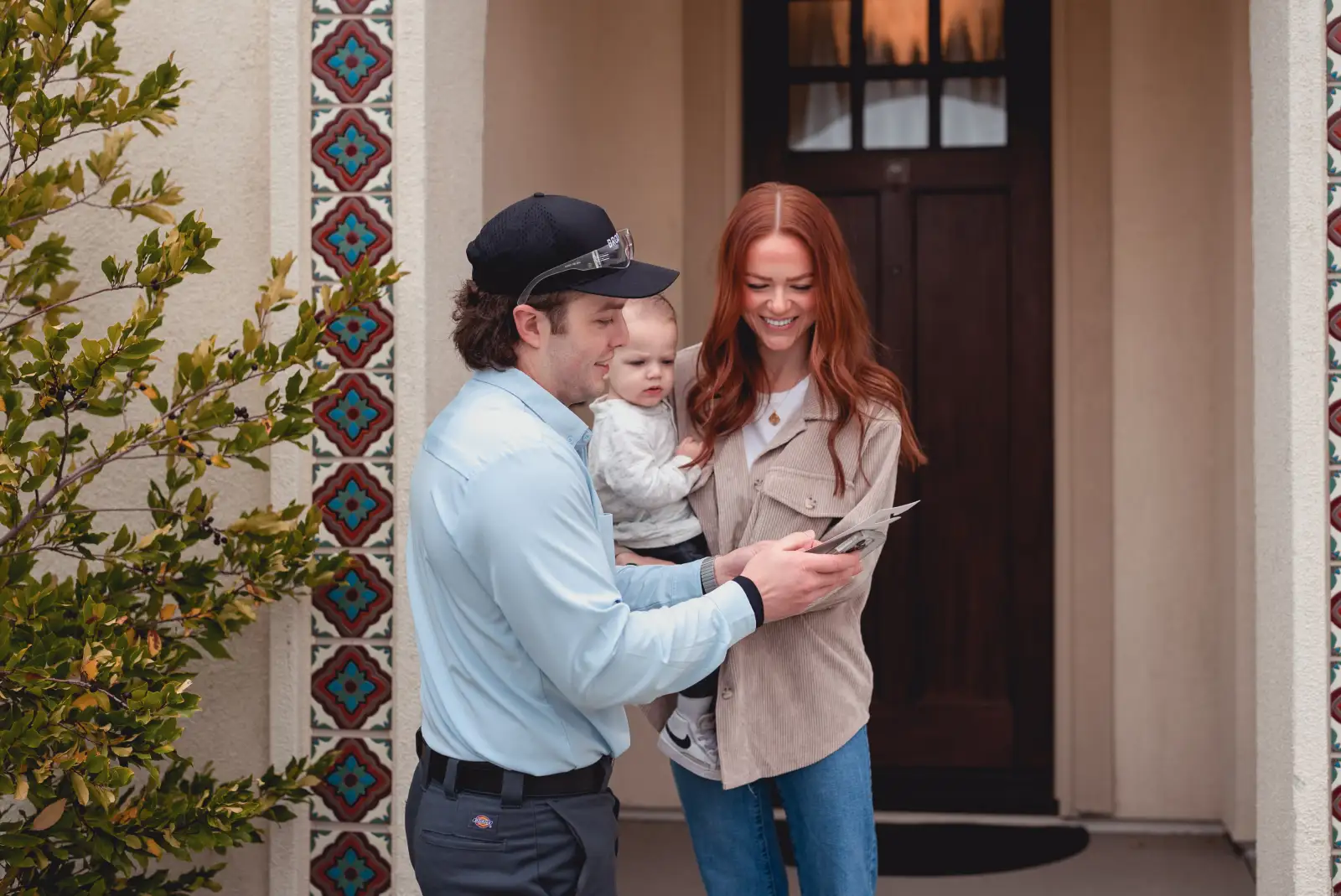 Pet and Environmentally Safe
Our licensed and certified pest control technicians use treatment methods that are friendly to pets, families, and the environment. Our customers are important to us – that's why we have a 100% satisfaction guarantee. If the pests come back, so do we.
833-369-1242
Same-day and Saturday Service
At Brooks, we're dedicated to solving your pest problems for good. That's why we offer same-day and Saturday pest control services – call us before noon and we'll get the job done.
833-369-1242
Don't wait. Get rid of your pests today!