Cockroach Control in Bakersfield, CA
Cockroach Control Services in Bakersfield, CA
Cockroaches are among the most dangerous pests that you can encounter in your Bakersfield home due to the many diseases they carry. If you find your home plagued with cockroaches, turn to professional help at Brooks Pest Control. With the right tools and technology to get the job done, we are devoted to giving you the best cockroach control in Bakersfield, CA.
Begin to eliminate cockroaches from your home and give us a call or contact us online to schedule your first inspection today. Same-day inspections are available for those who call in before noon.
Call 833-655-2102 for a quote, free of charge, or fill out the form below.
Bakersfield, CA, Cockroach Treatment
You'll find cockroaches in a number of different places around your Bakersfield home, whether it be in the darkness of your garage or basement or under the kitchen sink. Even seeing one roach can send a shiver down your spine, let alone seeing an entire group of them. While DIY methods do exist, nothing can beat going to the pros for help.
To get rid of cockroaches in your home once and for all, you can lean on our team at Brooks Pest Control. Our expert technicians have the proper training and tools to eliminate roaches and make sure they stay out of your Bakersfield home. We use family- and pet-friendly products with EPA-approved formulas and top-of-the-line results, all designed to give you back your peace of mind.
Brooks Pest Control provides service across the West Coast, which includes neighborhoods around Bakersfield, CA. Some of the neighborhoods we serve include:
Oildale
Gosford
Rosedale
Wible Orchard
Landco
Algoso
And more!
Why Are There Cockroaches in My Home?
Despite what many people think, cockroaches aren't attracted to filth. While keeping your space clean is important, cockroaches are most attracted to darkness, moisture, and warmth. Because they love the warmth, they are most common in the summertime.
They can find their way in through nooks and crannies in your doors, walls, windows, or your foundation. They often burrow their way out of sight, making it all the more difficult to know whether or not you have a cockroach problem before it's too late.
How Do I Get Rid of Cockroaches in Bakersfield, CA?
While you might want to squash a roach at first sight, it's best to leave the exterminating to the professionals. While DIY methods do exist and can even help in some instances, they cannot replace the effectiveness of professional cockroach control services.
When it comes to professional cockroach control in Bakersfield, you can rely on Brooks Pest Control. With the proper tools and expertise, our team of expert technicians will be there to help drive out cockroaches in your Bakersfield home.
Get Your Free Bakersfield, CA, Cockroach Control Quote Today
Give yourself some peace of mind and let the pros at Brooks Pest Control take care of your cockroach problem. With our effective solutions, we provide the best cockroach control in Bakersfield. Start driving those creepy crawlers of your home by visiting our special offers page or request a free quote on Bakersfield rodent control services today!
Frequently Asked Questions About Cockroach Control in Bakersfield, CA
What if I have more than one type of pest in my home?
Our team of expert technicians are trained and have the expertise to treat multiple pests in your Bakersfield home in a single visit. Along with our cockroach control services, we also treat fleas, ticks, rodents, ants, and more.
Do you offer same-day cockroach control in Bakersfield, CA?
Yes, we do! At Brooks Pest Control, we're proud to offer same-day service for urgent pest treatment. As long as you give us a call before noon, we'll provide same-day pest control service on your Bakersfield home.
What happens if cockroaches come back after treatment?
As a part of our commitment to achieve 100% customer satisfaction, we offer free re-treatments if the first treatment doesn't fully get rid of your cockroach problem. If you see signs of re-infestation, do not hesitate and reach out to us today for free re-treatment on your Bakersfield home.
How do I get started?
It's never been easier to eliminate cockroaches and other pests from your Bakersfield home than with Brooks Pest Control. You can give us a call or reach out by contacting us online today to schedule your initial inspection. You can also request a free quote on Bakersfield cockroach control online.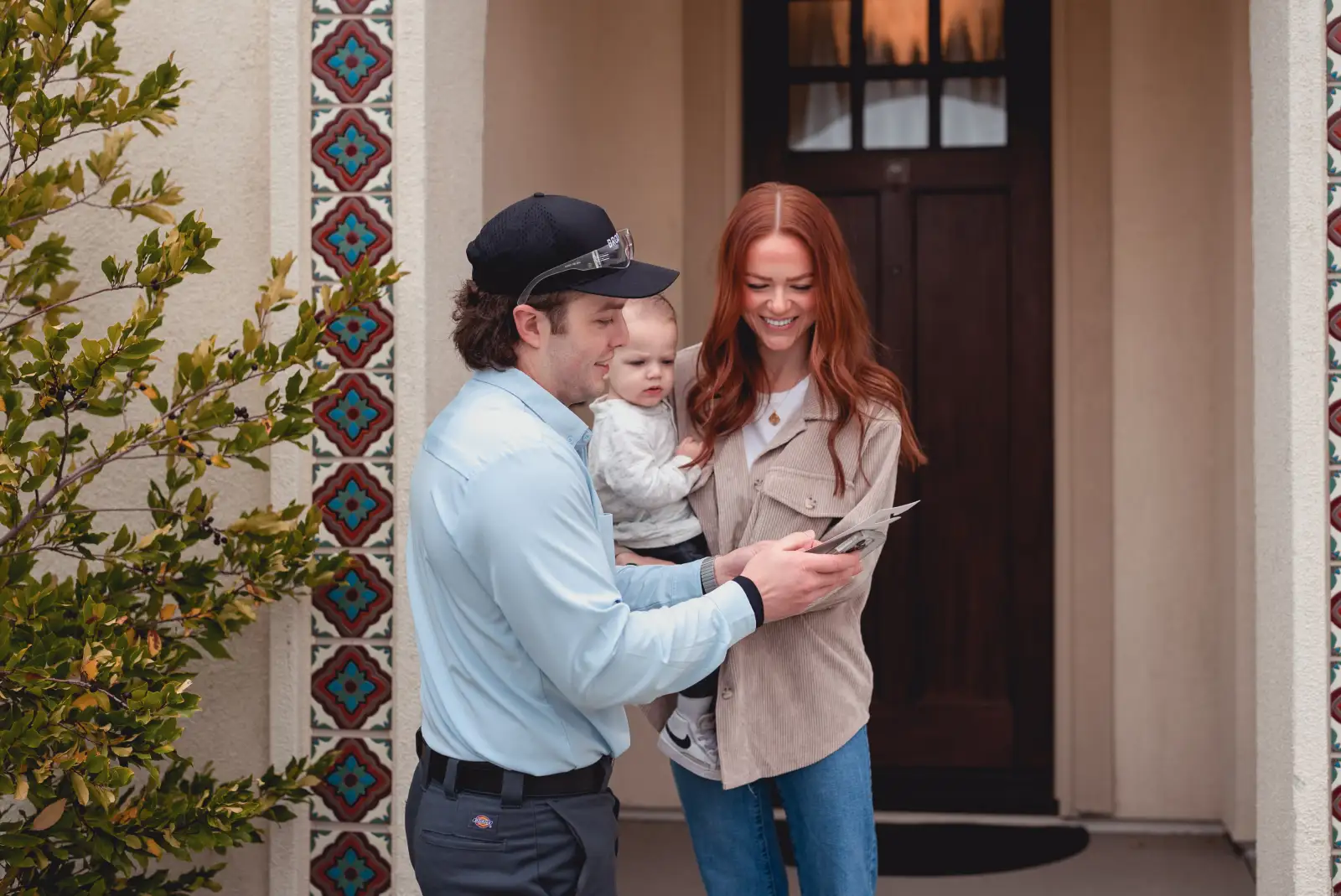 Pet and Environmentally Safe
Our licensed and certified pest control technicians use treatment methods that are friendly to pets, families, and the environment. Our customers are important to us – that's why we have a 100% satisfaction guarantee. If the pests come back, so do we.
833-369-1242
Same-day and Saturday Service
At Brooks, we're dedicated to solving your pest problems for good. That's why we offer same-day and Saturday pest control services – call us before noon and we'll get the job done.
833-369-1242
Don't wait. Get rid of your pests today!