Rodent Control in Bakersfield, CA
Rodent Control in Bakersfield, CA
Rodents are a surprise that nobody wants, especially when they invade your Bakersfield home. If you find a mouse, rat, or other type of rodent plaguing your property, turn to Brooks Pest Control for help! We offer rodent control services in Bakersfield, CA, that are effective on rodents and are family- and pet-friendly.
To schedule your initial inspection, give us a call or contact us online today. Same-day inspections are available if you call before noon.
Call 833-655-2102 for a quote, free of charge, or fill out the form below.
Bakersfield, CA, Rodent Treatment
No matter whether you see them hiding in your basement or crawling across your kitchen floors, finding rodents in your home is an unsettling feeling. There are many different types of mice, rats, and other rodents that you can encounter, many of which can even cause serious damage to your property.
While DIY methods do exist, there's no replacement for the effectiveness of professional help. When you're in need of professional rodent control, look no further than the pros at Brooks Pest Control. Our highly trained technicians use cutting-edge technology and treatments to drive those pesky critters out of your Bakersfield home. Our products are EPA-approved and deliver top-of-the-line results.
Brooks Pest Control serves areas across the West Coast, including neighboring communities around Bakersfield, CA. Some of these neighborhoods include:
Oildale
Gosford
Rosedale
Wible Orchard
Landco
Algoso
And more!
Why Are There Rodents in My Home?
Like many other animals, rodents are seeking food, water, and shelter. They can easily find all three of these things inside your home. There are many ways for rodents to get into your home such as through cracks and crevices in your foundation, walls, floors, and roof.
Once inside, they're on the hunt for places to eat or drink, including dripping water pipes, trash cans, kitchen spills, and other similar messes. Rodents are a year-round threat. Even though they're less active in the winter, they'll still be looking for a warm place to stay.
How Do I Get Rid of Rodents in Bakersfield, CA?
There are homemade remedies that can be applied in an attempt to drive away pests. However, while they vary in quality, these DIY methods cannot replace the effectiveness of professional rodent control services. These professional rodent control services are what we at Brooks Pest Control provide you for your home. With our professional care, we'll do the dirty work and get rid of your rodent problem so that you don't have to.
Get Your Free Bakersfield, CA, Rodent Control Quote Today
It's never been easier to be free of rodents in your home than with Brooks Pest Control. With our advanced products and tools that are right for the job, we provide the best rodent control services to drive rodents out of your Bakersfield home. To get the ball rolling, visit our special offers page or request a free quote on Bakersfield rodent control services today!
Frequently Asked Questions About Rodent Control in Bakersfield, CA
What if I have more than one type of pest in my home?
Brooks Pest Control's team of expert technicians are prepared to provide service on several different pests in a single visit. Along with our rodent control services, we also treat fleas, ticks, mosquitos, ants, and more.
Do you offer same-day rodent control in Bakersfield, CA?
Yes, we do! Sometimes your pest problem simply can't wait. That's why Brooks Pest Control offers same-day service for urgent pest treatment. However, we only offer same-day service for those who give us a call before noon. Want us there ASAP? Call us so that we can be there for you with our same-day service.
What happens if rodents come back after treatment?
We're committed to driving out any rodent problem that you have in your Bakersfield home. If our initial treatment doesn't do the trick, we offer a free re-treatment to make sure your problem doesn't return. If you see signs of re-infestation, reach out to us and we'll be there.
How do I get started?
It's simple to get rid of a rodent problem with Brooks Pest Control. Just give us a call or reach out by contacting us online today to schedule your initial inspection. You also have the option to request a free quote online.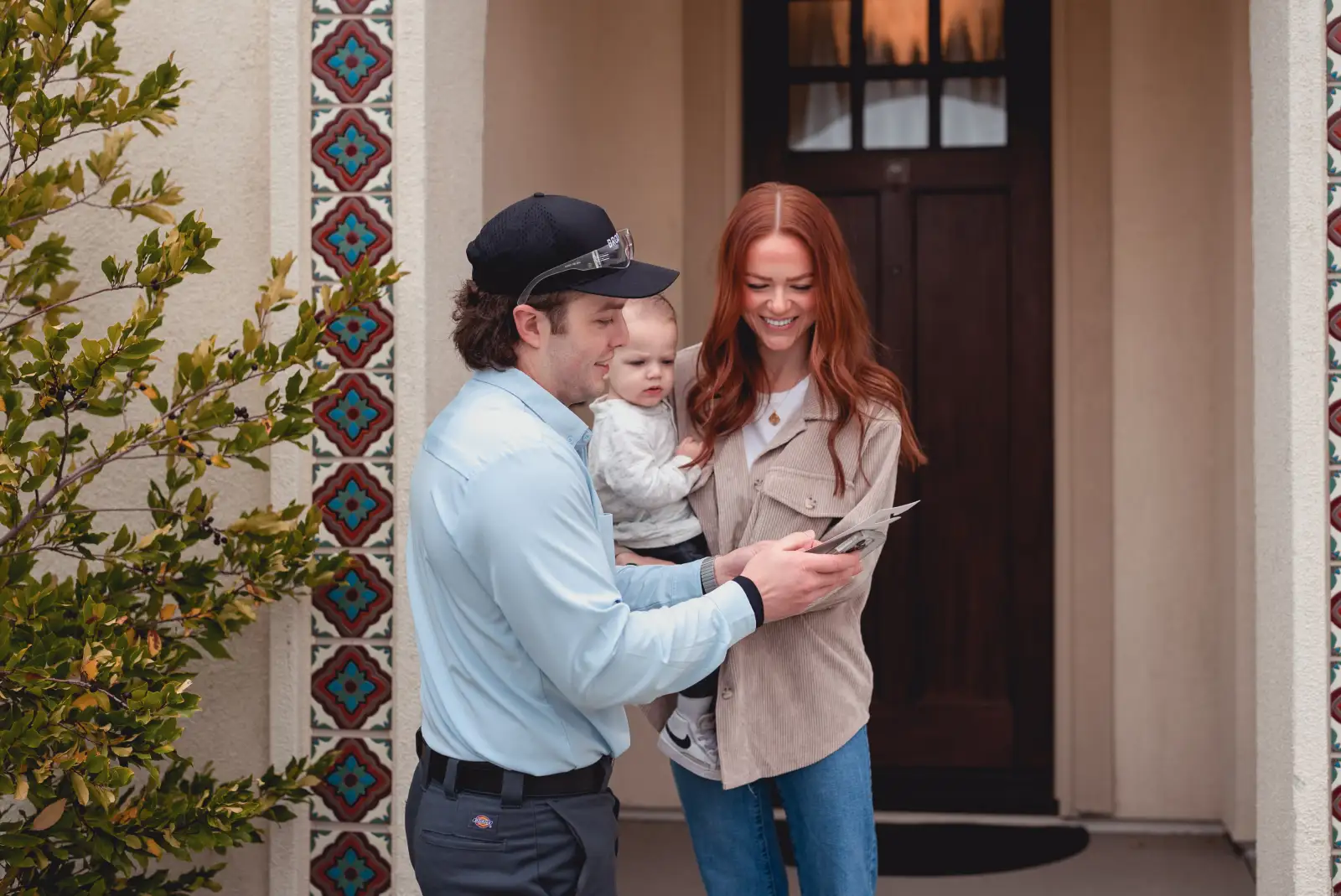 Pet and Environmentally Safe
Our licensed and certified pest control technicians use treatment methods that are friendly to pets, families, and the environment. Our customers are important to us – that's why we have a 100% satisfaction guarantee. If the pests come back, so do we.
833-369-1242
Same-day and Saturday Service
At Brooks, we're dedicated to solving your pest problems for good. That's why we offer same-day and Saturday pest control services – call us before noon and we'll get the job done.
833-369-1242
Don't wait. Get rid of your pests today!