Cockroach Control in Corona, CA
Cockroach Control in Corona, CA
Looking for reliable cockroach control in Corona, CA? Look no further than Brooks Pest Control! We equip our expert technicians to tackle cockroaches, mosquitoes, rodents, gophers, and other common pests. With our preventive pest control services, you can rest easy knowing we protect your home from unwanted intruders. Call us today to schedule your initial inspection and take the first step toward a pest-free home!
Call 833-655-2102 for a quote, free of charge, or fill out the form below.
Corona, CA, Cockroach Treatment
It's no wonder why people consider Corona one of the liveliest places in the United States. From stunning parks to picturesque hiking trails and easy access to popular Southern California attractions like Disneyland and Knott's Berry Farm, this place feels like paradise. Whether you're interested in exploring the Fender Museum of Music and the Arts, you'll always have things to do while staying here.
However, not everything in Corona is perfect. Dealing with pests like cockroaches is a reality for residents across California. As a homeowner, encountering a cockroach infestation can be one of the most unpleasant experiences. Besides posing potential health risks, invasive cockroaches can be stressful, irritating, and downright disgusting. While various DIY cockroach control treatments are available, they rarely compare to the effectiveness of Brooks Pest Control's proven solutions. We offer top-notch cockroach control services in Corona and surrounding communities, including:
Eagle Glen
Dos Lagos
Sierra Del Oro
Sycamore Creek
Chase Ranch
And more!
Are you interested in cockroach control services beyond Corona? Please browse through our service areas.
Why Are There Cockroaches in My Home?
In their pursuit of food, water, and dark areas to take shelter, your home in Corona, CA, can have everything they're looking for. Leaky pipes and open food containers may attract cockroaches to settle into and infest your home. They'll find their way inside through small cracks and crevices around the exterior of your home, making it all the more important that you seal and repair any issues you notice with your foundation, window screens, or doorways.
How Do I Get Rid of Cockroaches in Corona, CA?
DIY cockroach treatments are not recommended when dealing with a cockroach infestation. These pests carry several diseases that can be harmful to you and your family. When it comes to roaches, professional pest control in Corona, CA, with Brooks Pest Control is the way to go. We use family-friendly, pet-friendly products that deliver high-quality, lasting results. You'll have your peace of mind restored in no time.
Get Your Free Corona, CA, Cockroach Control Quote Today
Don't let a cockroach problem get in the way of enjoying life in Corona! Say goodbye to those pesky critters for good with Brooks Pest Control. Our skilled technicians have the necessary expertise and equipment to eradicate cockroaches from your home and prevent future infestations. Ready to take action? Start by requesting a free quote for our top-notch cockroach control services in Corona, or check out our special offers page!
Frequently Asked Questions About Cockroach Control in Corona, CA
What if I have more than one type of pest in my home?
Brooks Pest Control has you covered even when you're faced with multiple pests at the same time. We equip our team to handle a wide range of creepy crawlies and furry vermin, providing practical solutions to keep your home pest-free. We offer top-notch Corona pest control services for various types of pests, including:
Do you offer same-day cockroach control in Corona, CA?
We understand that specific cockroach problems need immediate attention. That's why we provide same-day cockroach control services in Corona when you call us before noon. Additionally, we offer Saturday cockroach control services in Corona to address pest issues that may arise over the weekend.
What happens if cockroaches come back after treatment?
At Brooks Pest Control, our primary goal is to ensure complete customer satisfaction. If we don't completely resolve your cockroach problem during the first round of treatments, we will provide complimentary re-treatments to ensure they're gone.
How do I get started?
Getting pest control services in Corona has never been simpler! Give us a call or contact us online and we'll start addressing your pest issues immediately.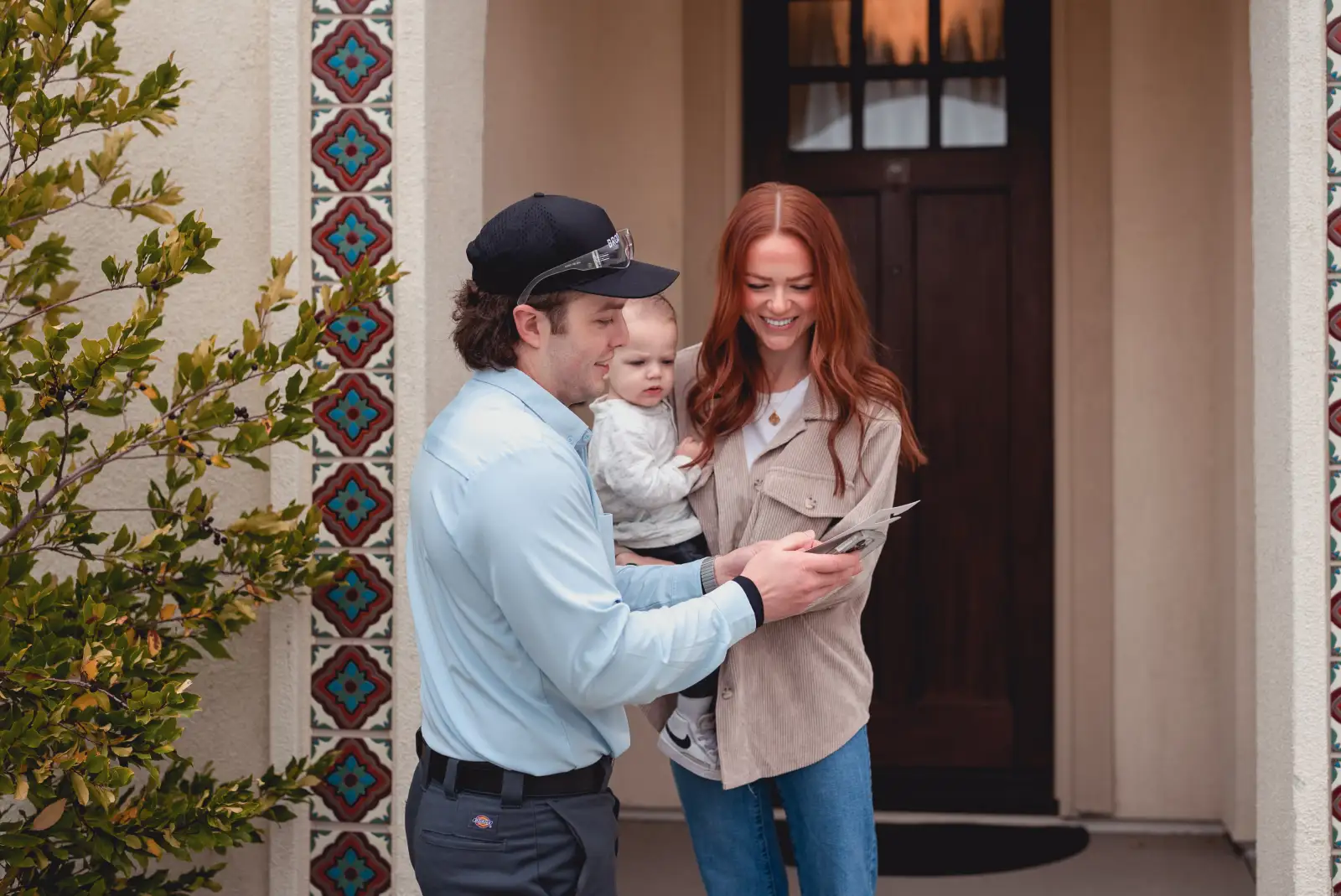 Pet and Environmentally Safe
Our licensed and certified pest control technicians use treatment methods that are friendly to pets, families, and the environment. Our customers are important to us – that's why we have a 100% satisfaction guarantee. If the pests come back, so do we.
833-369-1242
Same-day and Saturday Service
At Brooks, we're dedicated to solving your pest problems for good. That's why we offer same-day and Saturday pest control services – call us before noon and we'll get the job done.
833-369-1242
Don't wait. Get rid of your pests today!