Ant Control in Fresno, CA
Ant Control in Fresno, CA
While ants may seem like nothing more than a nuisance, they can cause damage to your property and contaminate your food. Luckily, Brooks Pest Control offers a wide range of pest control services in the Fresno area, allowing you to get rid of those pesky ant mounds in and around your home. Don't wait to get professional help. Give our team at Brooks Pest a call today!
Call 833-655-2102 for a quote, free of charge, or fill out the form below.
Fresno, CA, Ant Treatment
Ants are constantly on the hunt for their next meal. If they detect an open food source, they will come crawling. Prevent ants from entering your home and keep your food in tight containers and sealed. It also helps to avoid leaving crumbs out. Make sure you sweep and vacuum often. If you have a pet, make sure their food is picked up. However, don't wait to get professional help. Our team at Brooks Pest is happy to provide ant control services to residents in the Fresno area.
Why Are There Ants in My Home?
If you have food that is unsealed, left out, or not stored away, that is typically why ants will enter your home. However, there are other reasons ants may enter your home, such as shelter from inclement weather. Additionally, since ants travel in colonies, it can be difficult to keep them out.
How Do I Get Rid of Ants in Fresno, CA?
As we mentioned before, eliminating any sort of food source in your home can make a big change in deterring ant infestation. However, while there are home remedies you can try to prevent pest infestation, they are often unsuccessful when they are not paired with professional pest control treatments. For a quick resolution to your ant infestation, call the pest experts at Brooks Pest Control in Fresno.
Get Your Free Fresno, CA, Ant Control Quote Today
Don't risk the chance of your food being contaminated or the structure of your home being damaged. When you suspect an infestation, call the pest control professionals at Brooks Pest. We have the tools and expertise to quickly remove ants from your property and keep them out for good. Request your free quote today or browse our special offers to get started.
Frequently Asked Questions About Ant Control in Fresno, CA
What if I have more than one type of pest in my home?
Sometimes one type of pest can attract another. If you suspect you're dealing with a few types of pests, call our team for a free inspection. Our team can evaluate your property to look for signs of infestation and set up a treatment plan. Curious about what types of pests you're dealing with? Our pest library can help you determine which type of pests have invaded your space.
Do you offer same-day ant control in Fresno, CA?
We understand that pest infestation can be a hassle. If you give us a call before noon, we offer same-day services for your convenience. We also offer Saturday services if you call in advance.
What happens if ants come back after treatment?
If you notice another sign of pest infestation after our team has treated your home, we'll provide a complimentary re-treatment to ensure your home is completely protected.
How do I get started?
Don't wait to treat ant infestation. Our team at Brooks Pest is here to help keep your home pest-free. Request a quote or schedule your free inspection today by giving our team a call or filling out our contact form online!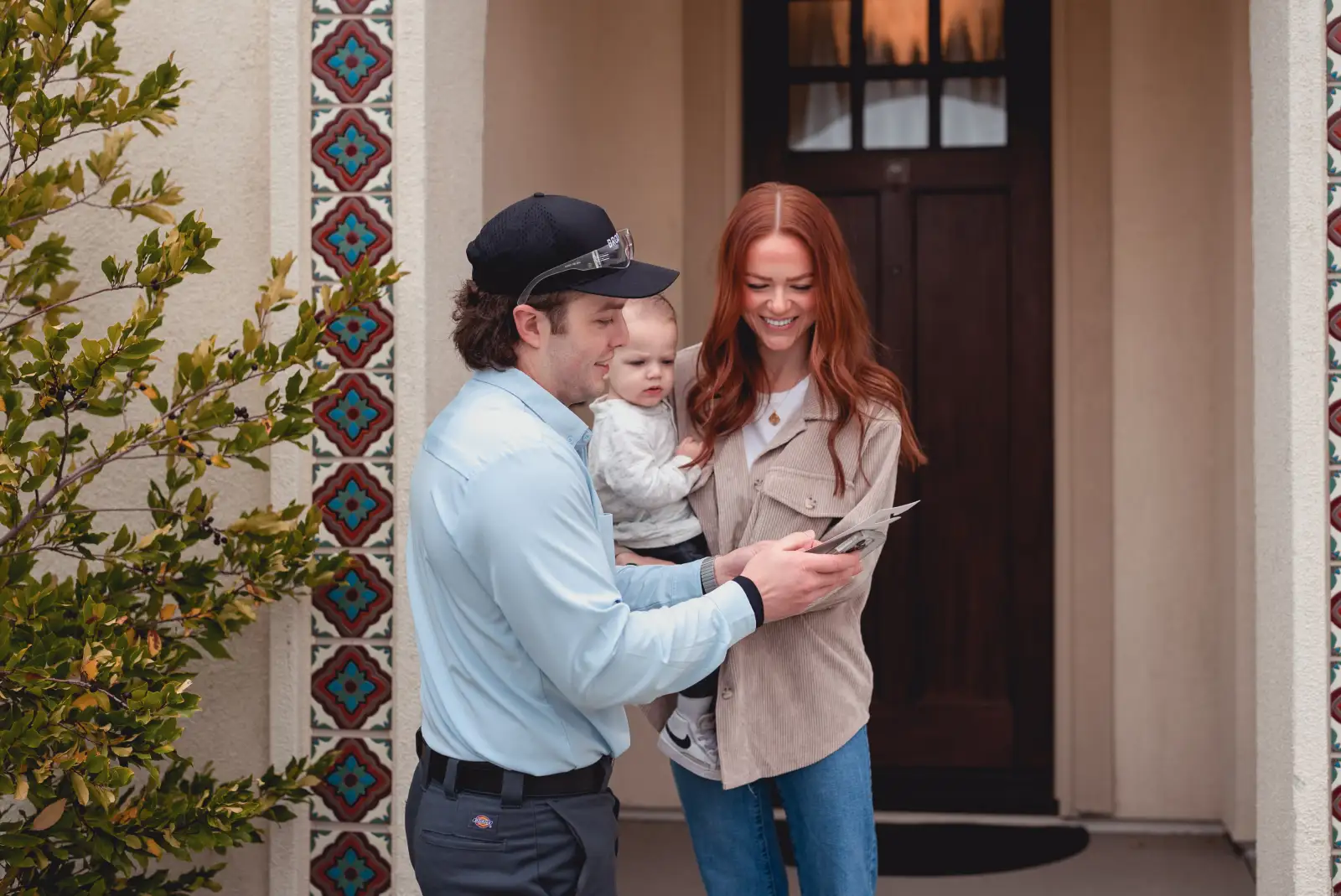 Pet and Environmentally Safe
Our licensed and certified pest control technicians use treatment methods that are friendly to pets, families, and the environment. Our customers are important to us – that's why we have a 100% satisfaction guarantee. If the pests come back, so do we.
833-369-1242
Same-day and Saturday Service
At Brooks, we're dedicated to solving your pest problems for good. That's why we offer same-day and Saturday pest control services – call us before noon and we'll get the job done.
833-369-1242
Don't wait. Get rid of your pests today!