Cockroach Control in Fresno
Cockroach Control in Fresno, CA
Cockroaches are a cause for concern in your Fresno home due to the many diseases they can carry. If you're seeing cockroaches indoors, don't hesitate to reach out to Brooks Pest Control for the best cockroach control service in Fresno. Not only do we drive out roaches, but we also find ways to prevent them from coming back into your space. You'll soon have peace of mind once again when you get rid of your cockroach problem with Brooks.
Eliminate cockroaches from your Fresno space by giving us a call or contacting our team today to schedule your initial inspection. If you schedule your appointment before noon, you'll be eligible for same-day service.
Call 833-655-2102 for a quote, free of charge, or fill out the form below.
Fresno, CA, Cockroach Treatment
Brooks Pest Control serves areas throughout the West Coast, including neighborhoods around Fresno, CA, such as:
Clovis
Tower District
Fort Washington
Highway City
Edison
Mayfair
Muscatel
And more
When it comes to treating cockroaches in your home, it's not just time-consuming and exhausting to get rid of them yourself. It can also be dangerous, as roaches can carry many diseases with them. Instead of sticking with homemade remedies, go to the pros for the most effective cockroach treatment and prevention.
To keep roaches out of your Fresno home, turn to us at Brooks Pest Control. Our treatments for cockroaches are second to none in terms of quality and effectiveness. With the right tools and team of expert technicians, we're best equipped to tackle your Fresno cockroach problem.
Why Are There Cockroaches in My Home?
Contrary to popular belief, cockroaches are not attracted to filth. More than anything, the things that attract roaches into your home are moisture, darkness, and warmth. Because of this, they are most commonly a problem during the warm months of summer.
They are able to find their way into your home through a variety of nooks and crannies. From windows to doors to small gaps in your foundation, a roach can easily find entry. This makes it more important to pay attention to any possible roaches in your home and get professional help before your problem gets worse.
How Do I Get Rid of Cockroaches in Fresno, CA?
DIY methods for cockroach extermination do exist, but while they can make the problem better, nothing beats getting professional help. This is due to professional cockroach control services, such as the kind Brooks Pest Control offers, being much more effective than homemade remedies.
With Brooks Pest Control, you'll receive the best professional services that you can get. We have the equipment and expertise for our team of exterminators to eliminate roaches and keep them out of your Fresno home.
Get Your Free Fresno, CA, Cockroach Control Quote Today
When you get cockroach control service with Brooks Pest Control in Fresno, we'll do the dirty work and drive out your cockroach problem once and for all. At affordable rates, we provide you with the best cockroach control service in Fresno. To get the most out of your service, visit our free quote page and our special offers page today.
Frequently Asked Questions About Cockroach Control in Fresno, CA
What if I have more than one type of pest in my home?
At Brooks Pest Control, we are equipped to treat multiple pests in one visit. Alongside our cockroach control services, we also treat for fleas, ants, rodents, mosquitos, and more.
Do you offer same-day cockroach control in Fresno, CA?
Some pest problems are simply too urgent to wait until another day. When you call our offices before noon, we'll provide you with same-day pest control services at your Fresno home.
What happens if cockroaches come back after treatment?
If our initial treatment doesn't finish the deal on your cockroach problem, there's no need to worry. We provide free re-treatments for when our first time around doesn't fully get rid of all the cockroaches in your Fresno home. If you see signs of reinfestation, don't hesitate to reach out to us.
How do I get started?
Take advantage of our services today and keep cockroaches from coming back into your Fresno space. Get started by contacting us online today to schedule your first inspection. In addition to that, you can request a free quote on Fresno cockroach control online.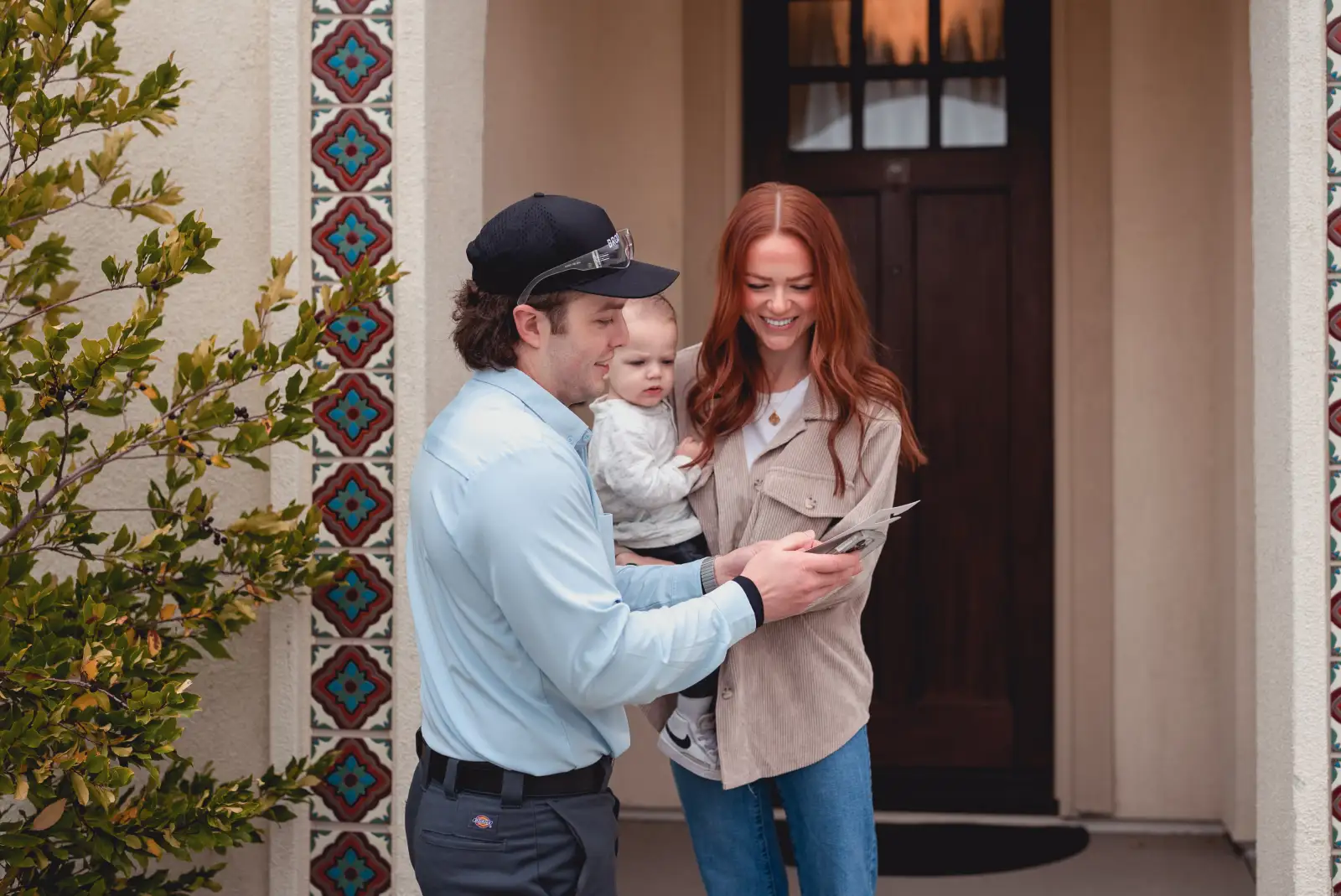 Pet and Environmentally Safe
Our licensed and certified pest control technicians use treatment methods that are friendly to pets, families, and the environment. Our customers are important to us – that's why we have a 100% satisfaction guarantee. If the pests come back, so do we.
833-369-1242
Same-day and Saturday Service
At Brooks, we're dedicated to solving your pest problems for good. That's why we offer same-day and Saturday pest control services – call us before noon and we'll get the job done.
833-369-1242
Don't wait. Get rid of your pests today!