Rodent Control in Fresno, CA
Rodent Control in Fresno, CA
One of the worst surprises you can get inside your home is a rodent infestation. Whether you're dealing with rats, moles, or mice, rodents can carry diseases and contaminate your home and food. Whatever the size of your rodent problem, turn to us at Brooks Pest Control for the best rodent control in Fresno, CA.
With the proper tools and expert team of exterminators, we'll make sure that your rodent is eliminated both in the short and long term. Call or contact our team online to schedule your first rodent inspection today. In addition, when you schedule your appointment before noon, you become eligible for same-day service.
Call 833-655-2102 for a quote, free of charge, or fill out the form below.
Fresno, CA, Rodent Treatment
Whether in your garage, kitchen, basement, or even through your pipes, seeing a rodent in your home is extremely unnerving. With a wide variety of mice, rats, and moles that can scavenge their way into your Fresno home, it's best that you tackle your rodent problem at the first sight of an infestation. While DIY methods do exist, they vary in quality and almost never produce long-term results.
If you need a lasting solution to your rodent infestation, always go to the professionals. For the best results in Fresno rodent control, turn to us at Brooks Pest Control in Fresno. By using pet-friendly, EPA-approved products, we are dedicated to driving rodents out while keeping you and your loved ones safe. Brooks Pest Control serves areas across the West Coast, including Fresno neighborhoods such as:
Clovis
Tower District
Fort Washington
Highway City
Edison
Mayfair
Muscatel
And more
Why Are There Rodents in My Home?
Like many species, rodents are constantly in pursuit of water, food, and shelter for survival. They can easily find all three of these things inside your home. There are several ways that a rodent or pack of rodents can get inside your home. These range from cracks and crevices in your foundation to slight gaps in your doors, windows, or roof. While rodents are less active in the winter, they are always seeking warmth and are a year-round threat.
How Do I Get Rid of Rodents in Fresno, CA?
There are plenty of DIY methods that are commonly done throughout a rodent-infested home. While these can help to varying degrees, nothing helps drive rodents out of a home more than going to professional rodent control for help. After all, nothing is as effective and reliable as leaning on the pros.
When it comes to getting the best results, you can count on us at Brooks Pest Control. Our treatments are designed to steer any pesky critters out of your home for good.
Get Your Free Fresno, CA, Rodent Control Quote Today
Restore your peace of mind and eliminate your rodent problem today with Brooks Pest Control. Using high-quality products and being able to tackle multiple pests in one visit, getting rid of rodents in your Fresno home has never been easier. To learn how to save on your rodent control solution, visit our special offers page or get a free quote today.
Frequently Asked Questions About Rodent Control in Fresno, CA
What if I have more than one type of pest in my home?
As a part of our dedication to eliminating pests from your Fresno home, we at Brooks Pest Control are geared to treat multiple pests in a single household. Some of the many pests we treat include fleas, ants, cockroaches, mosquitos, and plenty more.
Do you offer same-day rodent control in Fresno, CA?
We absolutely do! We understand that many pest problems can't just be tomorrow's problem. If you call our team before noon, you'll be eligible for same-day service to drive rodents out of your space as soon as possible.
What happens if rodents come back after treatment?
Don't fret if our first treatment doesn't seal the deal on your rodent problem. We offer free re-treatments as a courtesy to ensure that rodents are barred entry or eliminated from your Fresno home.
How do I get started?
Get on top of eliminating your Fresno rodent problem in your home by reaching out to our team at Brooks Pest Control. You can reach us by calling our team or contacting us online today.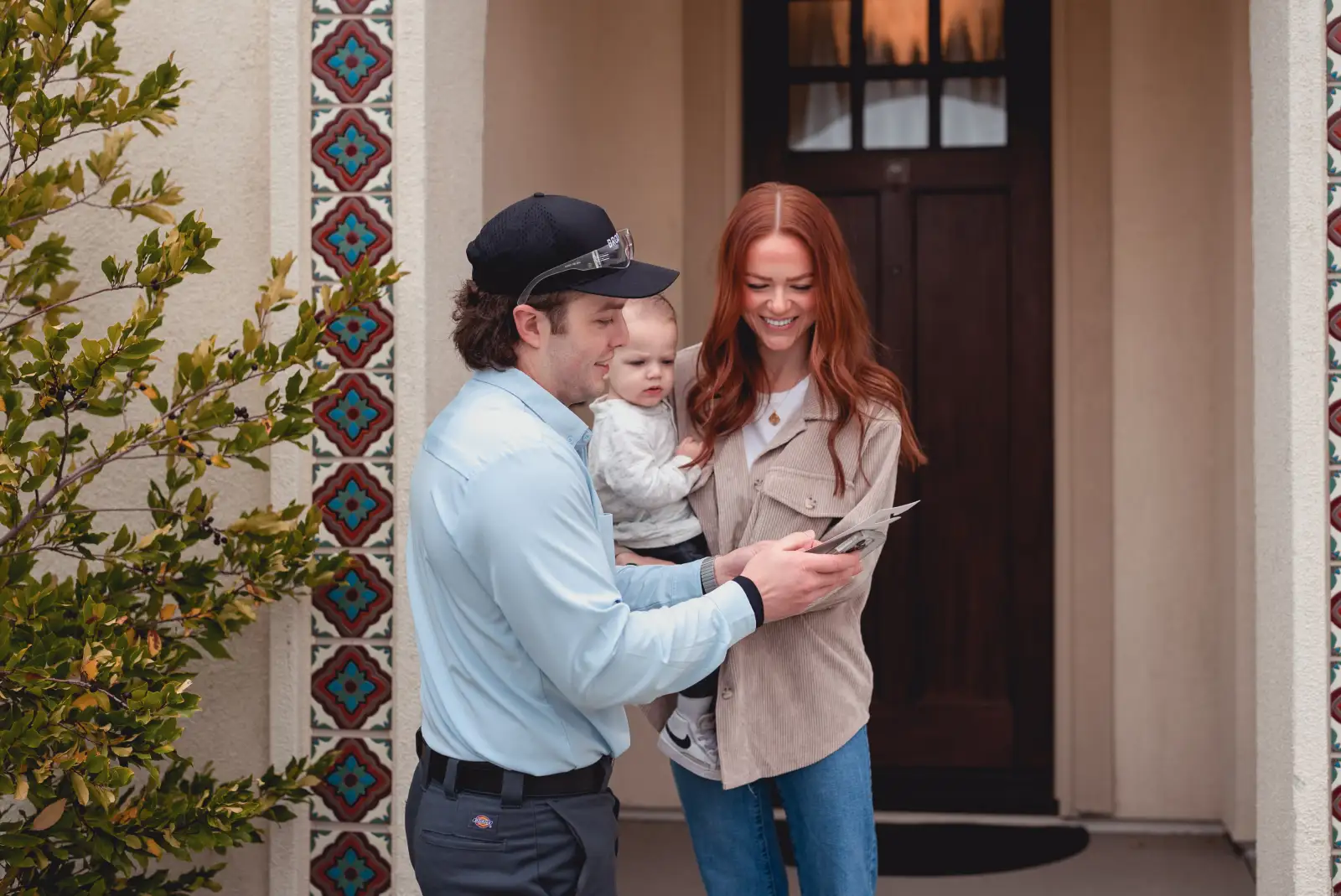 Pet and Environmentally Safe
Our licensed and certified pest control technicians use treatment methods that are friendly to pets, families, and the environment. Our customers are important to us – that's why we have a 100% satisfaction guarantee. If the pests come back, so do we.
833-369-1242
Same-day and Saturday Service
At Brooks, we're dedicated to solving your pest problems for good. That's why we offer same-day and Saturday pest control services – call us before noon and we'll get the job done.
833-369-1242
Don't wait. Get rid of your pests today!