Ant Control in Irvine, CA
While ants are mainly a nuisance, they can contaminate your food, and cause damage to your home or business. Building colonies, sneaking into cereal boxes, and crawling inside walls, ants are tricky pests. As they travel in packs and are always on the move, it can be hard to eliminate them from your home. Contact the pest experts at Brooks Pest Control and keep your property pest-free!
Call 833-655-2102 for a quote, free of charge, or fill out the form below.
Irvine, CA, Ant Control Treatment
Once ants make their way into your house, they can be hard to get rid of. In addition to sneaking into your pantry and contaminating food, ants can chew on wooden surfaces, causing serious damage to your home. Ants are often drawn to water sources, which make areas with high moisture, including California, susceptible to ant problems. Luckily, Brooks Pest Control is here to provide effective ant control solutions to Irvine businesses and residents. A few of the neighborhoods we serve include:
West Irvine
University Park
Quail Hill
Great Park
Turtle Rock
East Irvine
Westpark
Northwood
Why are there ants in my home?
Ants are mainly attracted to food and water sources. If you have sitting water near the exterior of your home or have crumbs laying around, ants will see it as an opportunity to invade. Cracks in the foundation of your home and damaged window seals can also allow ants into your home, where they'll quickly multiply.
How do I get rid of ants in Irvine, CA?
While sealing any entry points, regularly cleaning, and putting away food can help prevent ants from getting into your home, it most likely won't eliminate a full-blown ant infestation. Store bought pest control products can help keep ants and other pests at bay, but they rarely solve the issue completely. If you're dealing with an ant problem, big or small, it's time to call the professionals.
Get Your Free Irvine, CA, Ant Control Quote Today
When you're looking for ant control in Irvine, CA, or help with another type of pest, contact our team at Brooks Pest Control. With sustainable pest control treatments and swiftness in treating pest problems, you can rely on us to keep your space pest-free. Request a free quote or view our special offers today to get started!
Frequently Asked Questions
What if I have more than one type of pest in my home?
The professionals at Brooks Pest Control are happy to provide treatment for more than one type of pest in a single visit. For example, if you happen to be dealing with a rodent problem in addition to ants, our team can make a treatment plan for both in one appointment.
Do you offer same-day ant control in Irvine, CA?
Yes! We're committed to providing exceptional pest control services at Brooks Pest Control, and offer same-day services if you call before noon. Need emergency pest control on a Saturday? No worries—we're open on Saturdays!
What happens if ants come back after treatment?
We're committed to providing high-quality pest control solutions at Brooks Pest Control. If you're not satisfied after the initial treatment, give our team a call and we'll provide a complimentary free re-treatment.
How do I get started?
Not sure what type of pest you're dealing with? Not sure how to remove pests from your home? Give our team of pest experts a call or contact us online and we'll be there as soon as we can.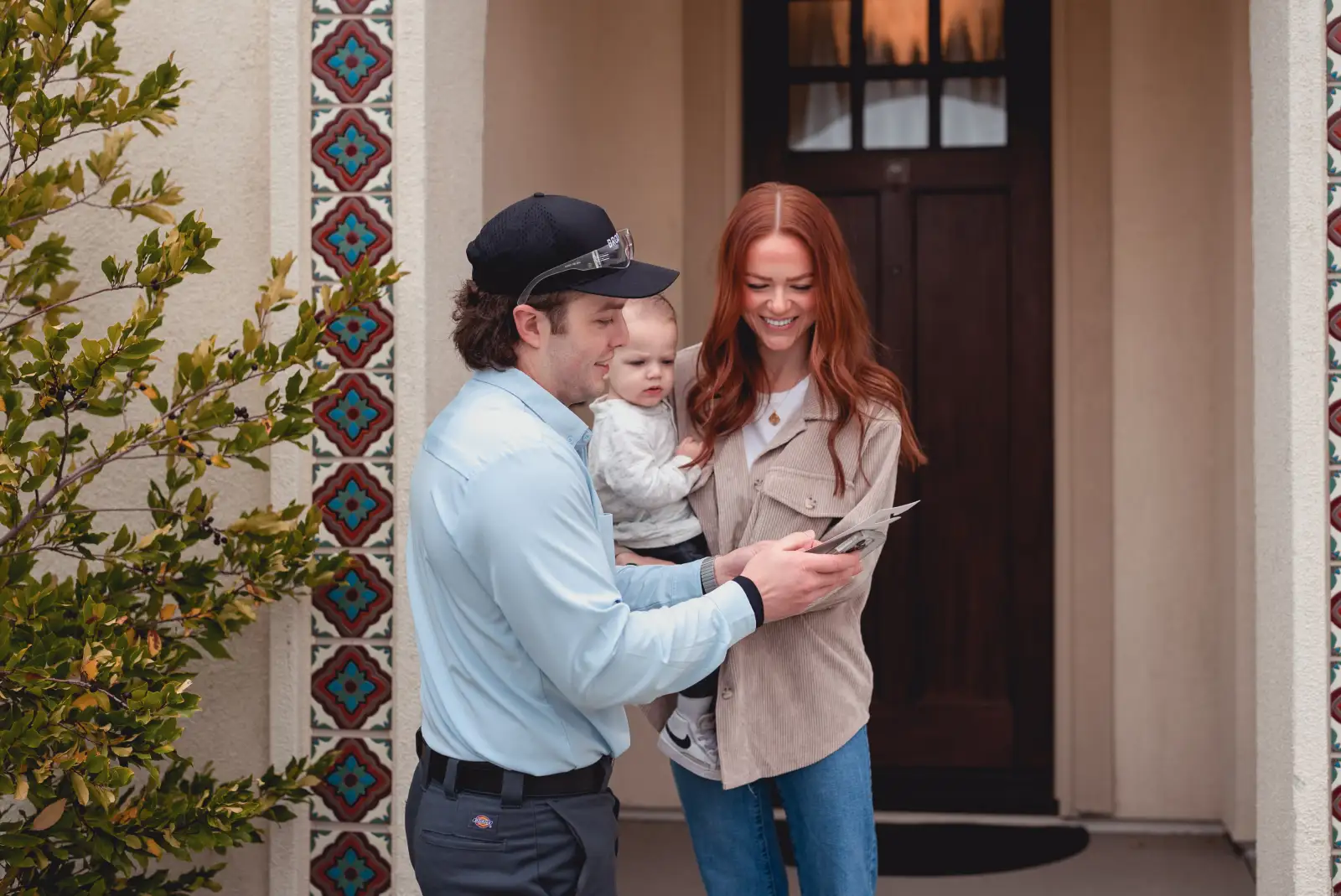 Pet and Environmentally Safe
Our licensed and certified pest control technicians use treatment methods that are friendly to pets, families, and the environment. Our customers are important to us – that's why we have a 100% satisfaction guarantee. If the pests come back, so do we.
833-369-1242
Same-day and Saturday Service
At Brooks, we're dedicated to solving your pest problems for good. That's why we offer same-day and Saturday pest control services – call us before noon and we'll get the job done.
833-369-1242
Don't wait. Get rid of your pests today!