Cockroach Control in Irvine
Cockroach Control in Irvine, CA
One of the worst things you can find as a homeowner is cockroaches. Cockroaches invading your home can be frustrating, and often even a health hazard. But thanks to Brooks Pest Control in Irvine, it doesn't have to be permanent. We offer cockroach control in Irvine and the surrounding area, including same-day services if you call before noon. Call us today to schedule your initial pest inspection!
Call 833-655-2102 for a quote, free of charge, or fill out the form below.
Irvine, CA, Cockroach Treatment
We all have the instinct to just squash a cockroach on sight, but your shoe or a rolled-up newspaper can only do so much. With Brooks Pest Control in Irvine, we can work together to take care of your cockroach problem altogether. We use environmentally friendly formulas that are pet and child-friendly, so you'll never need to worry about risking your family's health. Our services are effective and fast-acting in order to efficiently eradicate pests from homes all across the West Coast.
Why Are There Cockroaches in My Home?
Contrary to popular belief, cockroaches don't just seek out messy homes and apartments. What they really are looking for is somewhere dark, damp, and warm, which unfortunately can sometimes lead them into your home. They find their way in primarily through cracks and crevices near doors, windows, and other entrances that are often very small. If this is the case in your home, don't worry. Brooks Pest Control's Irvine pest control team is here to help.
How Do I Get Rid of Cockroaches in Irvine, CA?
There are some home remedies available that may help with your cockroach problem, such as store-bought sprays, baits, and traps, but they pale in comparison to the effectiveness of the services that a trained pest control technician can offer. These DIY cockroach control solutions often only mask the problem, without addressing the root cause.
If you want to eliminate cockroaches for good, Brooks Pest Control is here to provide expert cockroach control in Irvine, CA. We deliver eco-friendly, tested treatments that go beyond DIY methods of pest control and free re-treatments if you're not happy with your service.
Get Your Free Irvine, CA, Cockroach Control Quote Today
If you have a cockroach problem, let Brooks Pest Control take care of it for you. Our Irvine pest control technicians are trained to eradicate any pests in your home as quickly and as thoroughly as possible, with same-day service available when you call before noon. Take a look at our free quote page to get an estimate of what it could cost to handle your problem and check out our special offers page to find an amazing deal on Irvine cockroach control.
Frequently Asked Questions About Cockroach Control in Irvine, CA
What if I have more than one type of pest in my home?
The professionals at Brooks Pest Control are happy to provide treatment for more than one type of pest in a single visit. In addition to cockroaches, we offer exterminator services in Irvine for the following pests:
Ants
Mosquitoes
Silverfish
Ticks
Spiders
Fleas
Rodents
Wasps
Do you offer same-day cockroach control in Irvine, CA?
Yes! If you call before noon, we are more than happy to provide same-day exterminator services in Los Angeles. We also offer next-day and Saturday pest control services in Los Angeles.
What happens if cockroaches come back after treatment?
Eliminating the pests you can see is step one. Keeping them out is step two. In addition to our initial pest control service in Irvine, we offer free re-treatments between paid services if pests return. Customer satisfaction is our top priority, so don't hesitate to reach out if your problem doesn't go away for good.
How do I get started?
Give us a call today to begin the process of ridding your home or business of unwanted pests. To reach us online, you can head over to our contact us page. Call Brooks Pest Control today and enjoy a pest-free home!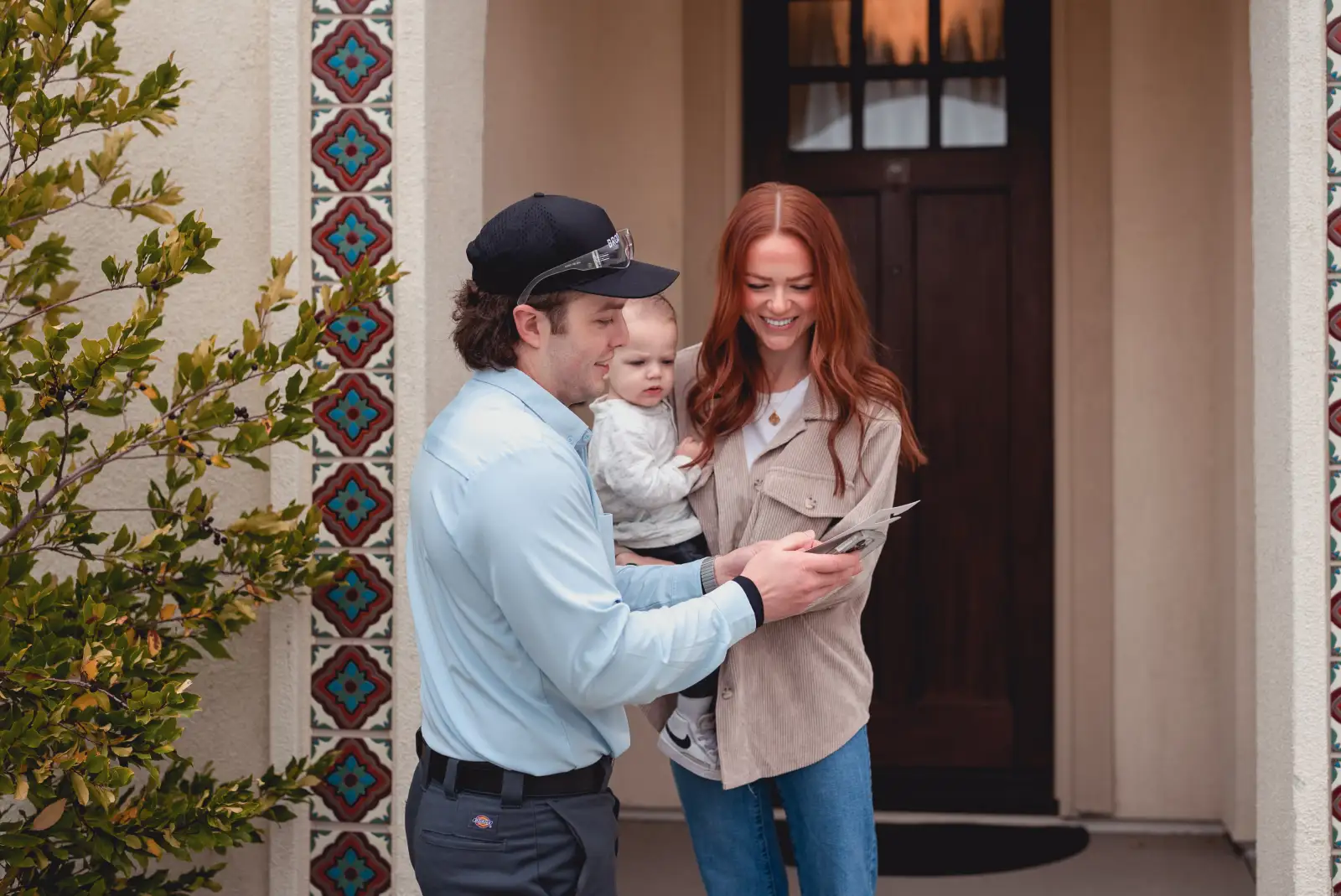 Pet and Environmentally Safe
Our licensed and certified pest control technicians use treatment methods that are friendly to pets, families, and the environment. Our customers are important to us – that's why we have a 100% satisfaction guarantee. If the pests come back, so do we.
833-369-1242
Same-day and Saturday Service
At Brooks, we're dedicated to solving your pest problems for good. That's why we offer same-day and Saturday pest control services – call us before noon and we'll get the job done.
833-369-1242
Don't wait. Get rid of your pests today!