Ant Control in Long Beach, CA
Ant Control in Long Beach, CA
Discovering an ant problem in your home can feel like a lot to handle. Thankfully, you're not alone. Brooks Pest Control offers ant pest control services in Long Beach, CA, with options for removal and preventive care. Our friendly team of experts is equipped with the knowledge and tools necessary to deliver effective and eco-friendly pest control in Long Beach. Give us a call today to set up your initial inspection! Same-day service is available if requested before noon.
Call 833-655-2102 for a quote, free of charge, or fill out the form below.
Long Beach, CA, Ant Control Treatment
Long Beach is a pristine seaside community in the heart of Southern California known for its beautiful waterfront, many exciting things to do, and a thriving arts and culture scene. The city's thriving economy and luxurious conditions attract more and more people every year, as it offers an enjoyable mix between urban living and suburban charm.
Unfortunately, this all comes at the cost of dealing with a number of bothersome pests, including ants. Whether in the kitchen, along the windowsill, or elsewhere in the home, ants are a frequent problem for many Long Beach residents. There are a few DIY methods of ant control out there you can try, but they can only help so much.
If you find yourself dealing with an ant problem of any magnitude, your best bet to fight back is to bring in the professionals at Brooks Pest Control. We offer the best ant control services in Long Beach with tested, environmentally conscious treatments proven effective in quickly and thoroughly eradicating your issue from the source. Give us a call today to schedule your initial inspection.
In addition to options for pest control in Long Beach, CA, Brooks Pest Control provides pest control services all along the West Coast. Some of the nearby communities we frequently work with include:
Anaheim
Santa Ana
Orange
Irvine
Los Angeles
Temecula
And more
Why Are There Ants in My Home?
Ants are some of the most commonly encountered pests in the United States. These tiny insects find their way into your home primarily in pursuit of three things: food, shelter, and water. They find it in the form of spills, leaky pipes, left-out trash, and more, as just a small number of resources can sustain them for a long time. Once they make it inside, they leave behind a pheromone trail that attracts their fellow ants to follow their path, which means your problem can get out of hand fast.
How Do I Get Rid of Ants in Long Beach, CA?
Most people are comfortable squashing any ants they see inside their home, but if you find yourself dealing with a major problem, you can't expect to handle it all on your own. You can try the many DIY ant control methods that exist, but any bait stations or counter traps you set will only help a little bit. For the best results, invest in Brooks Pest Control's professional options for ant control in Long Beach, CA. Our treatments are eco-friendly and have proven more effective than any store-bought or homemade solutions.
Get Your Free Long Beach, CA, Ant Control Quote Today
Eliminate the ants and pest-related stress causing you trouble with Brooks Pest Control. We offer expert Long Beach pest control services that include effective, eco-friendly treatments backed by our commitment to excellent customer service. Our friendly team of technicians will quickly identify the source of your problem and work to get rid of it once and for all.
Before you begin, check out our special offers page. You can also request a free quote on Long Beach ant control services to get a clearer financial picture of your situation. Once you're ready, give us a call to get started!
Frequently Asked Questions About Ant Control in Long Beach, CA
What if I have more than one type of pest in my home?
Brooks Pest Control's expert technicians are trained to handle many different types of pests, including multiple pests in the same visit. Along with our options for Long Beach ant control, we also offer Long Beach rodent control, cockroach control, mosquito control, and more.
Do you offer same-day ant control in Long Beach, CA?
Yes! Some problems simply cannot wait to be taken care of. That's why we offer same-day ant control in Long Beach if you call us before noon. We also offer Saturday ant control in Long Beach so you can get your weekend back on track as soon as possible.
What happens if ants come back after treatment?
We're committed to making sure our customers' needs are fully met, even after our technicians drive away. As such, we offer complimentary re-treatments if your ant problem returns. Just reach out whenever you see them back inside and we'll be on the way!
How do I get started?
It's never been easier. To get the ball rolling on handling your ant invasion, just give us a call! You can also contact us online or request a free quote on Long Beach ant pest control to learn more.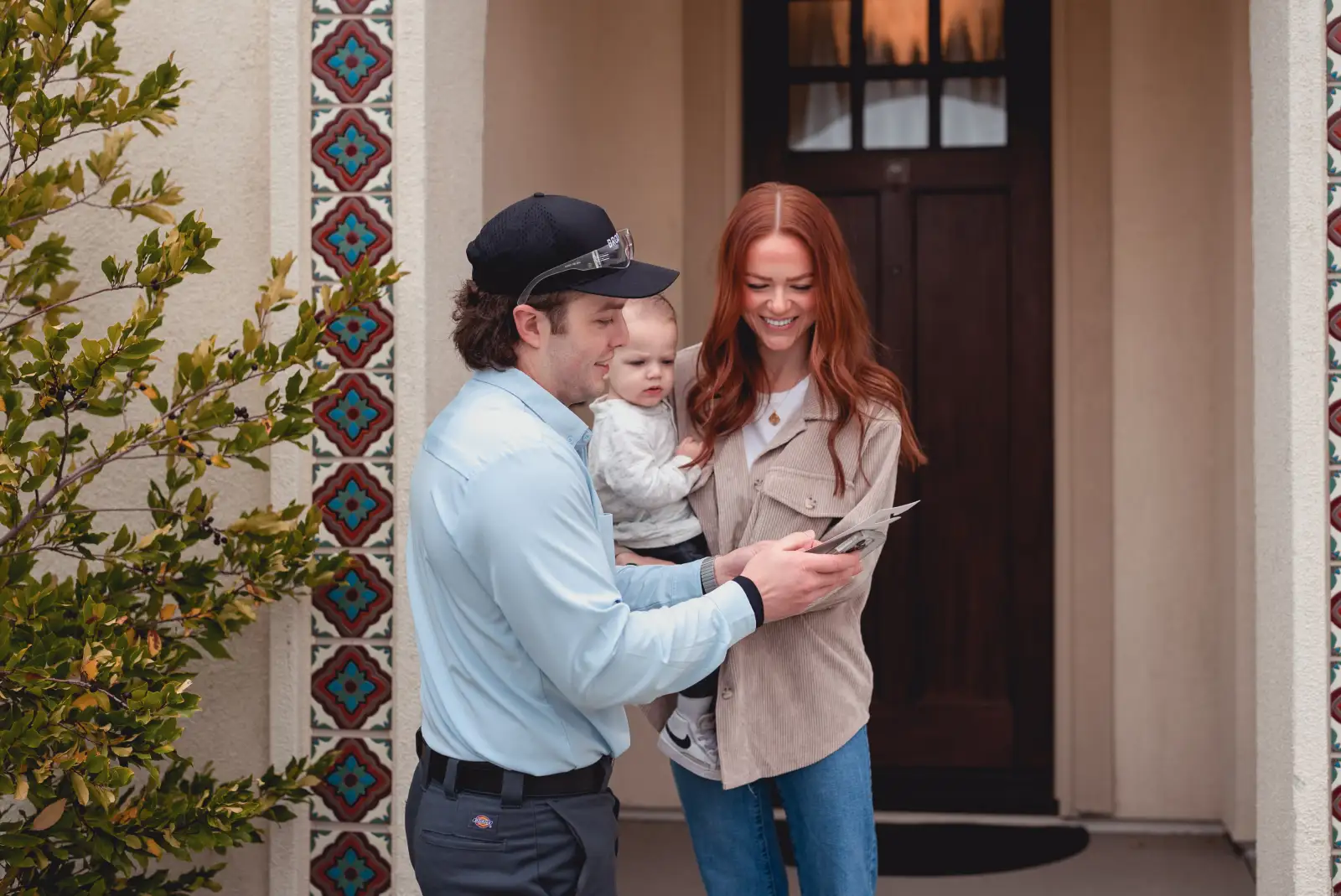 Pet and Environmentally Safe
Our licensed and certified pest control technicians use treatment methods that are friendly to pets, families, and the environment. Our customers are important to us – that's why we have a 100% satisfaction guarantee. If the pests come back, so do we.
833-369-1242
Same-day and Saturday Service
At Brooks, we're dedicated to solving your pest problems for good. That's why we offer same-day and Saturday pest control services – call us before noon and we'll get the job done.
833-369-1242
Don't wait. Get rid of your pests today!