Cockroach Control in Long Beach, CA
Cockroach Control in Long Beach, CA
There is nothing worse than being surprised by cockroaches in your beautiful Long Beach home. A cockroach infestation can damage your home, harbor diseases that endanger your family, and decimate your peace of mind.
You don't have to face disgusting bugs alone, Brooks Pest Control is here to help! Our professional pest control solutions are both highly effective and pet-friendly! Give us a call today to get started! Same-day services are available if you contact us before noon.
Call 833-655-2102 for a quote, free of charge, or fill out the form below.
Long Beach, CA, Cockroach Treatment
Cockroaches are both unpleasant and a danger to your health and well-being. Instead of putting yourself at risk by trying to cope with them yourself, let the professionals at Brooks Pest Control resolve the issue for you.
We are proud to service neighborhoods across California, Oregon, and Washington. Those in Long Beach, the Aquatic Capital of America, can count on us to help eradicate some of the most resilient and annoying pests. We're delighted to serve the citizens of Long Beach in many neighborhoods, including:
Alamitos Heights
Belmont Shores
Bixby Knolls
East Village Arts District
Lakewood Village
Let us get rid of the cockroaches invading your home. Give us a call for immediate help or get a free quote for our pest services!
Why Are There Cockroaches in My Home?
Despite the widespread belief that roaches only attack dirty homes, they will also invade clean ones if they can. Cockroaches can get into your home through badly sealed windows and doors or cracks in your home's foundation. You can even unknowingly bring them into your home through bags, luggage, or shipping boxes. They're drawn to your home in their search for food, water, and shelter, and once they're in, they reproduce quickly.
Unfortunately, cockroaches are excellent at hiding and you may not spot one until you're facing a full-out infestation. Some signs of roach infestation include:
Droppings resembling coffee grounds or dirt
Penny-sized egg capsules
Brown smear marks or streaks on your walls or furniture
Unusual musty odor
Shed skins
How to Get Rid of Cockroaches in Long Beach, CA
Cockroaches are widely known to be one of the most resilient pests and can survive for weeks without a head. Notoriously hard to get rid of, it's highly unlikely that you can solve your roach problem with an at-home or DIY method. Not to mention, possible contact with these gross bugs can put you at risk of disease.
Instead, trust in the family-friendly, pet-friendly pest control services from Brooks Pest Control. We have what it takes to free your home of a variety of pests, including cockroaches. Don't settle for anything less than the best when it comes to pest control in Long Beach.
Get Your Free Long Beach, CA, Cockroach Control Quote Today
Instead of coming face to face with cockroaches, let Brooks Pest Control handle it. Our pet-friendly, effective cockroach control methods are just what you need, no matter if you're facing German cockroaches, Oriental cockroaches, American cockroaches, or Brown-banded cockroaches.
Let us deal with your roach problem! Call our friendly pest experts for immediate assistance or get a free quote! Don't forget to check out our special offers to find ways to save on pest control services in Long Beach, CA.
Frequently Asked Questions About Cockroach Control in Long Beach, CA
What if I have more than one type of pest in my home?
If you're facing multiple pest problems in your home, Brooks Pest Control is more than happy to step in. Along with cockroaches, we treat ants, rodents, and many other bothersome pests in Long Beach, CA. We can treat multiple pests in a single visit.
Can I get a same-day appointment for cockroach control services?
Yes! If you call us before noon, we can come by and help before the end of the day! Too busy during the work week? Brooks offers Saturday appointments so you can set up an appointment on your schedule!
What happens if roaches come back after treatment?
When you use Brooks Pest Control cockroach control solutions, you don't have to worry about dealing with re-infestations. If your roach problem is not solved to your satisfaction, we'll return with complimentary re-treatments.
How do I get started?
We're here for all of your Long Beach pest control needs so we can help you send roaches packing. Don't face roaches alone. Call us or request a free quote today!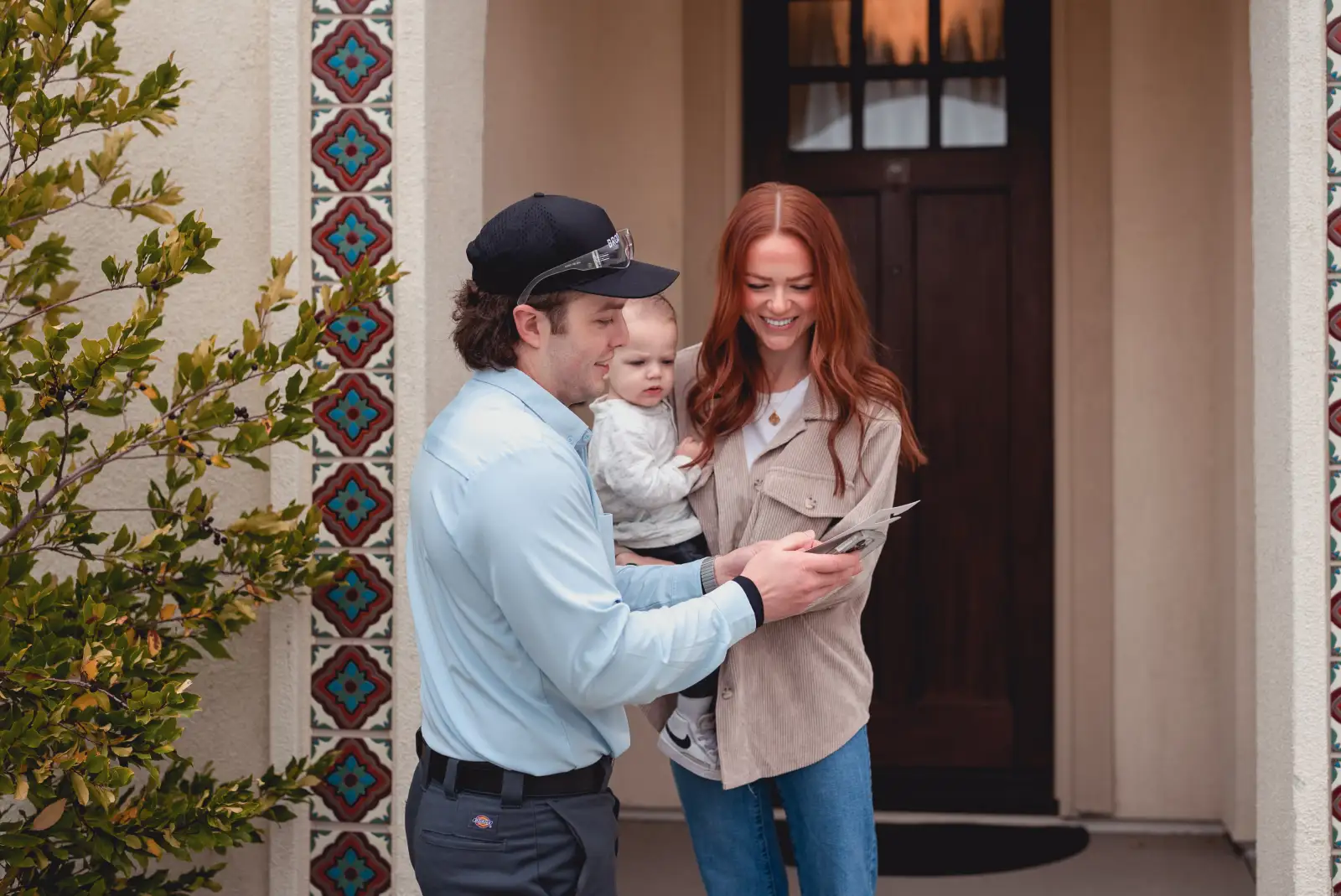 Pet and Environmentally Safe
Our licensed and certified pest control technicians use treatment methods that are friendly to pets, families, and the environment. Our customers are important to us – that's why we have a 100% satisfaction guarantee. If the pests come back, so do we.
833-369-1242
Same-day and Saturday Service
At Brooks, we're dedicated to solving your pest problems for good. That's why we offer same-day and Saturday pest control services – call us before noon and we'll get the job done.
833-369-1242
Don't wait. Get rid of your pests today!