Ant Control in Murrieta, CA
Ant Control Pest Services in Murrieta, CA
Finding an ant problem in your Southern California home or workplace can be stressful, but thankfully, you're not alone. Brooks Pest Control offers ant pest control services in Murrieta, CA, with treatments proven to be effective and eco-friendly. Our expert technicians have the tools and knowledge necessary to quickly eliminate your problem and make sure it never returns. Call us today to set up your initial inspection! Same-day service is available if requested before noon.
Call 833-655-2102 for a quote, free of charge, or fill out the form below.
Murrieta, CA, Ant Treatments
Living in Southern California means you'll encounter several pests, but few are as pesky and persistent as ants. Whether you see them on the kitchen counter, along the windowsill, or somewhere else in the home or workplace, these little insects seem to pop up no matter what you do. While finding a couple of ants isn't worth pulling your hair out, seeing many may mean you have an infestation on your hands. There are some DIY methods of ant control out there available to try, but they can only do so much.
If you truly want to take care of your ant problem once and for all, you should invest in the expert services offered by Brooks Pest Control. Our technicians are trained to thoroughly eradicate ants and any other pests causing you trouble at home or work, including rodents, mosquitoes, flies, and more. We use treatments proven to be eco-friendly and safe around your family, as all of our formulas are EPA-approved and rely on top-shelf products and data.
As part of our commitment to providing pest control services along the West Coast, Brooks Pest Control offers options for pest control in Murrieta, CA, and many nearby communities, including:
Temecula
Lake Village
Wildomar
French Valley
Dutch Village
And more!
Why Are There Ants in My Home?
Ants are one of the smallest insects commonly found in the United States. As a result, they have no trouble finding their way into your home or business. They often enter through cracks in the foundation, doors, windows, and other tiny points of entry in pursuit of shelter, food, and water. Even the tiniest spills and stains can attract swarms of ants, and any amount of water from a pipe, faucet, or other source can sustain them for a long time. Once inside, they leave behind a trail that attracts waves of other ants to follow their path, meaning your problem can get out of hand fast.
How Do I Get Rid of Ants in Murrieta, CA?
If you see an ant crawling across the table or floor, odds are you're going to reach out and squish it. But while that feels good in the moment, you simply can't expect to get rid of your ant problem on your own. There are some DIY ant control methods out there you can try, but any bait stations or traps you set yourself will only serve as a Band-Aid on the bigger issue. The best option is to attack your ant infestation head-on with Brooks Pest Control. Our treatments are eco-friendly and proven stronger than any homemade or store-bought products you can get your hands on.
Get Your Free Murrieta Ant Pest Control Quote Today
Eliminate your pest problem and the stress that comes alongside it with Brooks Pest Control. We offer expert Murrieta pest control services with eco-friendly treatments proven to drive out ants and other pests once and for all. Before you get started, check out our special offers page and request a free quote on Murrieta ant pest control. Once you're ready, give us a call to schedule your initial inspection today!
Frequently Asked Questions
What if I have more than one type of pest in my home?
Brooks Pest Control's expert technicians are trained to help prevent and eradicate several types of pests, including multiple types in one visit. In addition to providing Murrieta ant control services, we offer treatments for rodents, fleas, spiders, cockroaches, mosquitoes, and more. View our full list of services here.
Do you offer same-day ant pest control in Murrieta, CA?
Yes! We know that some problems cannot wait to be addressed. That's why if you call us before noon, Brooks Pest Control gladly provides same-day ant control in Murrieta, CA. We also offer Saturday ant control in Murrieta, CA, for issues that come up over the weekend.
What happens if ants come back after treatment?
Our number one priority is achieving complete customer satisfaction. To achieve this goal, we offer complimentary re-treatments if your ant problem returns. Just reach out at the first sign of an infestation and we'll be on the way!
How do I get started?
It's simple. Just give us a call and we'll start the process of solving your pest problem once and for all. You can also contact us online or request a free quote on ant pest control in Murrieta, CA, to learn more.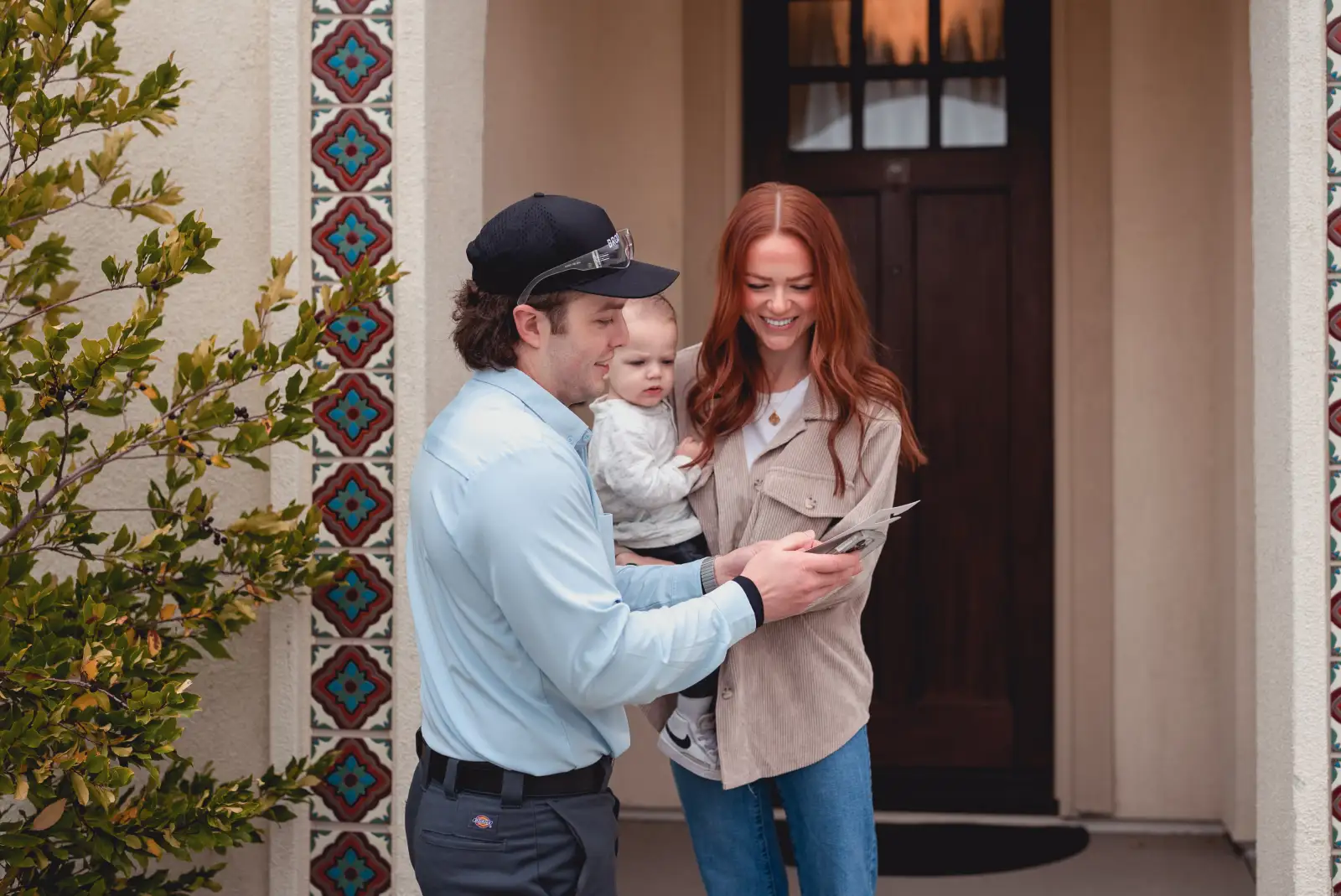 Pet and Environmentally Safe
Our licensed and certified pest control technicians use treatment methods that are friendly to pets, families, and the environment. Our customers are important to us – that's why we have a 100% satisfaction guarantee. If the pests come back, so do we.
833-369-1242
Same-day and Saturday Service
At Brooks, we're dedicated to solving your pest problems for good. That's why we offer same-day and Saturday pest control services – call us before noon and we'll get the job done.
833-369-1242
Don't wait. Get rid of your pests today!