Cockroach Control in Murrieta, CA
Cockroach Pest Control in Murrieta, CA
A cockroach wandering around in the same living space as you isn't a pleasant sight, especially in Murrieta, CA, where the climate is a bit too warm for the both of you to be outside. There's only space for one living thing in your humble abode: you. Get rid of your unwanted visitors with Brooks Pest Control! We offer cockroach pest control with effective treatments that will have the roaches gone in no time. Set up an initial inspection by calling us today! We even offer same-day and Saturday services if you contact us before noon.
Call 833-655-2102 for a quote, free of charge, or fill out the form below.
Murrieta, CA, Cockroach Treatments
There are many pests you can encounter while living in Southern California. It's best to avoid them at all costs, especially in your living space. Imagine trying to do the little hobbies you enjoy, and then, the sight of a cockroach ruins it all. It's best to get rid of them as soon as possible. While there are DIY remedies you can use, who knows how effective and lasting they are?
To make things easier for you. It's best to work with Brooks Pest Control. Our treatments are effective, as our technicians come back every 60 days to retreat the initial areas of infestation. This helps catch any larvae and eggs that the current cockroaches are producing to prevent further issues in the future.
We can do all the work for you so you won't have to stress. We're committed to providing our pest control services on the West Coast. Not only do we have pest control treatments in Murrieta, CA, but we also offer our services in nearby areas such as:
Wildomar
Temecula
Canyon Lake
Lake Elsinore
Perris
And more
Why Are There Cockroaches in My Home?
Although cockroaches may appear anytime a house appears unclean, that's not always the cause. Cockroaches want to enter your home no matter how clean it is as long as they can find a way in. Besides maintaining a clean home, we recommend checking the exterior of your house for any entry points. Look out for things such as bad door or window seals, cracks in the foundation, and any open windows. Cockroaches will take all these as signs of an open invitation inside your home.
How Do I Get Rid of Cockroaches in Murrieta, CA?
Cockroaches are hard to eliminate independently, no matter how many DIY treatments you find online. Without any professional help, you might have a new disease-carrying roommate. If that's not your cup of tea, the best option to get rid of cockroaches in your home is Brooks Pest Control in Murrieta, CA. With our professional help and effective tools and treatments, we can eliminate your cockroach problem so you can live roach-free and in peace.
Get Your Free Murrieta Cockroach Pest Control Quote Today
Defeat the pests and your stress by contacting our team at Brooks Pest Control for help! We proudly offer expert services here in Murrieta, CA, with our sustainable solutions. Before starting with us, take a look at our special offers page! We've got lots of deals going on that we want you to take advantage of for a pest-free home. Request a free quote on cockroach pest control today and when ready, call us to schedule your first inspection with us!
Frequently Asked Questions About Cockroach Pest Control in Murrieta, CA
What if I have more than one type of pest in my home?
Our experts at Brooks Pest Control in Murrieta, CA, are trained to eliminate unwanted visitors invading your home. Our technicians can even get rid of various types in one visit if needed. Along with our Murrieta cockroach control services, we have treatments for ants, spiders, wasps, rodents, and more. You can view our complete list of pest control services here.
Do you offer same-day cockroach pest control in Murrieta, CA?
Yes, we do! We understand that when you find a pest problem, you want to eliminate it as soon as possible. If you call us before noon the day you find one, we'd be happy to help! Brooks Pest Control in Murrieta, CA, is proud to offer same-day cockroach control with Saturdays included. We're even here for you when pests decide to show up and ruin your weekend plans.
What happens if cockroaches come back after treatment?
Our biggest goal at Brooks Pest Control is your service satisfaction. If you're not 100% satisfied with your experience or our results, we're more than happy to come back for another visit. If cockroaches were to come back to your home after our treatment, we can offer you complimentary re-treatment. Feel free to call us if you see any signs of return from the pests, and we'll fix that problem immediately!
How do I get started?
It's easy! We have different ways you can start. You can call us or contact us online. Our team at Brooks Pest Control is more than happy to begin getting rid of any pest infestations you have. Request a free quote today on cockroach pest control in Murrieta, CA, to learn more.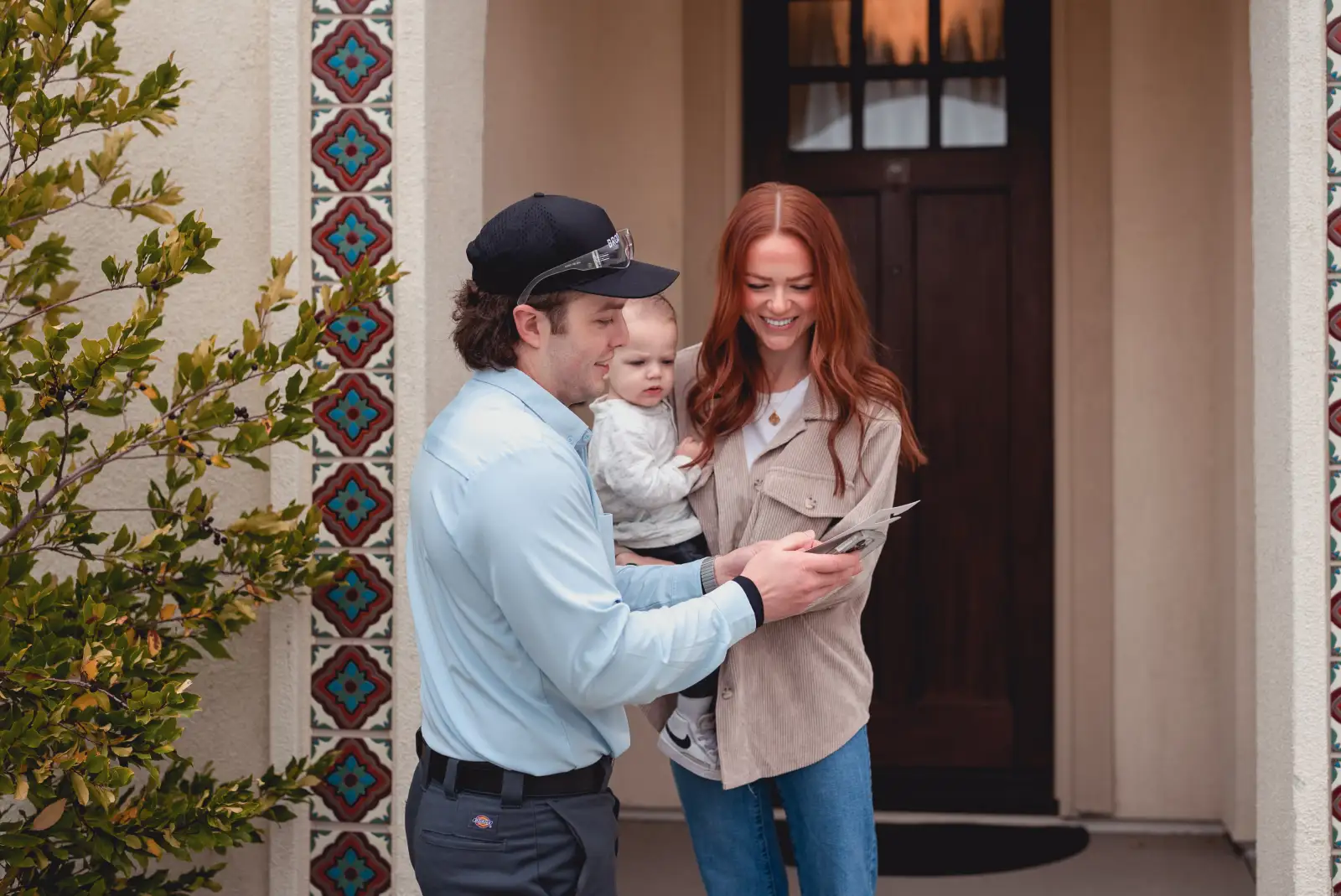 Pet and Environmentally Safe
Our licensed and certified pest control technicians use treatment methods that are friendly to pets, families, and the environment. Our customers are important to us – that's why we have a 100% satisfaction guarantee. If the pests come back, so do we.
833-369-1242
Same-day and Saturday Service
At Brooks, we're dedicated to solving your pest problems for good. That's why we offer same-day and Saturday pest control services – call us before noon and we'll get the job done.
833-369-1242
Don't wait. Get rid of your pests today!