Rodent Control in Murrieta, CA
Rat and Mouse Exterminators in Murrieta, CA
Discovering rodents have invaded your Southern California home is not only stressful, but deeply unsettling. Thankfully, Brooks Pest Control is here to help. We offer expert rodent control services in Murrieta, CA, with treatments tested to be eco-friendly and effective. Our highly trained technicians are ready to swiftly eliminate your issue and take steps to ensure it never returns. Call us today to schedule your initial inspection! Same-day service is available if you call before noon.
Call 833-655-2102 for a quote, free of charge, or fill out the form below.
Murrieta, CA, Rodent Treatments
Whether you see them hiding in the basement, scurrying across the kitchen floor, or anywhere else in the home or workplace, finding rodents is undoubtedly unsettling. You are at risk of encountering several rodents in Southern California, including mice, rats, and gophers. These pests can all cause serious damage to your property—and potentially your health—if left untreated. There are some DIY methods of rodent control out there like glue traps and snap traps, but they're only moderately helpful at best.
If you truly want to eliminate your rodent problem once and for all, call in the pros at Brooks Pest Control. Our highly trained technicians have the tools and expertise necessary to drive out any pests causing you pain. Our treatments are all eco-friendly and have been tested to be safe around your family, as we use EPA-approved formulas and top-of-the-line products guaranteed to be effective.
As part of our efforts to deliver pest control services along the West Coast, Brooks Pest Control offers options for pest control services in Murrieta, CA, and many surrounding communities, including:
Temecula
Lake Village
Wildomar
French Valley
Dutch Village
And more
Why Are There Rodents in My Home?
As is the case with many common types of pests, rodents' main reason for entering your home or business is their pursuit of food, water, and shelter. They sneak inside through a number of ways, but mostly by creeping through cracks and crevices in your building's foundation, walls, floors, or roof. Once they make it in, they'll quickly seek out dripping water pipes, garbage cans, kitchen spills, the bathroom, and other places they can find what they need to survive.
How Do I Get Rid of Rodents in Murrieta, CA?
There are a few DIY rodent control methods out there you can try, most notably store-bought mouse traps (glue traps, snap traps, etc.). These can help a little bit, but they pale in comparison to the effectiveness of Brooks Pest Control's professional services. Our treatments will thoroughly eradicate all the rodents causing you trouble and ensure they don't return, something standard mouse traps can't do. Plus, you won't have to worry about the disposal of the used traps you find.
Get Your Free Murrieta Rodent Control Quote Today
It's never been easier to free yourself from the stress of having a rodent infestation than it is with Brooks Pest Control. We offer expert Murrieta pest control services with treatments proven to be effective and eco-friendly. Before you get started, check out our special offers page and receive a free quote on Murrieta rodent control services. Once you're ready, give us a call to schedule your initial inspection!
Frequently Asked Questions
What if I have more than one type of pest in my home?
Brooks Pest Control's technicians are trained to help battle back against many types of pests, including multiple in the same visit. In addition to options for rodent control in Murrieta, CA, we offer treatments for ants, fleas, spiders, mosquitoes, cockroaches, and more. View our complete list of services here.
Do you offer same-day rodent control in Murrieta, CA?
Yes! Sometimes, pest problems simply can't wait. That's why Brooks Pest Control offers same-day rodent control in Murrieta, CA. Just give us a call before noon and our technicians will be on their way ASAP! We also offer Saturday rodent control in Murrieta, CA, for problems that come up over the weekend.
What happens if rodents come back after treatment?
At Brooks Pest Control, our top commitment is making sure you're fully satisfied with your service. As such, we offer complimentary re-treatments for all our customers if your problem returns. Simply reach out if you see signs of re-infestation and we'll head your way!
How do I get started?
Brooks Pest Control makes it quick and easy to find the solution to all of your issues, whether you're dealing with rodents or another type of pest. Just give us a call to set up your initial inspection and get the ball rolling! Additionally, you can contact us online or request a free quote on rodent control in Murrieta, CA, to learn more.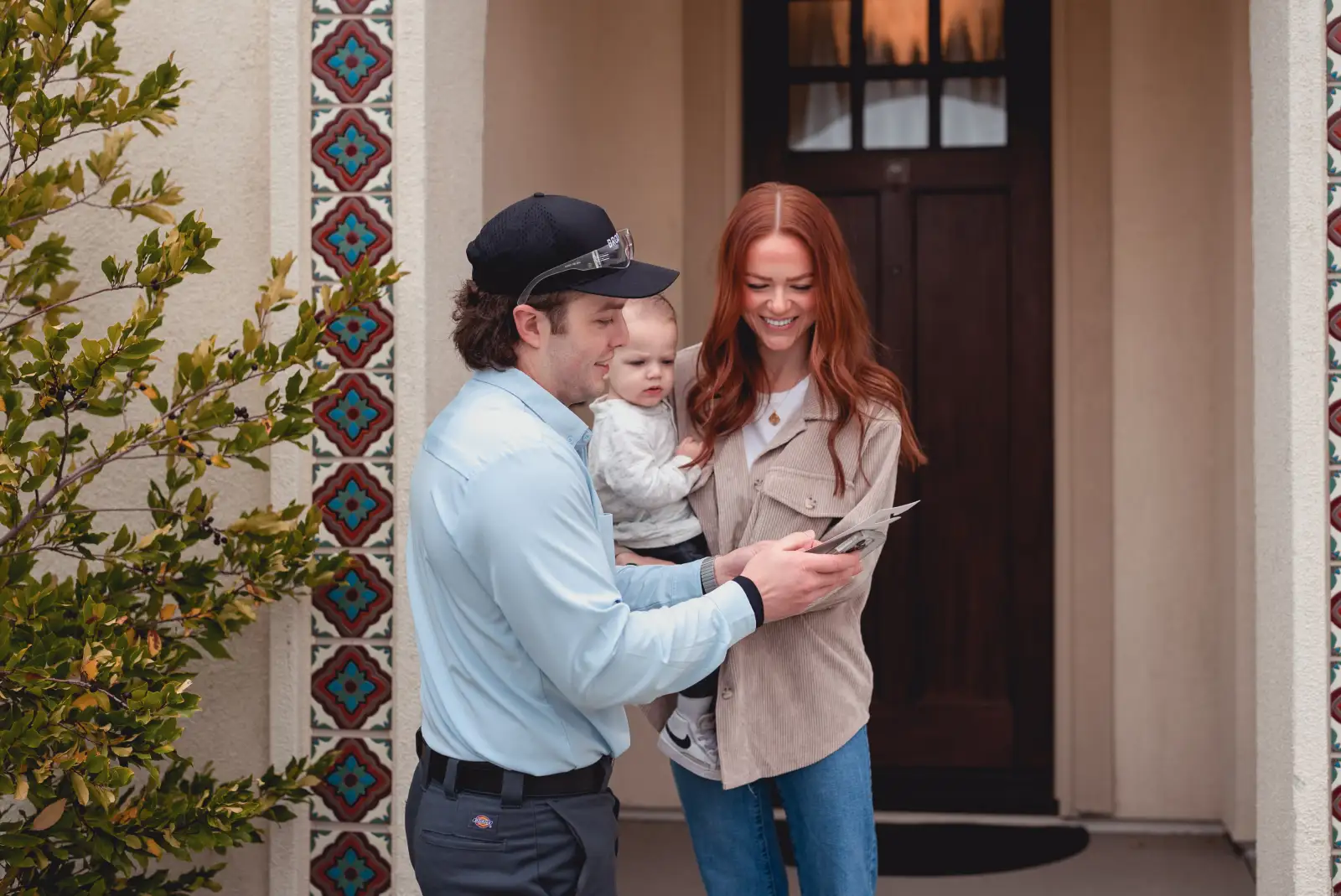 Pet and Environmentally Safe
Our licensed and certified pest control technicians use treatment methods that are friendly to pets, families, and the environment. Our customers are important to us – that's why we have a 100% satisfaction guarantee. If the pests come back, so do we.
833-369-1242
Same-day and Saturday Service
At Brooks, we're dedicated to solving your pest problems for good. That's why we offer same-day and Saturday pest control services – call us before noon and we'll get the job done.
833-369-1242
Don't wait. Get rid of your pests today!