Ant Control in Palm Springs, CA
Ant Control in Palm Springs
Many people think that ants in your home are just an annoyance, but in reality, ants can pose a real risk to your health and the safety of your home. And because they're so tiny and reproduce so quickly, they're hard to eliminate. Thankfully, Brooks Pest Control can help. Give us a call today and our team of Palm Springs pest control experts will come to your home or place of business to fight back against your pests and help restore your peace of mind.
Call 833-655-2102 for a quote, free of charge, or fill out the form below.
Palm Springs Ant Treatment
Squashing a single ant is easy, but unfortunately, there's usually never just one. Setting up homemade traps and bait stations can help attack the problem, but DIY methods of ant control can only go so far. If you have an ant problem on your hands, call in the professionals at Brooks Pest Control. We offer ant control in Palm Springs and other nearby areas, including:
Sunrise Vista Chino
Old Las Palmas
Baristo
Cathedral City
Rancho Mirage
Thousand Palms
And beyond
Explore Brooks Pest Control's full list of service areas to see where we operate.
Why Are There Ants in My Home?
Ants will do whatever it takes to find food and water when out scavenging for their queen, which often means they'll sneak into your home. They usually enter through incredibly tiny cracks or crevices in the building's foundation, doors, or windows, meaning they're hard to stop. Once they're inside, they leave behind a trail that attracts other ants behind them to follow—making them an especially tough pest to get rid of.
How Do I Get Rid of Ants in Palm Springs?
If you're dealing with an ant problem in your home, there are store-bought remedies that can help. However, these sprays and traps only go so far and do little to address the root of the problem.
To take care of an ant problem in Palm Springs, big or small, it's best to call in the professionals. Brooks Pest Control's team of experts will come to you, take care of the ants in your home, and take steps to prevent them from returning down the line.
Get Your Free Palm Springs Ant Control Quote Today
If you need help battling ants in the Palm Springs area, you need Brooks Pest Control. We offer ant control services that are environmentally conscious and kid/pet-friendly at affordable rates, making us the easy pick for anyone looking to rid their home or business of pests. Request a free quote on ant control services and check out our special offers page to get started today!
Frequently Asked Questions About Ant Control in Palm Springs
What if I have more than one type of pest in my home?
The professionals at Brooks Pest Control are able to take care of any pest problems you may have, even if that means you have multiple pests to deal with at once. In addition to ants, we offer pest control services for those dealing with cockroaches, spiders, rodents, fleas, and more.
Do you offer same-day ant control in Palm Springs?
Yes! If you get in contact with us before noon, we can deliver same-day ant control service in Palm Springs. Just give us a call and we'll send our team of experts out to you as soon as we can. We also offer next-day and Saturday services.
What happens if ants come back after treatment?
Unfortunately, ants can be persistent. That's why we offer complimentary re-treatments to our customers if the problem doesn't go away completely. Attaining complete customer satisfaction is our top priority, so please do not hesitate to reach out.
How do I get started?
It's simple! Just give us a call or get in touch online to begin the process. Freeing your home of pests and your mind of stress has never been easier than with Brooks Pest Control.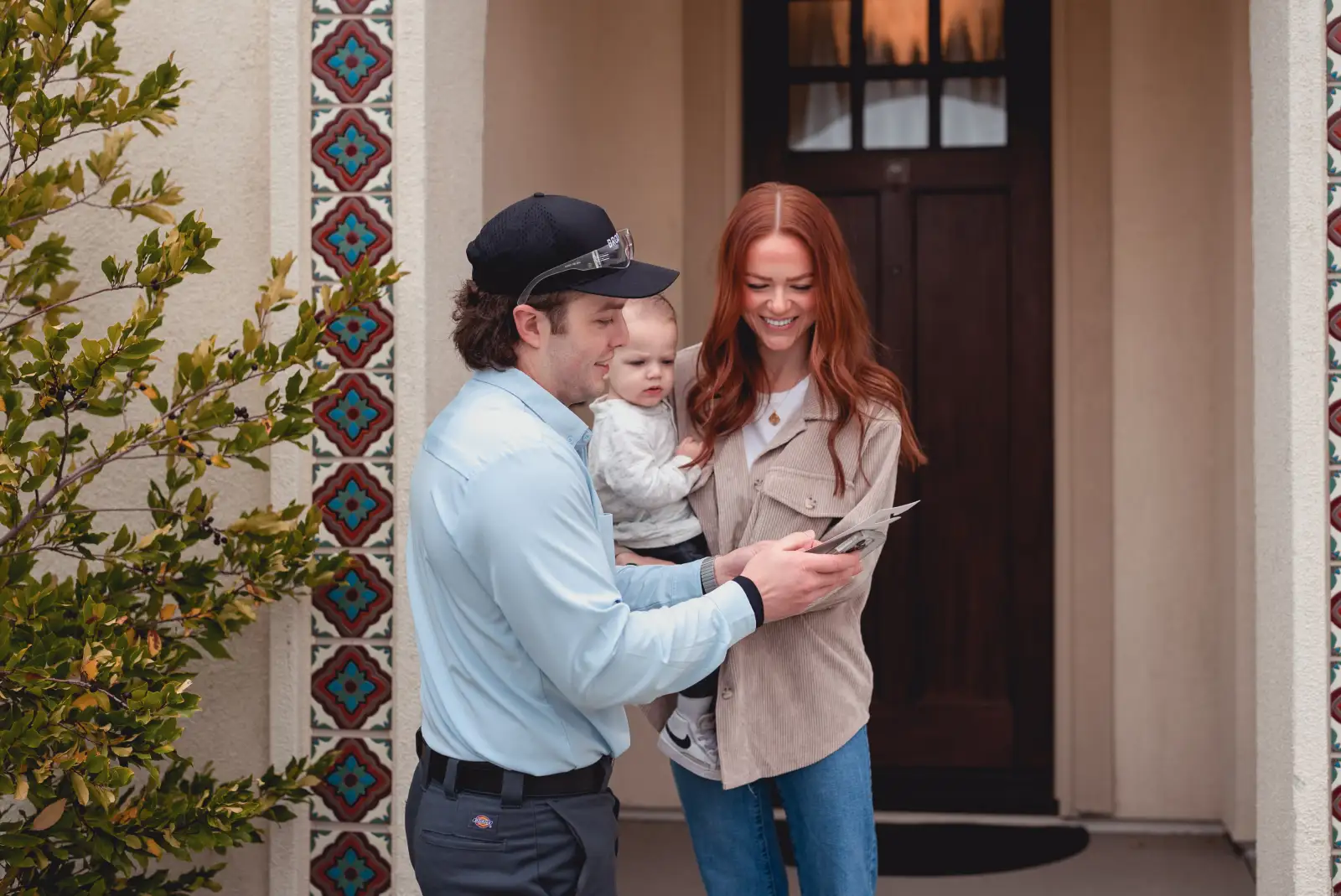 Pet and Environmentally Safe
Our licensed and certified pest control technicians use treatment methods that are friendly to pets, families, and the environment. Our customers are important to us – that's why we have a 100% satisfaction guarantee. If the pests come back, so do we.
833-369-1242
Same-day and Saturday Service
At Brooks, we're dedicated to solving your pest problems for good. That's why we offer same-day and Saturday pest control services – call us before noon and we'll get the job done.
833-369-1242
Don't wait. Get rid of your pests today!