Cockroach Control in Palm Springs, CA
Cockroach Control in Palm Springs, CA
The sight of a cockroach in your home is enough to make even the strongest of stomachs squirm. These insects creep their way into countless people's homes every year, causing a nuisance and even posing legitimate health risks. If you find yourself in need of cockroach control in Palm Springs, call the professionals at Brooks Pest Control. Our team of experts will swiftly identify and eradicate your issue to rid your home or business of pests and restore your peace of mind.
Call 833-655-2102 for a quote, free of charge, or fill out the form below.
Palm Springs Cockroach Treatment
We get it. If you see a cockroach, odds are you're going to want to squash it. But if you want to truly nip your cockroach problem in the bud, it's best to consult a pest professional. Brooks Pest Control's methods are far stronger than anything you can do on your own and are environmentally conscious, making us an all-around smart pick for Palm Springs pest control. Our services also extend to surrounding communities, including:
Sunrise Vista Chino
Old Las Palmas
Baristo
Cathedral City
Rancho Mirage
Thousand Palms
And beyond
Check out our list of service areas for a full look at where we operate.
Why Are There Cockroaches in My Home?
Contrary to what you may think, cockroaches aren't exclusively attracted to dirty homes. While staying clean is important, cockroaches mostly seek out areas that offer warmth, moisture, and darkness. This explains why they like to sneak their way indoors—especially in the cooler months. They find many different ways inside but usually enter through small cracks and crevices around doors, windows, and walls. You may not even notice their presence until they've settled in, at which point the problem may already have gotten out of hand.
How Do I Get Rid of Cockroaches in Palm Springs, CA?
If you encounter a single cockroach, the best answer is probably to smash it with your shoe. You can also buy cockroach traps and bait stations that can be helpful, but the best way to attack a cockroach problem in your home or business is to consult the professionals. Brooks Pest Control's team of experts is trained to identify and eradicate your pest problems in a manner far more thorough and reliable than any DIY or store-bought treatments. And with our complimentary re-treatments, you can rest assured that your cockroach problem will be gone for good.
Get Your Free Palm Springs Cockroach Control Quote Today
Go with Brooks Pest Control for all of your Palm Springs cockroach control needs. We offer affordable cockroach control treatments that are pet/kid-friendly and environmentally conscious, making us a great choice for anyone looking to deal with a cockroach problem. Check out our special offers page, or receive a free quote to get started today!
Frequently Asked Questions About Cockroach Control in Palm Springs, CA
What if I have more than one type of pest in my home?
Brooks Pest Control's team of experts is trained to fight against several types of pests, including ants, spiders, fleas, rodents, and more. We're happy to provide treatment for multiple pests in a single visit. Just let us know what else you're dealing with and we'll come prepared.
Do you offer same-day cockroach control in Palm Springs, CA?
Yes! If you reach out before noon, we're more than willing to provide same-day cockroach control in Palm Springs. We also offer next-day pest control and Saturday pest control services.
What happens if cockroaches come back after treatment?
Our job isn't finished until the pests causing you pain are gone for good. That's why we offer complimentary re-treatments for cockroaches and other critters if your problem isn't fully resolved. Just give us a call if you notice pests beginning to return to your home and we'll handle it.
How do I get started?
Finding cockroach control services in Palm Springs has never been easier than with Brooks Pest Control. When you're ready to get the ball rolling, give us a call or reach out online to begin the process of freeing yourself from pest-related stress!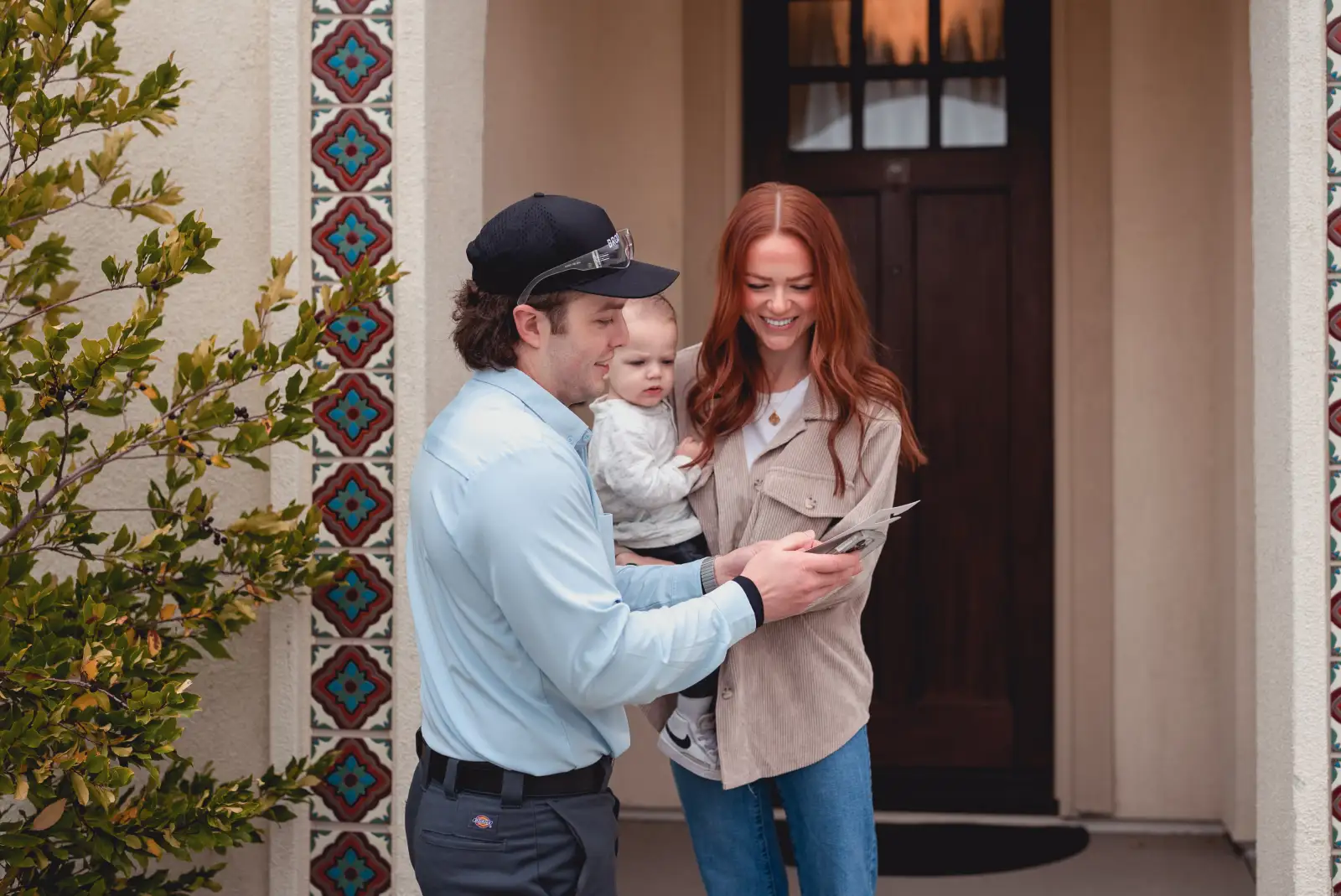 Pet and Environmentally Safe
Our licensed and certified pest control technicians use treatment methods that are friendly to pets, families, and the environment. Our customers are important to us – that's why we have a 100% satisfaction guarantee. If the pests come back, so do we.
833-369-1242
Same-day and Saturday Service
At Brooks, we're dedicated to solving your pest problems for good. That's why we offer same-day and Saturday pest control services – call us before noon and we'll get the job done.
833-369-1242
Don't wait. Get rid of your pests today!