Ant Control in Rancho Cucamonga, CA
Ant Control in Rancho Cucamonga, CA
If you've spotted ants crawling throughout your home, don't worry! Brooks Pest Control has got you covered with our sustainable ant control solutions. Our team of experts can help residents in the Rancho Cucamonga area deal with ant problems. Don't try to handle the issue alone and let us help you out instead. Contact Brooks Pest Control today for professional ant control in Rancho Cucamonga. Give us a call before noon and we can even provide same-day pest control services.
Call 833-655-2102 for a quote, free of charge, or fill out the form below.
Rancho Cucamonga, CA, Ant Treatment
At Brooks Pest Control, we dedicate ourselves to ensuring residents enjoy a pest-free environment. Pests are common in many outdoor recreational areas and parks in the Rancho Cucamonga region, making it all too easy for them to wander their way into your home. We provide our services to several locations in Rancho Cucamonga, including:
Victoria Gardens
Day Creek
North Etiwanda
Alta Loma
Terra Vista
Why Are There Ants in My Home?
Ants always seek food and shelter to enter your Rancho Cucamonga house. If you leave food open or fail to seal cracks and crevices on the exterior of your home, ants and other pests are likely to enter your property and contaminate your food.
How Do I Get Rid of Ants in Rancho Cucamonga, CA?
Though cleaning your home and using essential oils may help prevent ants, they are not guaranteed to stay away. Attempting to remove ants without professional help can be tricky, as they're often located in hard-to-reach areas of your home. For a safe and effective solution, trust the experts at Brooks Pest Control to remove pests from your property and keep them at bay for good. We use sustainable products that are family-friendly and pet-friendly.
Get Your Free Rancho Cucamonga, CA, Ant Control Quote Today
At Brooks Pest Control, we focus on your peace of mind by delivering reliable pest control solutions for residents in Rancho Cucamonga. With our expert team, you can rest assured that your home will be free from pests. Get started today by browsing our special offers or requesting a free quote!
Frequently Asked Questions About Ant Control in Rancho Cucamonga, CA
What if I have more than one type of pest in my home?
Brooks Pest Control's professionals are happy to offer treatment for various pests in one visit. For example, if you are battling ant and rodent infestations, our team can address them both immediately!
Do you offer same-day ant control in Rancho Cucamonga, CA?
Our team dedicates itself to helping you reclaim your space from pests. If you contact us by noon, we can provide same-day ant control services in Rancho Cucamonga.
What happens if ants come back after treatment?
At Brooks Pest Control, customer satisfaction is our top priority. If you still notice ants or other pests after our services, we offer a free re-treatments to address the issue. We're committed to ensuring our customers are content with our services.
How do I get started?
Are you tired of the constant annoyance and discomfort caused by pests invading your home? It's time to take action and live a pest-free life. Brooks Pest Control is here to help you achieve that goal. You can contact us online or call our team to schedule an appointment. Our expert professionals will provide reliable and effective pest control solutions to ensure your home remains pest-free. Don't let pests take over your home and disrupt your peace of mind any longer. Contact Brooks Pest Control today and let us help you reclaim your space!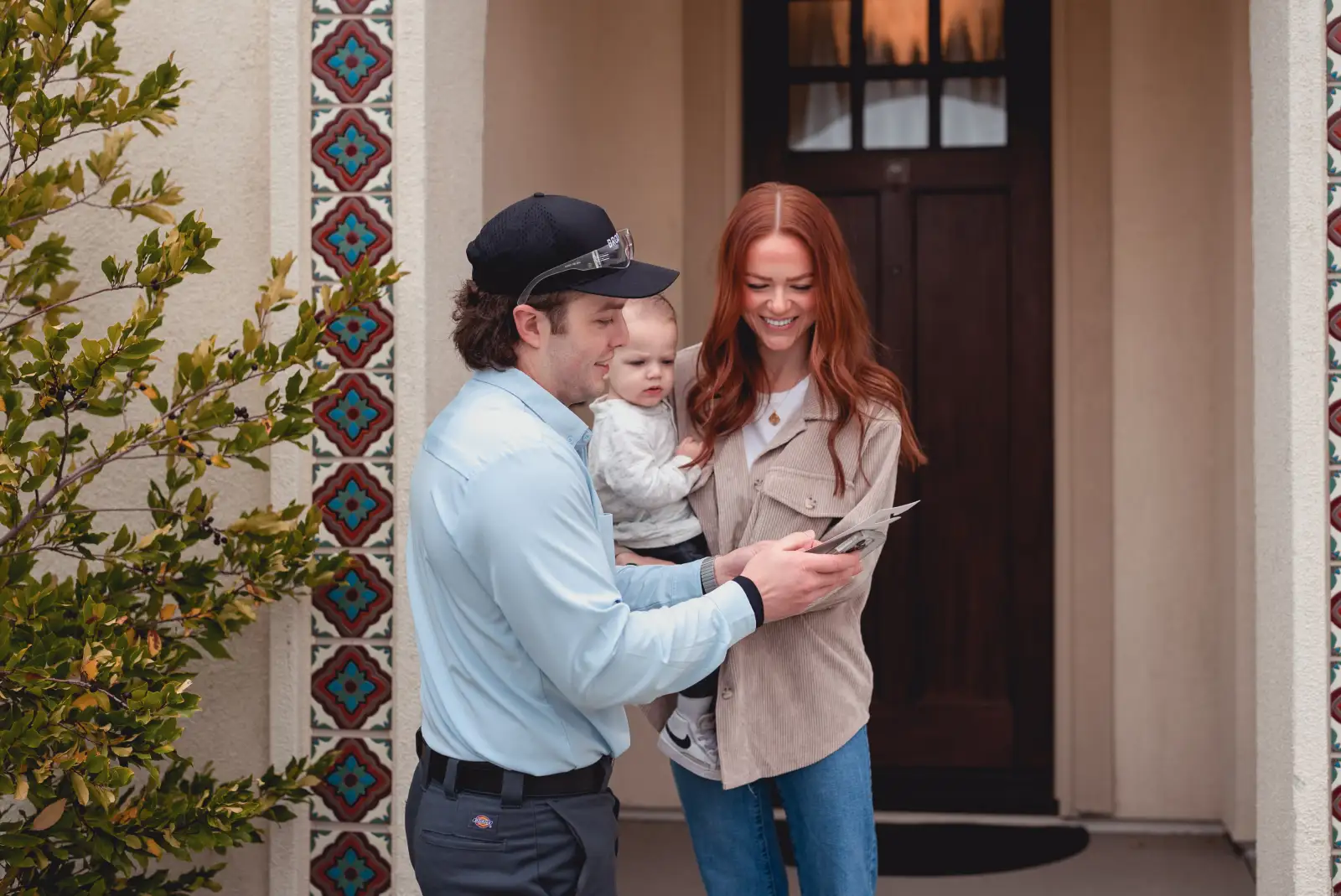 Pet and Environmentally Safe
Our licensed and certified pest control technicians use treatment methods that are friendly to pets, families, and the environment. Our customers are important to us – that's why we have a 100% satisfaction guarantee. If the pests come back, so do we.
833-369-1242
Same-day and Saturday Service
At Brooks, we're dedicated to solving your pest problems for good. That's why we offer same-day and Saturday pest control services – call us before noon and we'll get the job done.
833-369-1242
Don't wait. Get rid of your pests today!