Cockroach Control in Rancho Cucamonga, CA
Cockroach Control in Rancho Cucamonga, CA
Rancho Cucamonga is a popular tourist destination, with its Victoria Gardens shopping mall and picturesque wineries and vineyards. The city's reputable schools, inviting neighborhoods, and great weather are why over 180,000 people take pride in calling it their home. Still, it's not just young families relocating to Rancho Cucamonga; the warm and humid climate also attracts cockroaches.
If you're dealing with a nuisance cockroach infestation in your space, contact the cockroach experts at Brooks Pest Control. Call us today to get started! Same-day services are available if you call before noon.
Call 833-655-2102 for a quote, free of charge, or fill out the form below.
Rancho Cucamonga, CA, Cockroach Treatment
At Brooks Pest Control, our mission is to assist homeowners in maintaining a pest-free environment on their premises. Given the plenty of outdoor recreation and parks in the Rancho Cucamonga area, pests have plenty of other places to stay instead of your home. We cater to various locations in Rancho Cucamonga, including:
Victoria Gardens
Alta Loma
North Etiwanda
Day Creek
Haven View Estates
Why Are There Cockroaches in My Home?
Cockroaches seek food and water, making your Rancho Cucamonga home a likely target. Leaving food containers open or having leaky pipes in your home can attract cockroaches, leading them to invade your space and contaminate your food.
How Do I Get Rid of Cockroaches in Rancho Cucamonga, CA?
Although keeping your home clean and sealing entry points can aid in preventing cockroach infestations, it may not completely eradicate the issue. Additionally, eliminating cockroaches without professional help can be hazardous, as these pests often carry diseases and bacteria. Allow Brooks Pest Control in Rancho Cucamonga to eradicate pests from your property and keep them away. We use sustainable products that are family-friendly and pet-friendly.
Get Your Free Rancho Cucamonga, CA, Cockroach Control Quote Today
With Brooks Pest Control, you can relax knowing your home will remain pest-free. Our team dedicates itself to providing reliable pest control solutions for the community of Rancho Cucamonga. Contact us today to receive a complimentary quote or peruse our exclusive offers to begin!
Frequently Asked Questions About Cockroach Control in Rancho Cucamonga, CA
What if I have more than one type of pest in my home?
At Brooks Pest Control, we offer treatment for many pests during a single visit. If you're facing cockroaches and mosquito swarming issues, our team can tackle both problems!
Do you offer same-day cockroach control in Rancho Cucamonga, CA?
Brooks Pest Control provides same-day cockroach control services if you contact us before noon. Our goal is to provide hassle-free and prompt cockroach control solutions, eliminating the need for you to attempt to tackle the issue alone.
What happens if cockroaches come back after treatment?
Brooks Pest Control provides free re-treatments between paid services if we still need to resolve your cockroach problem to your satisfaction. This means that if the cockroaches return, we'll return as well.
How do I get started?
Are you tired of sharing your living space with unwanted pests? Are you ready to reclaim your home and resume living without the constant annoyance and potential health hazards that pests can bring? Brooks Pest Control has got you covered! Our team of experts dedicates themselves to providing reliable and effective pest control solutions to our local residents.

To schedule an appointment, give us a call or contact us online and we'll be happy to assist you in setting up a visit at a time that works best for you. Don't let pests take over your home or establishment. Contact us today to begin your journey to living pest-free once again.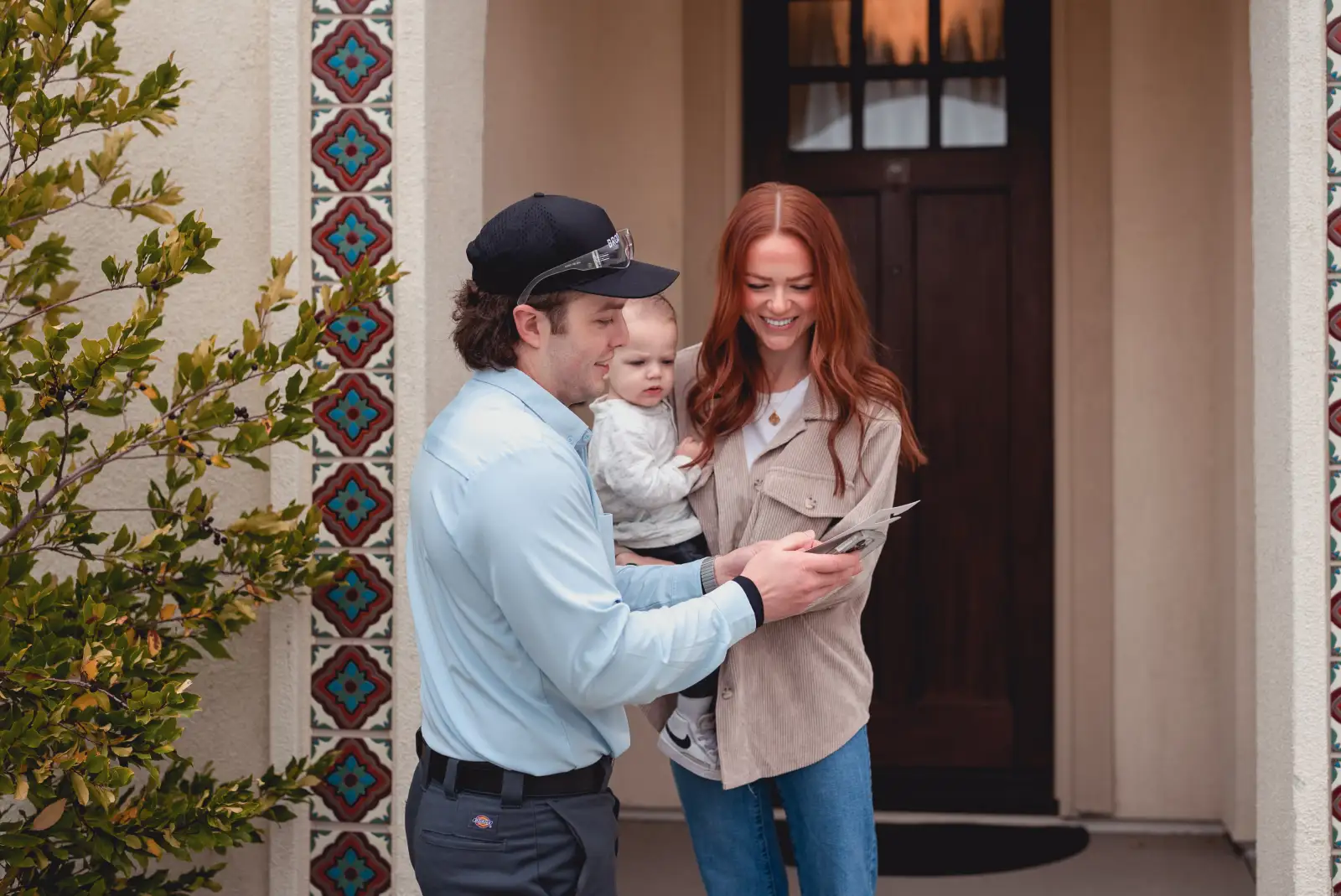 Pet and Environmentally Safe
Our licensed and certified pest control technicians use treatment methods that are friendly to pets, families, and the environment. Our customers are important to us – that's why we have a 100% satisfaction guarantee. If the pests come back, so do we.
833-369-1242
Same-day and Saturday Service
At Brooks, we're dedicated to solving your pest problems for good. That's why we offer same-day and Saturday pest control services – call us before noon and we'll get the job done.
833-369-1242
Don't wait. Get rid of your pests today!