Ant Control in Riverside, CA
Ant Control in Riverside, CA
There are few things more unsettling to find in your home or place of business than a bunch of ants. These tiny little pests are notorious for sneaking their way inside and creeping out anyone unlucky enough to cross their path. On top of that, they can also carry and spread harmful bacteria across the rooms they inhabit, posing a health risk to nearby humans and pets.
If you see ants in your home, call in the professionals at Brooks Pest Control. No matter where you are in Riverside, we are ready to come identify the source of your issue, attack it head-on, and eliminate it once and for all. Our methods are proven to be effective and eco-friendly, making us a smart pick for Riverside ant control services. Give us a call or get a free quote on ant control services to get started today. For same-day ant control in Riverside, call before noon.
Call 833-655-2102 for a quote, free of charge, or fill out the form below.
Riverside, CA Ant Treatment
Almost everyone has dealt with an ant problem at some point in their life. These critters are tiny but mighty, and they pose some potential health risks in addition to simply being a nuisance. You can squish them with ease, but it seems like they almost always find their way back unless treated. And worst of all, they're attracted to spots like your kitchen cupboards and other places you keep food—arguably the last place you want to see any type of pest.
Thankfully, Brooks Pest Control is here to help you fight back. Our experts have a proven track record of eliminating ant infestations in homes and businesses in Riverside, Los Angeles, and all along the West Coast. We use tested methods of pest control treatment that are proven to be family and eco-friendly, giving you complete peace of mind.
Why Are There Ants in My Home?
Ants aren't necessarily a sign of filthy living. It's true that the main thing that they're looking for is food, and they won't hesitate to swoop in if you're consistently leaving out crumbs and not wiping up kitchen messes. But they also are attracted to water from dripping or leaking faucets, decaying wood, and many other things that may lure them into your home or business.
The most obvious consequence of having ants in your home is having to constantly see and squash them, but they can also lead to many more serious problems if not addressed. They can easily traffic germs and bacteria that could get you sick, and many ants produce a foul odor.
How Do I Get Rid of Ants in Riverside, CA?
If you encounter one or just a small number of ants, you'll likely want to just squash them. You might even feel tempted to zap them with a magnifying glass. But no matter what store-bought traps or other DIY methods you use, you won't be able to compete with the effectiveness of Brooks Pest Control's treatments. Our experts take a proven, comprehensive approach to attack the source of your issue and will work tirelessly to eliminate the pests causing you pain once and for all.
Get Your Free Riverside, CA, Ant Control Quote Today
Attack your ant infestation and free yourself from pest-related stress today with Brooks Pest Control. Our team of experts provides proven, eco-friendly ant control treatments designed to quickly eliminate any pest problem in your home. Check out our special offers page for ways to save and get a free quote on ant control service in Riverside today to get started.
Frequently Asked Questions About Ant Control in Riverside, CA
What if I have more than one type of pest in my home?
You unfortunately will encounter many different types of pests while living in southern California. Whatever it is you're dealing with, Brooks Pest Control is here to help. We will gladly provide treatment for multiple pests during a visit, including cockroaches, rodents, centipedes, and more. Just give us a heads-up beforehand and we'll come prepared with everything needed to take care of your issues.
Do you offer same-day ant control in Riverside, CA?
Yes! We offer same-day ant control services in Riverside, CA, as long as you call before noon, with next-day service available for those who call later in the day. We also offer Saturday service if you discover a problem right before the weekend.
What happens if ants come back after treatment?
At Brooks Pest Control, achieving and maintaining 100% customer satisfaction is our top priority. That's why we offer complimentary re-treatments to all of our customers if our initial services don't get the job done. Just let us know and we'll be happy to swing by again.
How do I get started?
Finding affordable ant control in Riverside, CA, is easier than ever with Brooks Pest Control. You can get started today by giving us a call or by reaching out online to explain the extent of your problem with ants or any other pests. We'll hook you up with a free pest control estimate, and once you say the word, we'll send our experts your way!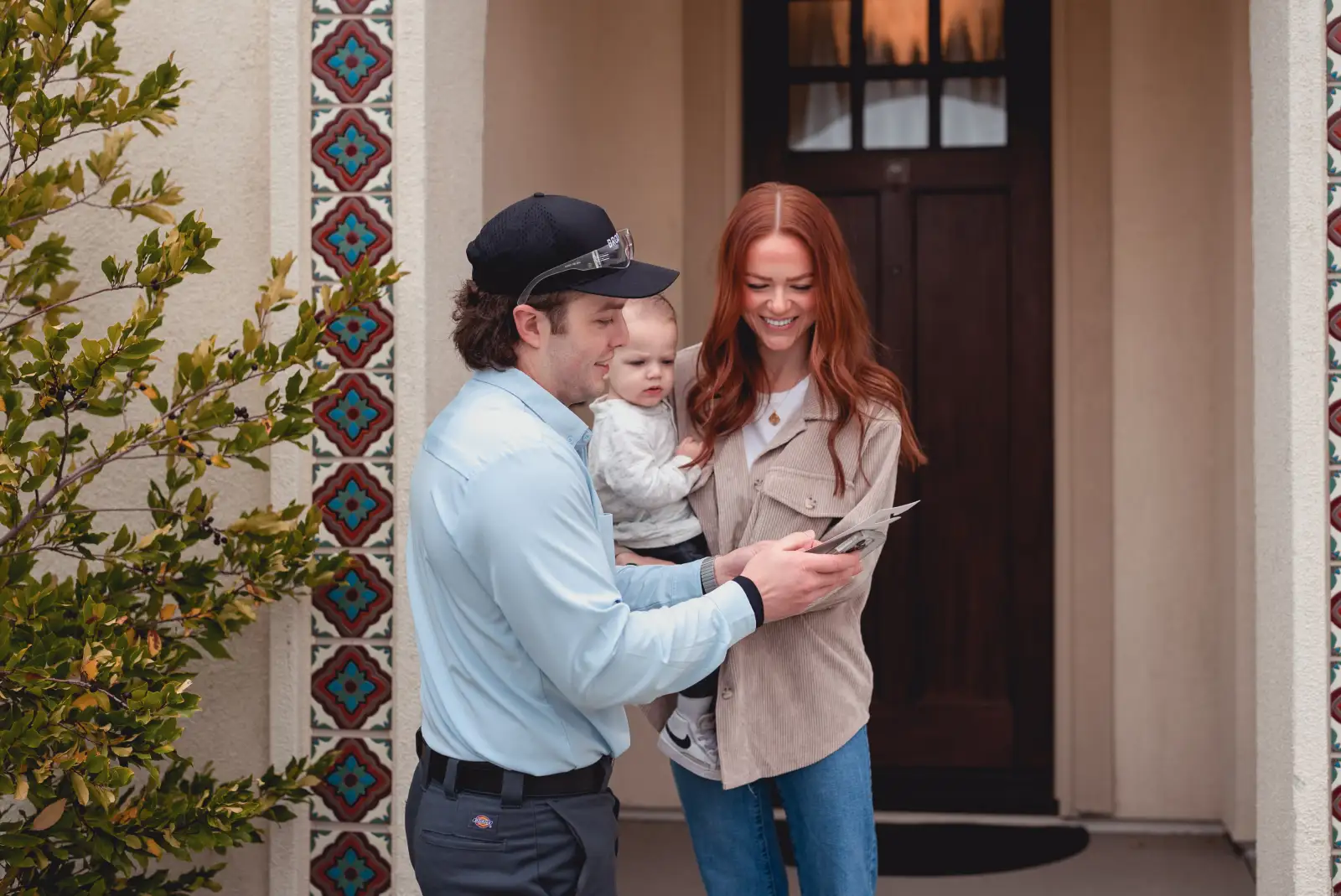 Pet and Environmentally Safe
Our licensed and certified pest control technicians use treatment methods that are friendly to pets, families, and the environment. Our customers are important to us – that's why we have a 100% satisfaction guarantee. If the pests come back, so do we.
833-369-1242
Same-day and Saturday Service
At Brooks, we're dedicated to solving your pest problems for good. That's why we offer same-day and Saturday pest control services – call us before noon and we'll get the job done.
833-369-1242
Don't wait. Get rid of your pests today!