Cockroach Control in Riverside, CA
Cockroach Control in Riverside, CA
Cockroaches are notorious as one of the most undesirable pests you can find in your home. These pests aren't just unsightly—they can also carry all kinds of nasty viruses (including dysentery) and can cause severe allergies. It almost goes without saying, but you definitely don't want cockroaches in your home.
So what do you do when you discover cockroaches in your space? You don't have to panic—you can just give the Brooks team a call, and we'll come on out to get a cockroach treatment started. Call in before noon and we can even send our team out for same-day cockroach control in Riverside!
Call 833-655-2102 for a quote, free of charge, or fill out the form below.
Riverside, CA Cockroach Treatment
Cockroaches are a major pest control issue. They'll eat just about anything, so once they make their way inside, it can be incredibly difficult to remove them or starve them out. These nasty bugs also have tough exoskeletons that make them hard to squash, and because they multiply very quickly, you'd be fighting a losing battle.
Fortunately, the Brooks team has the tools to wipe out your cockroach population with quick and effective treatments in Riverside, CA, and beyond. We also focus on carrying out family and eco-friendly pest control treatments so you don't have to worry about any side effects while trying to keep your home free of cockroaches and other harmful pests.
Why Are There Cockroaches in My Home?
As with all types of bugs, cockroaches really just make their way inside by finding small gaps around your home and sneaking in. They're especially interested in entering homes that have plenty of moisture and food available, but this doesn't mean only unkempt homes struggle with cockroaches—they can still make their way inside clean homes in search of shelter and will take advantage of even the most unlikely food sources (even cardboard).
Generally, cockroaches are most active during warm months. For us in Riverside, unfortunately, that means pretty much all the time. Because of the warmer California climate, there's really no season where cockroaches aren't an issue in Riverside. If you're seeing cockroaches in your home in the winter, you're not a crazy exception!
How Do I Get Rid of Cockroaches in Riverside, CA?
Although keeping your space clean and eliminating potential points of entry around your building can help you prevent many common pests, what do you do if it's too late and you're already noticing signs of cockroaches? While there are different DIY pest treatments you can try and take on, nothing is as effective as calling in the professional pest control team at Brooks. We have the tools to fully and quickly eliminate even the most serious pests, like cockroaches.
Get Your Free Riverside, CA, Cockroach Quote Today
Don't let cockroaches claim your peace of mind any longer! The team at Brooks Pest Control is ready to help eliminate your cockroaches and keep your space healthy and pest-free. Just get in touch with us for a free pest service estimate to get started with expert cockroach control in Riverside, CA.
Frequently Asked Questions About Cockroach Control in Riverside, CA
What if I have more than one type of pest in my home?
It's not uncommon for similar conditions, and even other pests, to attract a variety of pests into your home. If you're needing to eliminate multiple pest types, that's no problem for the Brooks team! We can come in and help remove other pests, like ants, centipedes, rodents, and more while we come by for a cockroach treatment in Riverside. Just let us know in advance and we'll be prepared.
Do you offer same-day cockroach control in Riverside, CA?
Yes! Our team can come by for a same-day cockroach control treatment when you call us before noon. In cases where you don't discover your pest issues until later in the day, we also have next-day services available. Discover a cockroach emergency on a Friday afternoon? Don't worry—our team can even come by on Saturdays!
What happens if cockroaches come back after treatment?
Here at Brooks Pest Control, we're dedicated to offering top-notch pest services. Our pest control team will come back and perform a complimentary re-treatment if the results of our initial Riverside cockroach treatment aren't satisfactory.
How do I get started?
Getting pest control treatment in Riverside, CA, is easy with Brooks Pest Control! Just give us a call or reach out to us online to fill us in on your Riverside cockroach or other pest problem. From there, we'll get you a free pest control estimate and send the team your way to knock out your pests!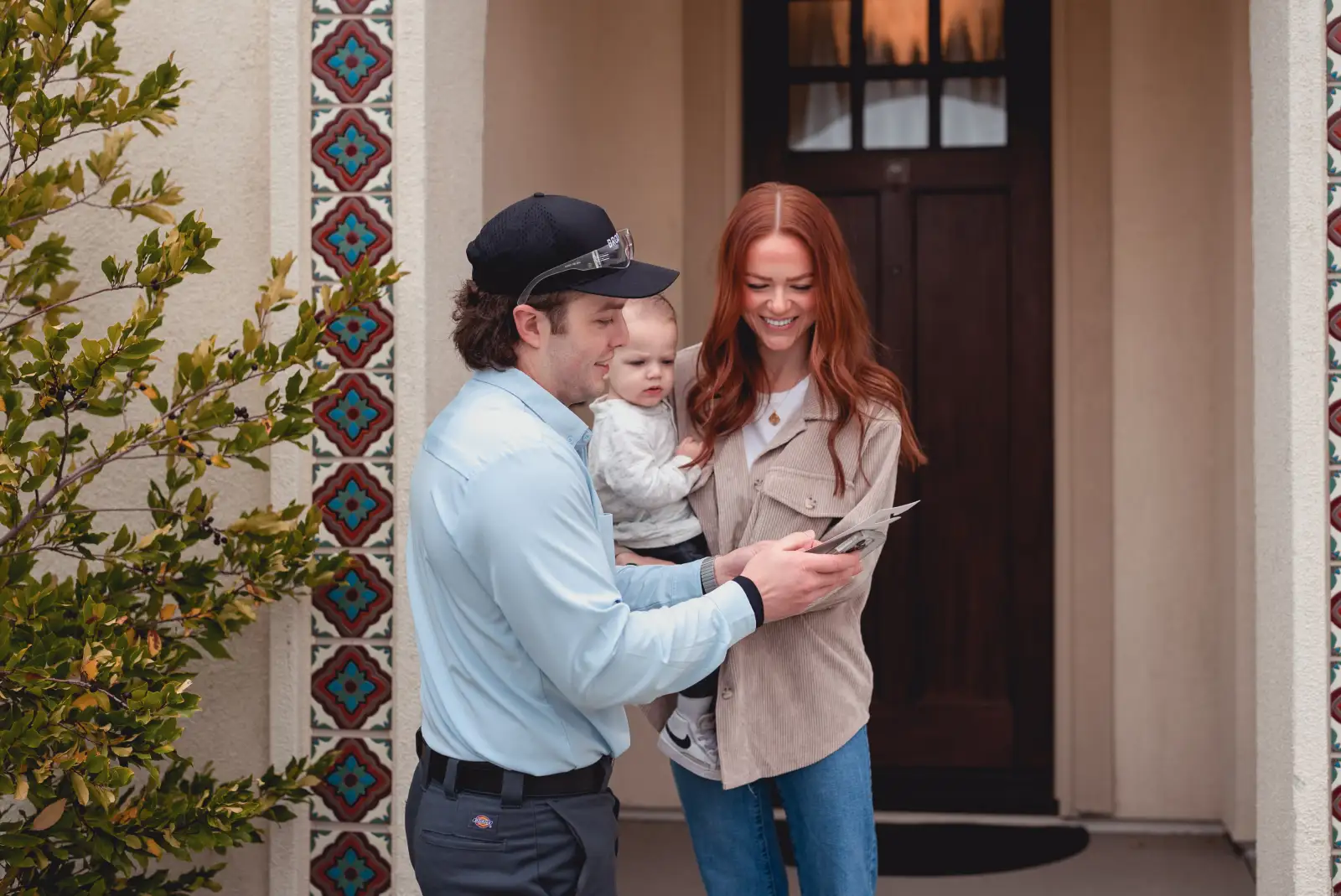 Pet and Environmentally Safe
Our licensed and certified pest control technicians use treatment methods that are friendly to pets, families, and the environment. Our customers are important to us – that's why we have a 100% satisfaction guarantee. If the pests come back, so do we.
833-369-1242
Same-day and Saturday Service
At Brooks, we're dedicated to solving your pest problems for good. That's why we offer same-day and Saturday pest control services – call us before noon and we'll get the job done.
833-369-1242
Don't wait. Get rid of your pests today!