Rodent Control in Riverside, CA
Rodent Control in Riverside, CA
Between the beautiful beaches, perfect weather, and seemingly endless list of things to do, it's clear why people love living in Riverside, CA. Over a quarter of a million people call this little slice of paradise home, as it offers a peaceful and luxurious place to stay just outside of Los Angeles. Unfortunately, these conditions also attract many common California pests, including rodents.
If you find that rodents have invaded your basement, garage, or anywhere else in your home, call in the professionals at Brooks Pest Control. Our team of pest control experts is ready to help identify, attack, and eliminate the rodents and other pests causing you trouble while making sure they don't return. Give us a call or contact us online today for a free quote on rodent control in Riverside. Same-day rodent control in Riverside is available if you call before noon.
Call 833-655-2102 for a quote, free of charge, or fill out the form below.
Riverside, CA Rodent Treatment
Rodents can be one of the more upsetting and unsettling pests to find in your home. Not only are they frightening, rodents can carry disease and infection. It's hard to fight back against rodents on your own–even when common store-bought traps do work, you still have to deal with the unseemly disposal process.
Thankfully, the team of experts at Brooks Pest Control has the experience and tools necessary to attack any rodent problem head-on. Our exterminators utilize tested, family friendly pest control treatments that will eliminate your pest issue while keeping your pets, your children, and the planet in mind. We're ready to help at any home in the Riverside area along with the other locations we service in California, Oregon, and Washington.
Why Are There Rodents in My Home?
Arguably the most frustrating part about dealing with rodents is that you typically don't realize you have a problem until it's too late. They can find their way inside through the smallest of crevices and often like to wiggle their way inside the walls or floors out of your sight. It helps to stay clean, but rodents' main pursuit usually isn't empty pizza boxes or other garbage. Normally, they're just looking for a warm place to nest. Dripping pipes and faucets also attract rodents, as they need a consistent source of water just like humans.
While it goes without saying that nobody wants to see rats running around in their house, there are some less obvious dangers associated with having a rodent problem. Rodents are notoriously dirty and disease-ridden creatures, and it's easy for them to pass illness through their waste or by contaminating your food and water. They can also do damage to your property itself, as rodents cause millions of dollars worth of damage every year by chewing on wiring and causing other electrical damage that can start fires, shut down networks, and more.
How Do I Get Rid of Rodents in Riverside, CA?
The best way to keep rodents out of your home is by staying diligent. Cover any obvious points of entry, seal any containers that store food for your or your pets, and work to maintain clean surroundings at all times. Check for signs of a rodent presence regularly, namely potential droppings or nesting spots.
If you see a mouse or have another reason to believe you have a rodent problem, there are DIY approaches you can take to fight back. An easy strategy is to set up store-bought traps and wait to see if you catch anything. But ultimately, anything you can do yourself pales in comparison to the effectiveness of Brooks Pest Control's treatments. Our experts will go above and beyond to quickly eliminate your issue while making sure it doesn't come back.
Get Your Free Riverside, CA, Rodent Control Quote Today
Take the first step toward fighting your rodent problem and get in touch with Brooks Pest Control today. Our team of expert exterminators is ready and waiting to come to your home or place of business and resolve your rodent infestation once and for all. Check out our special offers page for our best deals and receive a free quote on Riverside rodent control services online to get started!
Frequently Asked Questions About Rodent Control in Riverside, CA
What if I have more than one type of pest in my home?
Unfortunately, Californians have to deal with the possibility of many kinds of pests working their way into their homes or places of business. If you find yourself in this situation, don't worry, as Brooks Pest Control is here to help. We are more than willing to treat problems with multiple pests in a single visit, including ants, cockroaches, centipedes, and more. Just let us know ahead of time and we will gladly provide any type of pest control in Riverside.
Do you offer same-day rodent control in Riverside, CA?
Yes! If you call before noon, we can provide same-day rodent control services in Riverside and elsewhere along the West Coast. We offer next-day service as well if you discover a problem later in the day, and we can provide Saturday rodent control in Riverside, too.
What happens if rodents come back after treatment?
Our job isn't done until your problem goes away for good. Brooks Pest Control's experts proudly offer complimentary re-treatments to our customers if your initial visit doesn't fully satisfy your needs. Just let us know and we'll be on our way!
How do I get started?
Finding rodent control services in Riverside, CA, has never been easier than with Brooks Pest Control. Begin the process today by giving us a call or by reaching out online to fill us in on the pest(s) causing you trouble. We'll give you a free rodent control estimate and answer any other questions you have before sending out our team of experts to eliminate your pest problem once and for all.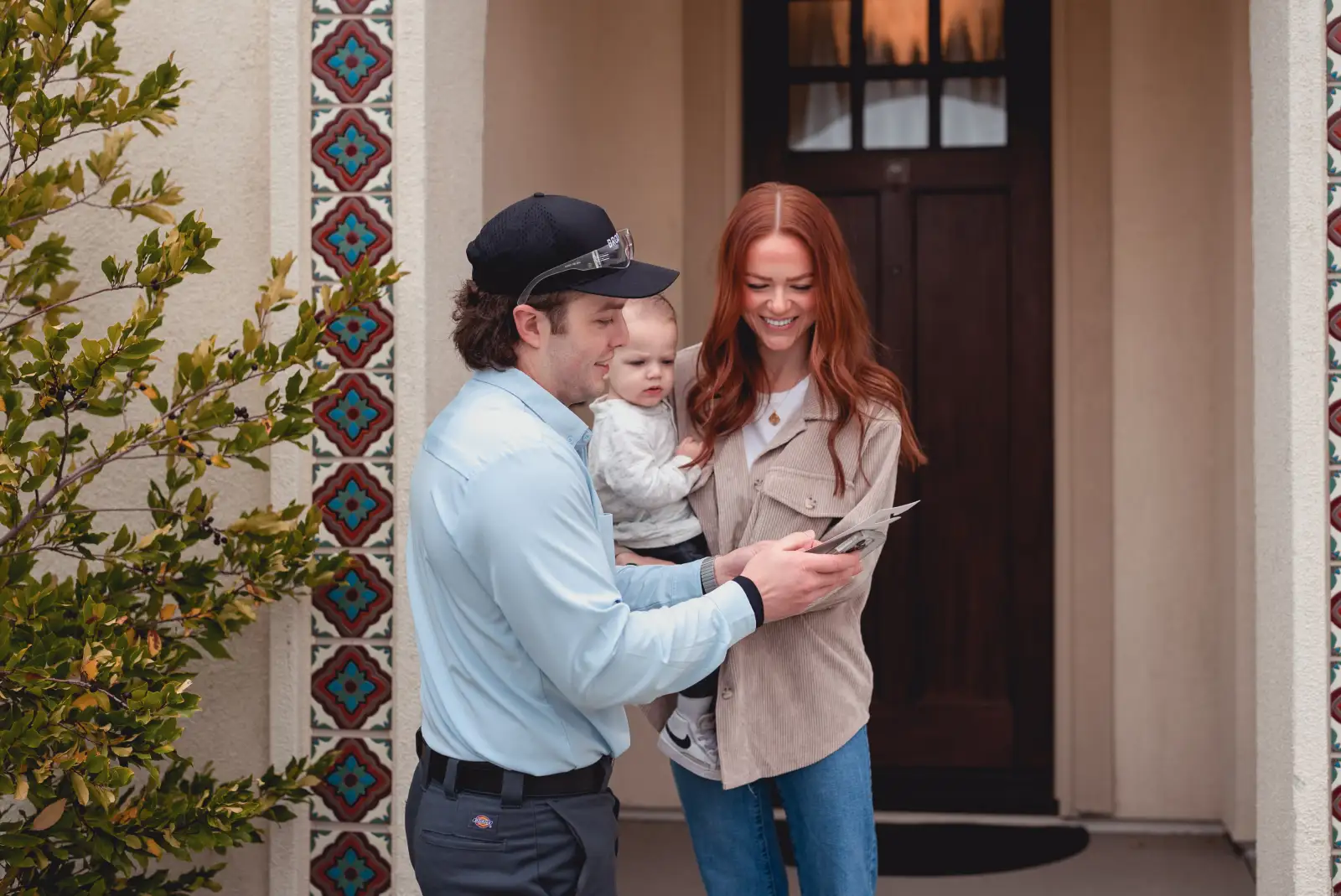 Pet and Environmentally Safe
Our licensed and certified pest control technicians use treatment methods that are friendly to pets, families, and the environment. Our customers are important to us – that's why we have a 100% satisfaction guarantee. If the pests come back, so do we.
833-369-1242
Same-day and Saturday Service
At Brooks, we're dedicated to solving your pest problems for good. That's why we offer same-day and Saturday pest control services – call us before noon and we'll get the job done.
833-369-1242
Don't wait. Get rid of your pests today!