Rodent Pest Control in San Diego
Rodent Pest Control in San Diego, CA
Rodents such as mice, rats, and squirrels are particularly difficult pests to eliminate due to their tendency to hide in walls and breed quickly. They use their sharp incisors to gnaw through food and dig out their burrows, and they can cause substantial damage to your home if not treated quickly and properly.
Brooks knows rodents well, and our trained pest control specialists are equipped with the tools and know-how to track rodents down and eliminate them before they spread. And if you need rodent control urgently in San Diego, be sure to call before noon to take advantage of same-day service from Brooks Pest Control.
Call 833-655-2102 for a quote, free of charge, or fill out the form below.
San Diego, CA, Rodent Treatment
When it comes to rodents, where there is one, there are many. Mice and rats tend to reproduce rapidly and live hidden together in groups, only venturing out into sight when they search for food.
Your rodent problem doesn't end after you catch a single mouse, as there will almost always be several more waiting in the wings. Brook's pest control treatments are comprehensive and thorough, eliminating these pests where they burrow and taking out the whole group at once.
Keep rodents out of your home by reaching out to Brooks Pest Control in San Diego and setting up your appointment today.
Why Are There Rodents in My Home?
All rodents have a keen sense of smell that enables them to sniff out food and shelter from long distances. If food has fallen behind your counter, your trash bags are not secure, or simply if there is harsh weather outside, your home can be an enticing option for enterprising rodents.
Rodents are most active in the winter months when their search for food and shelter leads them into your home through any exterior gaps or openings. Seal off any entry point you can find when the weather turns cold to dissuade any rodents from entering your home.
How Do I Get Rid of Rodents in San Diego, CA?
There are steps you can take to hunt down the rodents in your home. Place traps in your attic, under appliances, and near the gaps and entry points they may utilize. Make sure you have the right trap for the job. Rats are typically larger than mice and can easily survive a blow from a mouse trap.
Just remember that no matter how many you manage to catch, there are almost certainly more. That is why the most effective way of eliminating rodents will always be to call in the professionals, and Brooks Pest Control has an industry-leading quality of service that you can count on.
Get Your Free San Diego, CA, Rodent Control Quote Today
If you find rodents in your home, don't wait until they spread. Call the experts from Brooks Pest Control to track them down and keep your home rodent-free. Call or visit us online for special offers and to get your free rodent control quote today!
Frequently Asked Questions About Rodent Control in San Diego, CA
What if I have more than one type of pest in my home?
If rodents are able to get into your home, it is likely that other, smaller pests have made their way in as well. Scorpions, cockroaches, and ants are all common pests in the San Diego area. Luckily, Brooks specializes in eliminating them all, so if you see multiple types of pests in your home, give us a call, and we will take care of all your pest problems in a single trip.
Do you offer same-day rodent control in San Diego, CA?
Same-day rodent control is available for customers of call before noon. If you need rodent control quickly, we can be at your house that day or the next throughout the workweek—even on Saturdays.
Rodents move in fast, so rely on a pest control company that can react quickly and get them out before they can make your home theirs.
What happens if rodents come back after treatment?
Brooks Pest Control offers complimentary re-treatments if your pest problem is not resolved.
We know better than anyone how tricky rodents can be to keep out of your home. If you receive rodent control treatment and still find these unwanted guests in your home, we will come back out to make sure the job is done right.
How do I get started?
Visit our website to explore all of our pest control services. When you are ready to schedule your appointment, give us a call or contact us online to start clearing your home from pests today.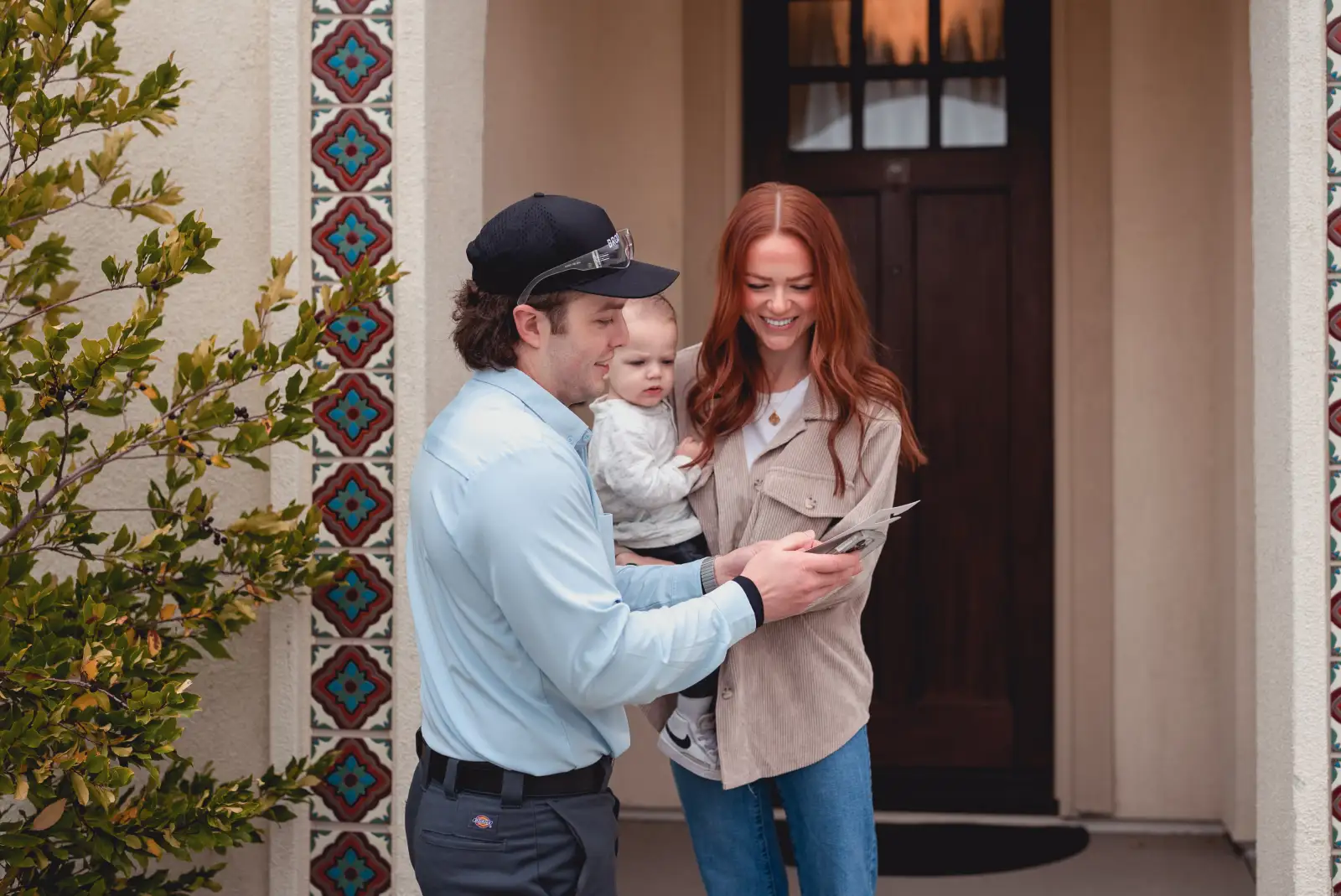 Pet and Environmentally Safe
Our licensed and certified pest control technicians use treatment methods that are friendly to pets, families, and the environment. Our customers are important to us – that's why we have a 100% satisfaction guarantee. If the pests come back, so do we.
833-369-1242
Same-day and Saturday Service
At Brooks, we're dedicated to solving your pest problems for good. That's why we offer same-day and Saturday pest control services – call us before noon and we'll get the job done.
833-369-1242
Don't wait. Get rid of your pests today!