Ant Control in Santa Ana, CA
Ant Control in Santa Ana, CA
Living in Santa Ana is never boring, as you're immersed in a vibrant, unique culture. However, your peace of mind can be taken away when you're dealing with an ant infestation in your Santa Ana home. No matter how many you squish, it can seem like the ants are never-ending. That's why Brooks is here to help with effective, pet-safe ant control solutions.
Give us a call today to get started with Santa Ana ant control! If you call before noon, you may even be able to receive same-day services.
Call 833-655-2102 for a quote, free of charge, or fill out the form below.
Santa Ana, CA, Ant Treatment
Ants have no business in your home. Tiny and troublesome, ants are tricky to get rid of on your own. They'll settle in hard-to-reach places, all while easily going undetected due to their small size. Therefore, when you keep finding ants, it's best to call in the professionals at Brooks Pest Control.
Our reliable pest control services are available across California, Oregon, and Washington, and beautiful Santa Ana is no exception. We are honored to serve homes in the following neighborhoods:
Artesia Pilar
Heninger Park
Portola Park
Riverview West
South Coast
And many more!
If you're tired of seeing lines of ants in your window sills or near your doorways, it's time to give Brooks Pest Control a call or fill out our form for a free quote! Our pest control experts are ready to help you take back your home!
Why Are There Ants in My Home?
The most common attractor of ants is sweet foods, so they can make their way in if you accidentally spill juice, soda, or another sugary beverage or leave a package of snacks unsealed. Leaky pipes or ceilings can also lead to ant infestations. Due to ants' small size, they can easily squeeze into the smallest cracks that may be nearly invisible to the human eye.
How Do I Get Rid of Ants?
Getting rid of ants can be difficult, as most store-bought ant baits or traps will only temporarily alleviate the problem. DIY solutions can sometimes help, but rarely get rid of the problem for good. When you turn to Brooks to solve your pest problem, we'll cut off your ant infestation at the source instead of applying temporary remedies.
Get Your Free Santa Ana, CA, Ant Control Quote Today
Our pet-friendly ant control treatments can be exactly what you and your home need to restore your peace of mind. At Brooks Pest Control, we're dedicated to getting rid of pests in your home for good, starting with a free quote. Check out our special offers and give us a call today to get started with ant control in Santa Ana, CA.
Frequently Asked Questions About Ant Pest Control in Santa Ana, CA
What if I have more than one type of pest in my home?
At Brooks Pest Control, our experts can easily treat your home for multiple pests in a single visit. In addition to ants, we can treat cockroaches, rodents, and plenty of other pests in Santa Ana, CA.
Can I get same-day pest control services for my ant infestation?
Brooks is happy to offer same-day appointments as long as you call us before noon! We want to get rid of your annoying ants as quickly as possible. Super busy during the work week? Take advantage of our Saturday pest control appointments!
What happens if ants come back after treatment?
Our mission is to solve your ant problem once and for all. If your infestation is not completely resolved, we'll come back and apply repeat treatments free of charge!
How do I get started?
Ready to squash your ant problem once and for all? Get a free quote today or call our experts to set up an appointment for ant control services!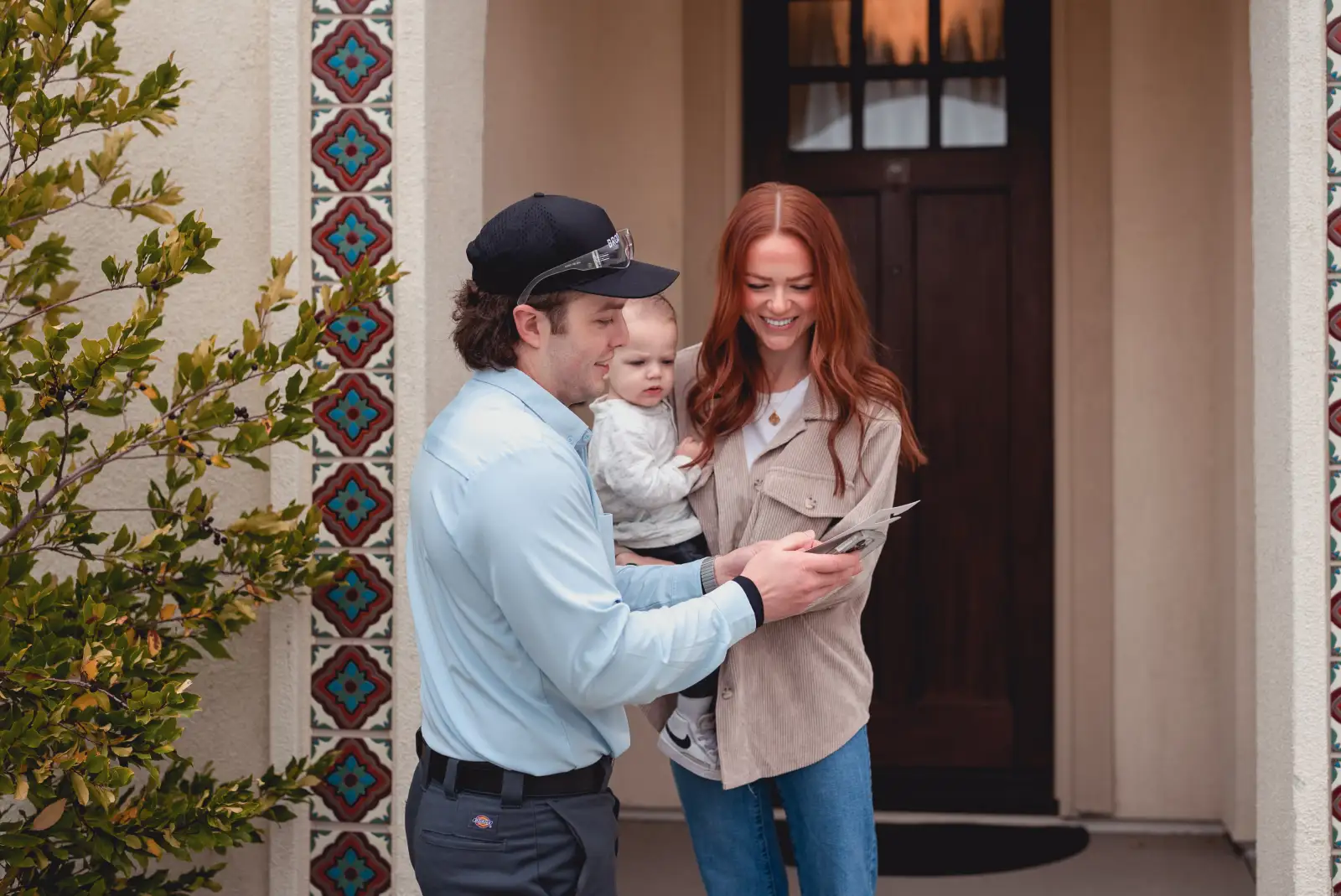 Pet and Environmentally Safe
Our licensed and certified pest control technicians use treatment methods that are friendly to pets, families, and the environment. Our customers are important to us – that's why we have a 100% satisfaction guarantee. If the pests come back, so do we.
833-369-1242
Same-day and Saturday Service
At Brooks, we're dedicated to solving your pest problems for good. That's why we offer same-day and Saturday pest control services – call us before noon and we'll get the job done.
833-369-1242
Don't wait. Get rid of your pests today!