Cockroach Control in Santa Ana, CA
Cockroach Control in Santa Ana, CA
If you're dealing with a cockroach problem in your California home, know you don't have to face it alone. Brooks Pest Control provides cockroach control services in Santa Ana, CA, using effective eco-friendly treatments. Our skilled technicians have the expertise and tools to eradicate the issue and prevent its recurrence. Don't hesitate to contact us today to schedule your initial inspection. And if you call before noon, we can provide same-day service for your convenience.
Call 833-655-2102 for a quote, free of charge, or fill out the form below.
Santa Ana, CA, Cockroach Treatment
Cockroaches are a persistent and pesky pest in California homes, making their way into kitchen cabinets and under bathroom sinks. While DIY methods may provide temporary relief, a professional solution from Brooks Pest Control in Santa Ana is the best way to eradicate a cockroach infestation for good. We train our skilled technicians to tackle cockroaches, rodents, flies, mosquitoes, and other pests using safe treatments backed by thorough research and data. We rely on top-quality, EPA-approved products and commit to providing reliable pest control services throughout California. We extend our expertise to Santa Ana and the surrounding areas:
Downtown Santa Ana
West Floral Park
South Coast Metro
French Court
Park Santiago
And more
Why Are There Cockroaches in My Home?
Cockroaches may invade your home for various reasons. Access to food, such as crumbs, spills, and pet food left out overnight, are common attractants for roaches. Moist areas provide water and breeding grounds for these pests. Cracks in walls, open windows, doors, and outdoor items brought inside can serve as entry points for cockroaches. Unfortunately, eliminating a cockroach infestation is challenging, and even with cleaning and preventive steps, a problem may persist.
How Do I Get Rid of Cockroaches in Santa Ana, CA?
If you come across a cockroach scurrying along your table or floor, your instinct might be to squash it. While that might provide temporary relief, DIY methods can't completely eradicate your cockroach problem. Although some DIY cockroach control methods are available, such as bait stations and traps, they only provide a temporary solution to a more significant issue. The most effective option is to tackle cockroach infestation head-on with the help of Brooks Pest Control. Our treatments are eco-friendly and more robust than any homemade or store-bought products you may try.
Get Your Free Santa Ana, CA, Cockroach Control Quote Today
Get rid of the stress caused by pests and eliminate the problem with Brooks Pest Control. Experts control Santa Ana pests using eco-friendly treatments that remove cockroaches and others. Before starting, visit our special offers page and request a free quote for our Santa Ana cockroach pest control services. When you're ready, call us to schedule your initial inspection and take the first step toward pest-free living today!
Frequently Asked Questions About Cockroach Control in Santa Ana, CA
What if I have more than one type of pest in my home?
We equip our Brooks Pest Control's skilled technicians to prevent and eliminate various pests, often dealing with many types during a single visit. Aside from our Santa Ana cockroach control services, we also offer treatments for rodents, fleas, spiders, ants, mosquitoes, and other common pests. You can view the full range of our services here to determine which one suits your pest control needs best.
Do you offer same-day cockroach control in Santa Ana, CA?
We understand that some pest problems need immediate attention. Brooks Pest Control offers same-day Santa Ana cockroach control services for emergencies if you contact us before noon. Additionally, we provide Saturday cockroach control services in Santa Ana, CA, for any pest-related issues over the weekend.
What happens if cockroaches come back after treatment?
At Brooks Pest Control, our top priority is ensuring complete customer satisfaction. To achieve this, we offer free re-treatments if you experience a recurrence of your cockroach problem. If you notice signs of an infestation, contact us immediately, and we'll be on our way!
How do I get started?
Solving your pest problem once and for all is hassle-free with Brooks Pest Control. All you need to do is call us and we'll begin addressing the issue. You can also contact us online or request a free quote for cockroach pest control in Santa Ana, CA, to gain further insight into our services and how we can assist you.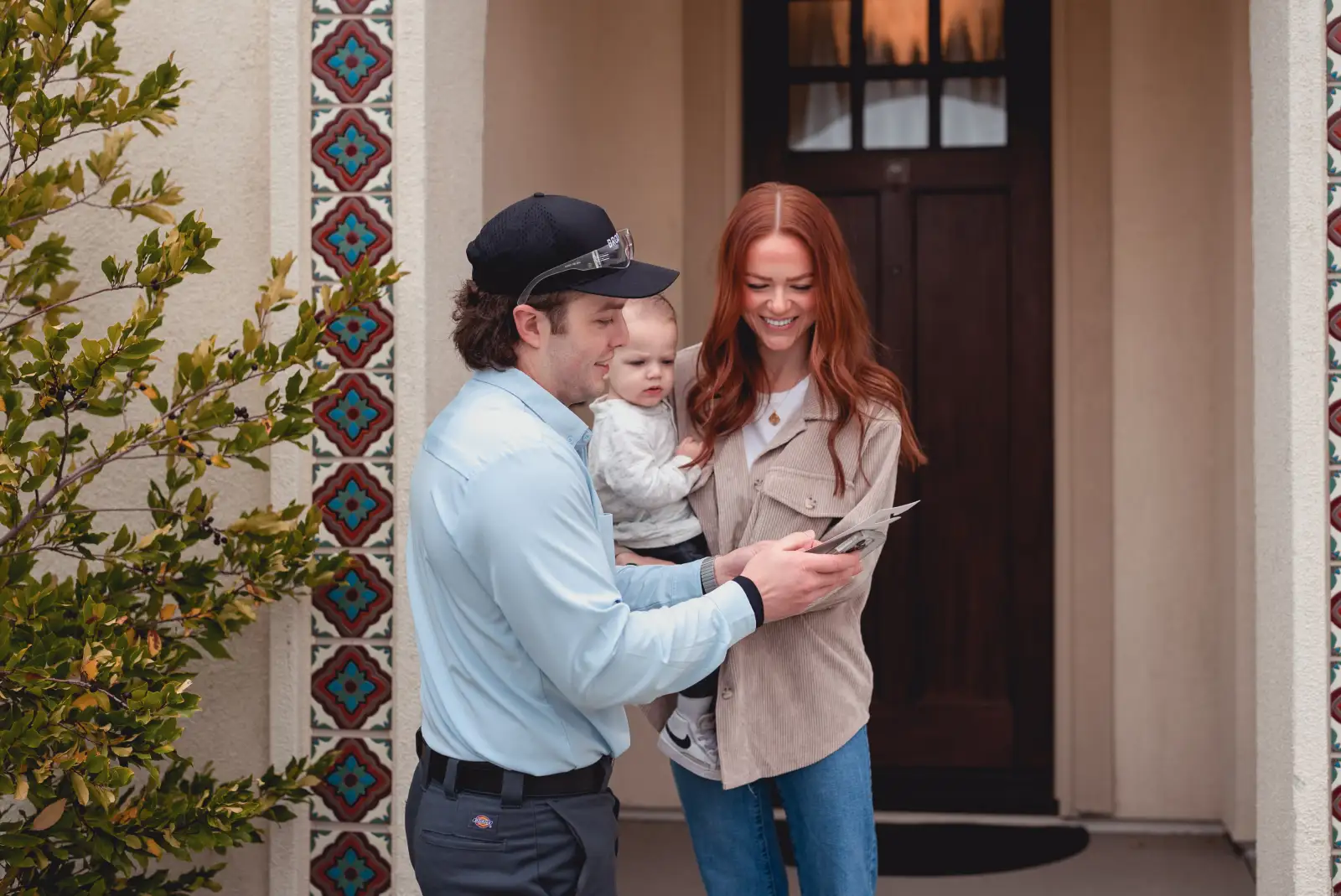 Pet and Environmentally Safe
Our licensed and certified pest control technicians use treatment methods that are friendly to pets, families, and the environment. Our customers are important to us – that's why we have a 100% satisfaction guarantee. If the pests come back, so do we.
833-369-1242
Same-day and Saturday Service
At Brooks, we're dedicated to solving your pest problems for good. That's why we offer same-day and Saturday pest control services – call us before noon and we'll get the job done.
833-369-1242
Don't wait. Get rid of your pests today!