Rodent Control in Santa Ana, CA
Rodent Control in Santa Ana, CA
Santa Ana is a city full of beautiful sights, sounds, and smells, but a sudden rodent infestation is not one of them. When you discover rats or mice in your home, turn to Brooks Pest Control for professional, effective, and pet-friendly rodent control solutions.
Our pest control professionals are ready to help you rid your home of rodents quickly and effectively. Give us a call today to get started with Santa Ana rodent control! If you contact us before noon, you may be able to receive same-day service.
Call 833-655-2102 for a quote, free of charge, or fill out the form below.
Santa Ana, CA, Rodent Treatment
Rodents aren't just unsettling to look at. They can carry harmful diseases, damage your personal property, leave behind grease stains, and contaminate your food. A rodent infestation isn't something you want to be dealing with alone. Instead, contact Brooks Pest Control to let the professionals resolve it for you!
Our pet-friendly treatments deliver top-of-the-line results, giving you back your peace of mind in no time. Brooks proudly services communities across California, Oregon, and Washington, including Santa Ana. Some Santa Ana neighborhoods we serve include:
Artesia Pilar
Heninger Park
Portola Park
Riverview West
South Coast
And many more!
Solving your rodent problem is as easy as giving us a call or getting a free quote online today!
Why Do I Have Rodents In My Home?
Rodents invade homes in search of food, shelter, water, and warmth. Often, it can be hard for homeowners to spot possible entry points, as rodents can get through holes the size of a quarter or sometimes even smaller. Rats and mice can even enter the house through exposed pipes. Accidentally leaving out food or forgetting to vacuum up crumbs can attract rodents, as can leaks or standing water.
How To Get Rid of Rodents in Santa Ana, CA
The first impulse you might have if you're dealing with rats or mice in your home is to purchase traps from the store and handle the infestation yourself. While we understand the desire to try and handle pest problems solo, store-bought and DIY solutions rarely get rid of the problem and won't prevent recurring infestations. Not to mention, rats can carry diseases that can spread to humans who come in contact with them.
Instead of trying to handle it yourself, count on Brooks Pest Control. We believe in individualized, effective treatments that are pet-friendly. We can help you get rid of the rodents in your home so they never return.
Get Your Free Santa Ana, CA, Rodent Control Quote Today
Nothing compares to the feeling of a comfortable, relaxing home. Don't let rodents disturb your peace any longer. Brooks Pest Control can be there before you know it to send the unwanted critters on their way. Start the process by getting a free quote or by looking through our special offers!
Frequently Asked Questions about Rodent Control in Santa Ana, CA
What if I have more than one type of pest in my home?
Not to worry! If you're facing two or more pests at the same time, Brooks Pest Control can address multiple pests in a single visit. Alongside rodents, we'll treat ants, cockroaches, and other bothersome pests in Santa Ana, CA.
Does Brooks offer same day pest-control in Santa Ana?
Yes! We are happy to come out and solve your rodent problem the same day you call, just as long as you give us a call before noon! To make sure everyone has access to reliable pest control on their own schedule, we also offer Saturday pest control appointments.
What happens if rodents come back after treatment?
In addition to eliminating the rodents in your home, Brooks wants to make sure they never return. If you are not completely satisfied with the elimination of your pest control, we'll come back and apply re-treatments free of charge!
How do I get started?
For Santa Ana pest control that really works, use Brooks Pest Control! Whether you're facing rodents or another pest, we'll find an individualized solution that works for you. Give us a call or fill out a request for a free quote, we're ready to put an end to your pest problems!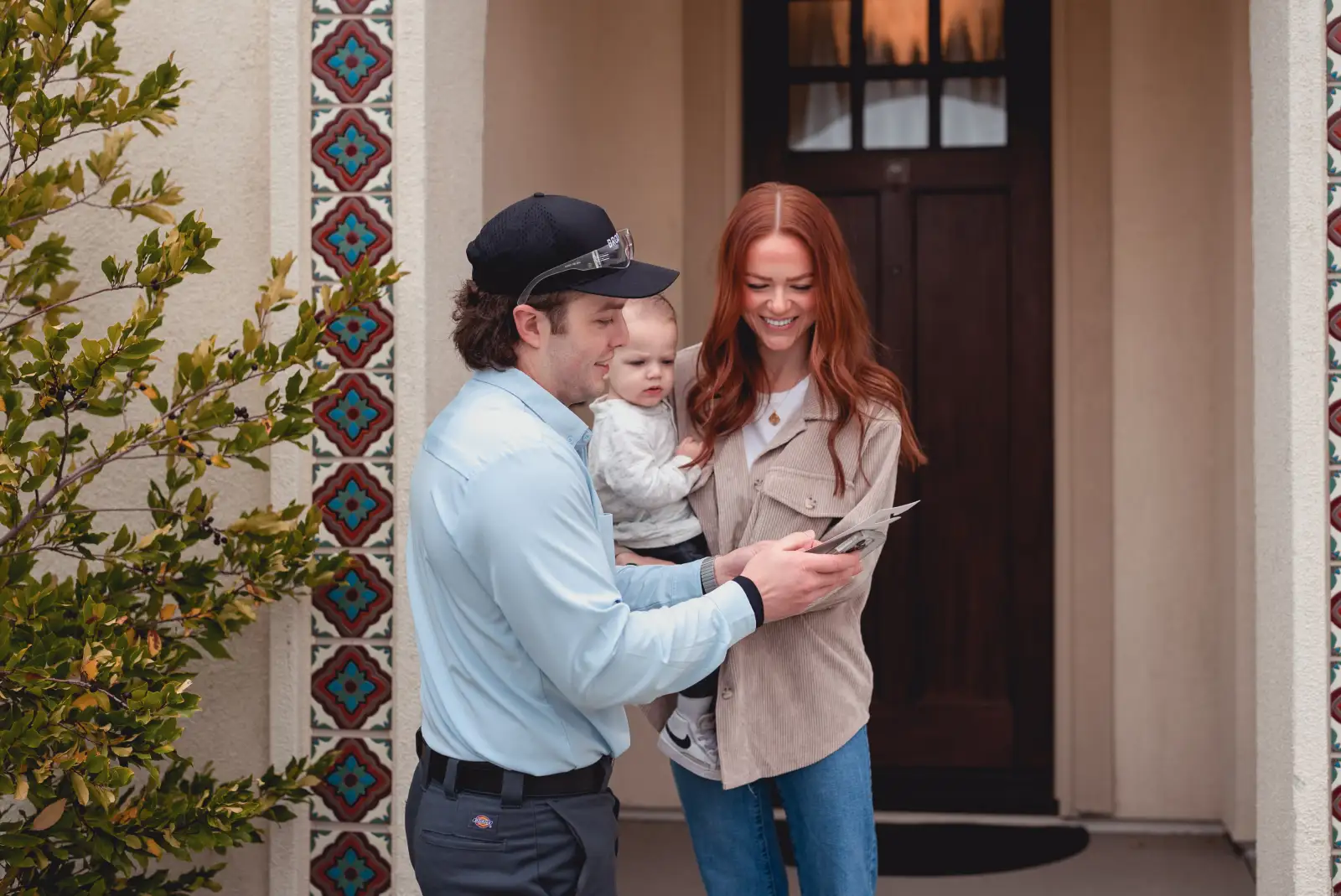 Pet and Environmentally Safe
Our licensed and certified pest control technicians use treatment methods that are friendly to pets, families, and the environment. Our customers are important to us – that's why we have a 100% satisfaction guarantee. If the pests come back, so do we.
833-369-1242
Same-day and Saturday Service
At Brooks, we're dedicated to solving your pest problems for good. That's why we offer same-day and Saturday pest control services – call us before noon and we'll get the job done.
833-369-1242
Don't wait. Get rid of your pests today!