Ant Control in Temecula, CA
Ant Control in Temecula, CA
Discovering an ant problem in your house can be seriously stressful. To make it easier on you and your home, bring in the pros at Brooks Pest Control. We offer eco-friendly ant control services in Temecula, CA, with options available for preventive care and removal. Our highly trained technicians come equipped with the tools and knowledge necessary to tackle any issue you may run into. Call us today to schedule your initial inspection! Same-day service is available if you reach out before noon.
Call 833-655-2102 for a quote, free of charge, or fill out the form below.
Temecula, CA, Ant Control Treatment
Temecula is a blossoming coastal community about halfway between Los Angeles and San Diego. The city's rolling vineyards, beautiful views, and high quality of life attract more and more people every year. Unfortunately, they also draw a number of annoying pests such as ants. Whether you find them in the kitchen, by the windows, or somewhere else in your home, ants are one the most common pests in Southern California—and one of the hardest to get rid of. There are some DIY methods of ant control out there to try, but they can only do so much.
If you run into an ant problem of any size, Brooks Pest Control is here to help fight back. We offer the best pest control services in Temecula with tested, environmentally conscious treatments that are proven effective and efficient. Give us a call today to set up your initial inspection!
Along with options for pest control in Temecula, CA, Brooks Pest Control has earned a reputation as a top provider of pest control services across the West Coast. A few of the local communities we frequently visit include:
San Bernardino
Riverside
Irvine
Santa Ana
Anaheim
Orange
Los Angeles
Long Beach
And more
Why Are There Ants in My Home?
Just about everyone has experience with ants invading their home. These tiny insects are small but savvy as they sneak their way inside, usually in pursuit of food, water, and shelter. It's often found in the form of leaky pipes or faucets, spills, or left-out garbage, and they don't need much to sustain themselves for a while. Once inside, they leave behind a trail of pheromones that attracts other ants to follow their path, allowing them to quickly take over.
How Do I Get Rid of Ants in Temecula, CA?
If you see an ant crawling across your counter or floor, you're likely going to just squish it. But if you find yourself jammed up with a major ant problem, handling it on your own can feel overwhelming. You can try one of the many DIY ant control methods out there, but traps and bait stations can only do so much. Thankfully, Brooks Pest Control is here to help with options for professional ant control in Temecula, CA. Our eco-friendly treatments are proven to be more effective than any homemade or store-bought products.
Get Your Free Temecula, CA, Ant Control Quote Today
Get rid of the ants in your home and all the stress that comes with them with the help of Brooks Pest Control. We have expert Temecula pest control services available with effective, eco-friendly treatments backed up by top-tier customer service. Our team of friendly technicians is ready to identify the source of your issue and swiftly take care of it for good.
Looking to get started? Explore our special offers page or request a free quote on Temecula ant control services to get the ball rolling. Once you're ready, give us a call and we'll be on our way as soon as possible!
Frequently Asked Questions About Ant Control in Temecula, CA
What if I have more than one type of pest in my home?
In order to make sure all your bases are covered, Brooks Pest Control's expert technicians are trained to tackle issues with many types of pests. Besides our trusted options for Temecula ant control, we also offer Temecula rodent control, cockroach control, mosquito control, and more.
Do you offer same-day ant control in Temecula, CA?
We do! Sometimes, your pest problem can't wait to be addressed. In those situations, we offer same-day ant control in Temecula if you give us a call before noon. Additionally, we offer Saturday ant control in Temecula for any issues that come up on the weekend.
What happens if ants come back after treatment?
Our number one goal is to make sure your pest problem is properly taken care of. As such, if your ants return, Brooks Pest Control offers complimentary re-treatments. Just reach out when you see signs of reemergence and we'll head out!
How do I get started?
It's simple! To start the process of removing ants from your home, just give us a call. You also can get in touch online or request a free quote on Temecula ant pest control service for more info.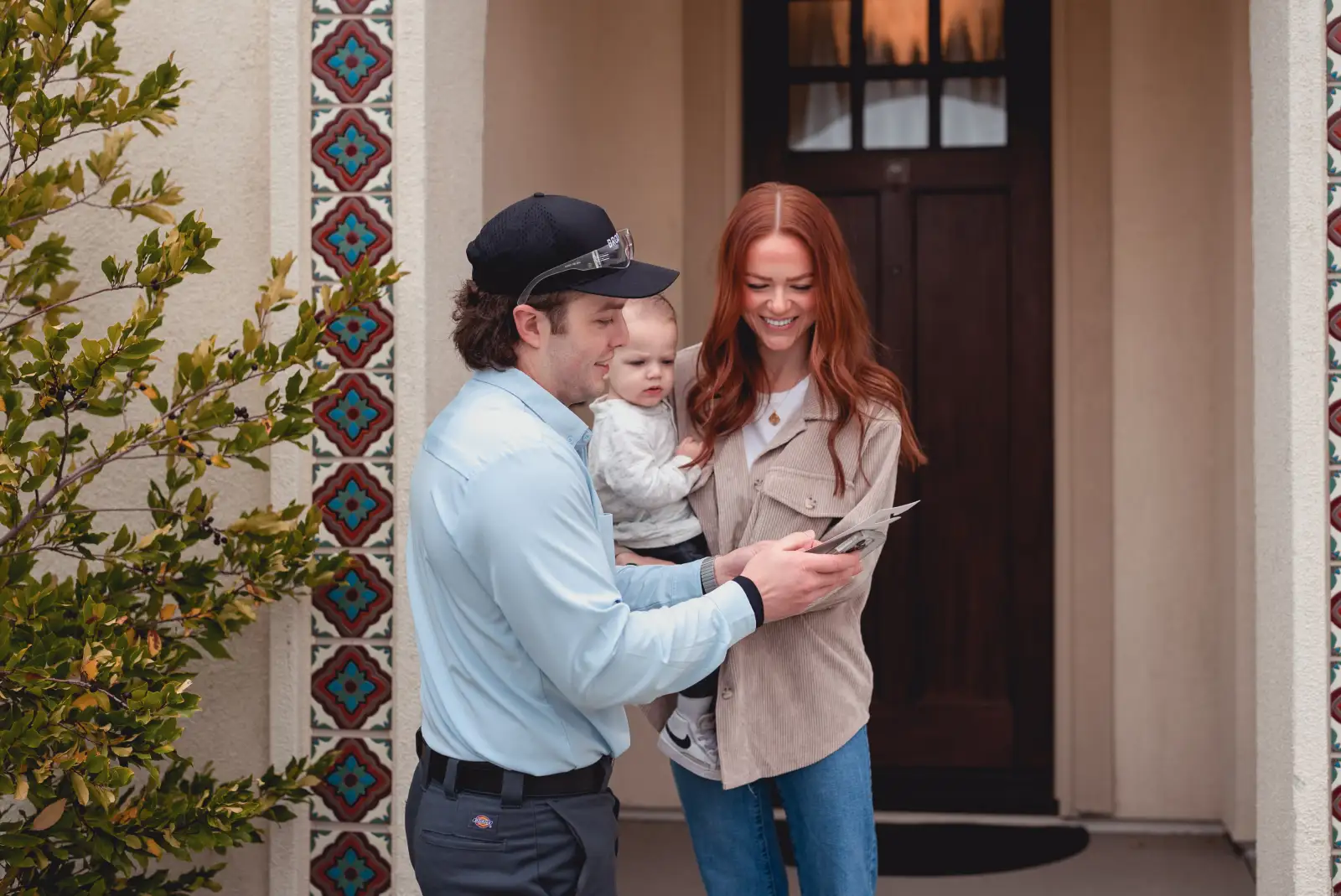 Pet and Environmentally Safe
Our licensed and certified pest control technicians use treatment methods that are friendly to pets, families, and the environment. Our customers are important to us – that's why we have a 100% satisfaction guarantee. If the pests come back, so do we.
833-369-1242
Same-day and Saturday Service
At Brooks, we're dedicated to solving your pest problems for good. That's why we offer same-day and Saturday pest control services – call us before noon and we'll get the job done.
833-369-1242
Don't wait. Get rid of your pests today!