Cockroach Control in Temecula, CA
Cockroach Control in Temecula, CA
Discovering that cockroaches have invaded your home is equal parts unsettling, dangerous, and downright disgusting. Thankfully, you don't have to take care of it on your own. Brooks Pest Control offers expert cockroach control services in Temecula, CA, with eco-friendly treatments tested to be effective and efficient. Our friendly team of technicians has the tools and know-how necessary to thoroughly eradicate cockroach problems of any size. Go ahead and give us a call to set up your initial inspection. Same-day service is available if you call before noon.
Call 833-655-2102 for a quote, free of charge, or fill out the form below.
Temecula, CA, Cockroach Control Treatment
Nestled neatly between Los Angeles and San Diego, Temecula is a growing coastal community that offers perfect year-round weather, breathtaking views, and an exceptional quality of life. However, living in Temecula doesn't come without its challenges, as many pests also inhabit the area, such as cockroaches. Whether you see them in your basement, bathroom, kitchen, or scurrying along in between, these little critters can send a shiver down almost anyone's spine. Even worse, they can pose a significant risk to your property and health.
If you find yourself stuck with a cockroach problem, know that Brooks Pest Control is here to help. We offer the best cockroach control services in Temecula with tested, environmentally conscious treatments that have proven stronger than any DIY methods of rodent control you can find. Give us a call today to set up your first inspection!
Along with offering comprehensive options for pest control in Temecula, CA, Brooks Pest Control is also known as a reliable provider of pest control services across the West Coast. A handful of the nearby communities we often work with include:
San Bernardino
Riverside
Irvine
Santa Ana
Anaheim
Orange
Los Angeles
Long Beach
And more
Why Are There Cockroaches in My Home?
It's a common misconception that cockroaches are exclusively attracted to filth or dirty surroundings. As a matter of fact, their main pursuit is almost always one or more of water, food, or shelter. They get inside by crawling through the tiniest cracks and crevices in your home's foundation, walls, and floors, as their bodies allow them to get extremely flexible. Once inside, they tend to seek out dark, damp areas, such as inside cabinets, under appliances, in the walls, behind sinks, and other places to hide away.
How Do I Get Rid of Cockroaches in Temecula, CA?
If you see a cockroach crawling across the floor of your home, odds are you're going to respond by squishing it with a shoe or rolled-up newspaper or possibly heading to the store to buy traps. But while DIY cockroach control methods can be somewhat effective, they pale in comparison to the effectiveness of Brooks Pest Control's professional treatments. Our services have gone through rigorous testing to ensure they are eco-friendly, efficient, and effective.
Get Your Free Temecula, CA, Cockroach Control Quote Today
To make sure your cockroach problem doesn't get out of hand, bring in the pros at Brooks Pest Control. We offer expert Temecula pest control services backed by a world-class commitment to customer service. Our friendly team of expert technicians is prepared to utilize the tools and knowledge necessary to swiftly eliminate rodent issues of any size.
Ready to get started? Explore our special offers page or request a free quote on Temecula cockroach control services to get the ball rolling. Once you're ready, give us a call and we'll head out ASAP!
Frequently Asked Questions About Cockroach Control in Temecula, CA
What if I have more than one type of pest in my home?
Brooks Pest Control's highly trained technicians are equipped to tackle pest problems of all shapes and sizes. In addition to Temecula rodent control services, we offer options for Temecula ant control, mosquito control, and more.
Do you offer same-day cockroach control in Temecula, CA?
We do! A lot of the time, your problem can't wait to be addressed. To help accommodate urgent matters, Brooks Pest Control offers same-day cockroach control in Temecula when you call us before noon. We also provide Saturday rodent control in Temecula if you encounter an issue over the weekend.
What happens if rodents come back after treatment?
Brooks Pest Control's top priority is making sure each and every one of our customers is satisfied with their service. In order to accomplish this, we offer complimentary re-treatments in the event that your issue comes back. Give us a call as soon as you see signs of cockroaches returning and we'll head that way!
How do I get started?
It's easy! You can begin the process of eradicating your cockroach issue by simply giving us a call. You also can contact us online or request a free quote on Temecula cockroach pest control service to learn more.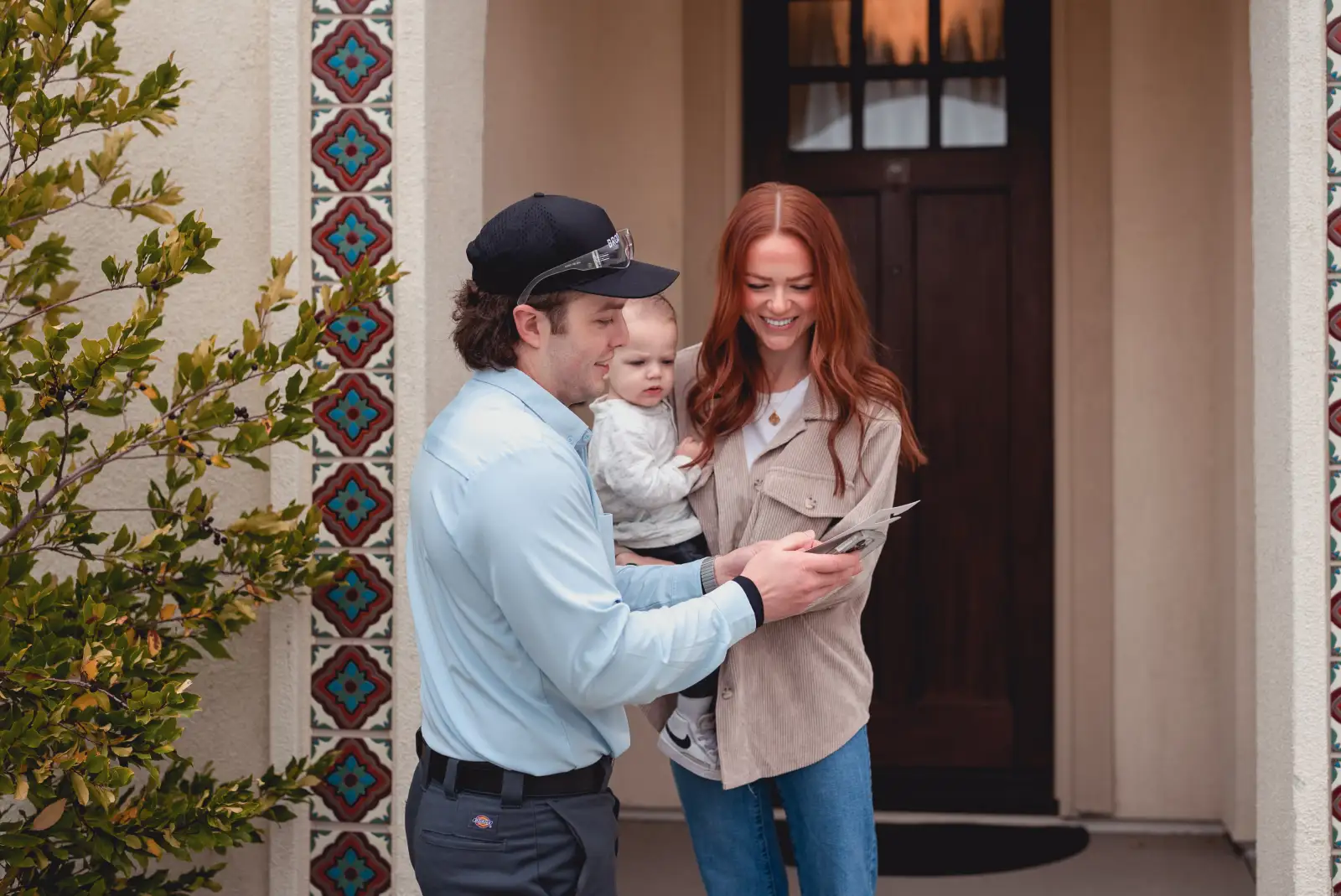 Pet and Environmentally Safe
Our licensed and certified pest control technicians use treatment methods that are friendly to pets, families, and the environment. Our customers are important to us – that's why we have a 100% satisfaction guarantee. If the pests come back, so do we.
833-369-1242
Same-day and Saturday Service
At Brooks, we're dedicated to solving your pest problems for good. That's why we offer same-day and Saturday pest control services – call us before noon and we'll get the job done.
833-369-1242
Don't wait. Get rid of your pests today!