Cockroach Control in Beaverton, OR
Cockroach Exterminators in Beaverton, OR
Discovering a cockroach in your Beaverton, OR, home can be an unsettling experience. But you don't have to face a cockroach infestation on your own. At Brooks Pest Control, we specialize in providing effective and sustainable cockroach control solutions tailored to your specific needs.
Beaverton brings an inviting environment for cockroaches with its wet and warm climate. When you come across a cockroach in your home, don't hesitate to reach out to our professionals at Brooks Pest Control. We understand the challenges of dealing with pests in the Pacific Northwest, and we're here to help you enjoy a pest-free environment in your Beaverton home.
Beaverton, OR, Cockroach Control 
Cockroaches are not only a nuisance but they also pose health risks. They can contaminate food, utensils, and surfaces with bacteria and allergens, potentially leading to diseases and allergic reactions. To safeguard your home and loved ones, it's essential to take immediate action. Contact the experienced pest control experts at Brooks Pest Control in Beaverton. 
Why are there cockroaches in my home?
Cockroaches can find their way into your home in search of food, warmth, and moisture. These pesky bugs will climb through cracks in the foundation or small holes in your house. They also can hitch a ride on any bags, clothing, or backpacks. Similar to ants, cockroaches leave behind pheromones that attract other cockroaches to follow each other, which can lead to an infestation in your own home. 
How do I get rid of cockroaches in Beaverton, OR?
When there is a cockroach infestation in your home, the best solution is professional pest control. At Brooks, we provide cockroach control treatments that are effective and pet, people, and environmentally friendly. Once you contact our team in Beaverton, our pest control experts will inspect your problem and create a customized treatment plan.
While effective cockroach exterminations rely on professional pest experts, there are ways to help prevent these annoying insects from entering your home such as:
Vacuum or sweep food crumbs
Seal cracks or openings in walls, floors, ceilings
Eliminate standing water
Dispose of garbage regularly
Get Your Free Beaverton, OR, Cockroach Control Quote Today
Return to living pest-free and contact our team at Brooks Pest Control today for a free inspection. Once we identify where cockroaches are entering your home, we can remove them and then help set you up with preventative pest control treatments to ensure they don't come crawling back. Ready to get started? Browse our special offers or request your free quote today!
Frequently Asked Questions
What if I have more than one type of pest in my home?
It is not uncommon for the presence of one type of pest to indicate the likelihood of multiple infestations. Numerous pests are attracted to similar things like food or warmth in a house, which often leads them to invade your living space. Fortunately, our team of skilled pest control experts is capable of identifying diverse pests, and effectively eliminating them.
Do you offer same-day cockroach control in Beaverton, OR?
We understand that pest infestations can appear out of nowhere, which is why we offer same-day and Saturday pest control if you call before noon.
What happens if cockroaches come back after treatment?
In the unlikely event that you continue to have a pest infestation following our initial treatment, our team is committed to providing a complimentary re-treatment. Customer satisfaction is our priority, and we are dedicated to ensuring your happiness.
How do I get started?
Ready to get started? Schedule your free inspection or request your quote today by giving our team a call.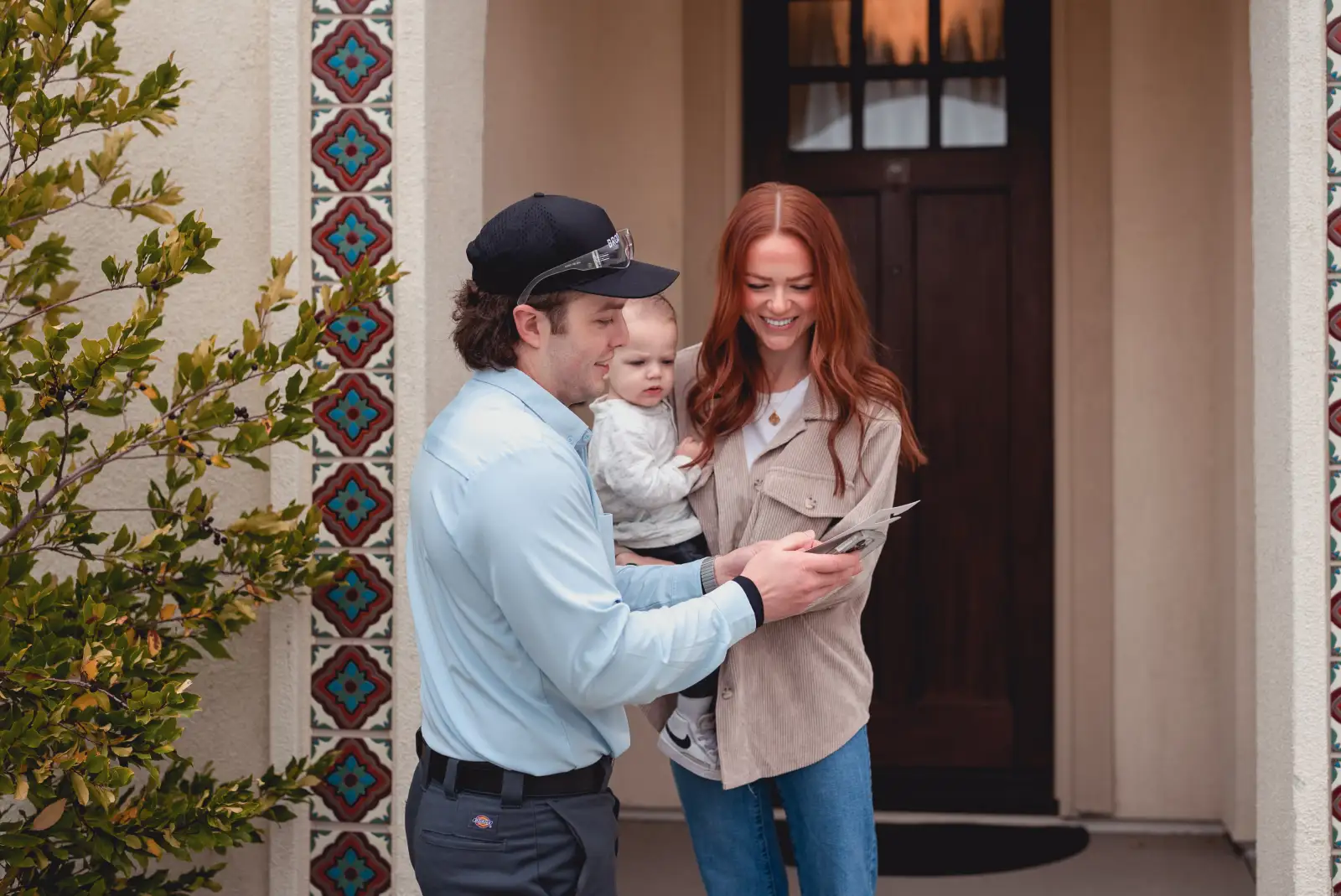 Pet and Environmentally Safe
Our licensed and certified pest control technicians use treatment methods that are friendly to pets, families, and the environment. Our customers are important to us – that's why we have a 100% satisfaction guarantee. If the pests come back, so do we.
833-369-1242
Same-day and Saturday Service
At Brooks, we're dedicated to solving your pest problems for good. That's why we offer same-day and Saturday pest control services – call us before noon and we'll get the job done.
833-369-1242
Don't wait. Get rid of your pests today!